One less rival for Haaland
From Germany they offer new information. City enters with force through the forward but he does not take his eyes off Real Madrid. Bayern are out.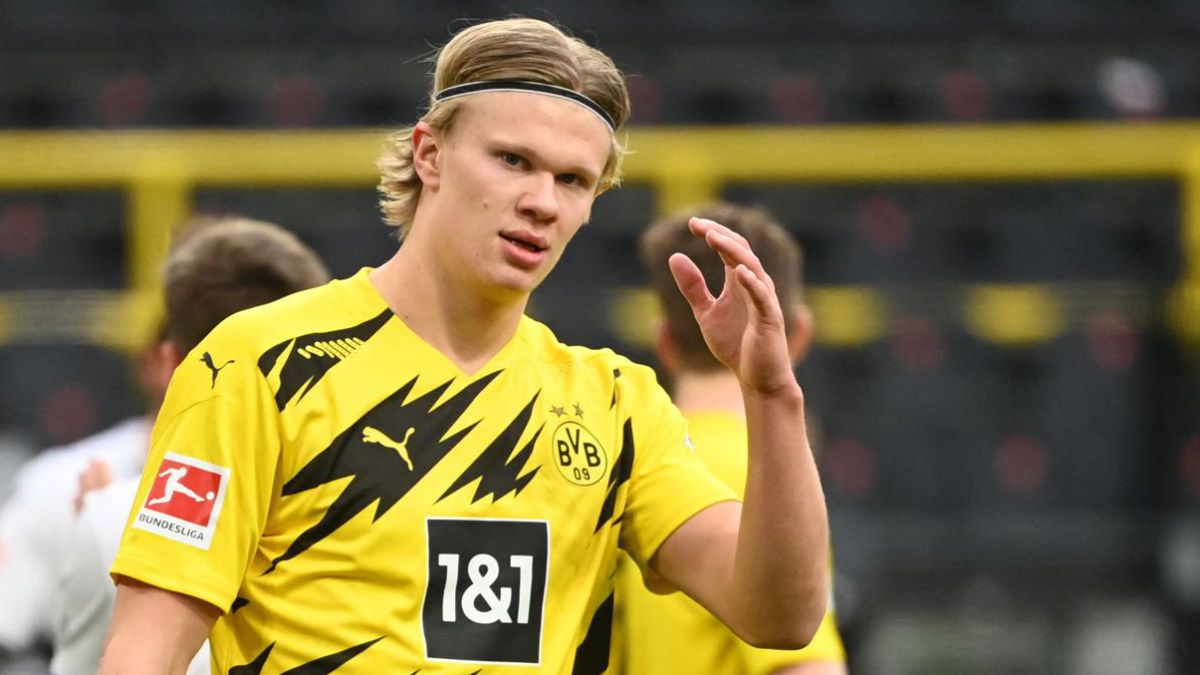 Erling Haaland is the object of desire for more than half of Europe. At least, in Europe that can afford to hire the striker. His name comes up again and again linked to different clubs and although Michael Zorc, who will cease to be Dortmund's sports director in 2022 after 23 years, insists that he would not leave ("Haaland cannot, does not want to and will not change clubs") The information suggests that there are not a few clubs that come up with different arguments to try to convince the striker to leave the yellow team already this summer.
There are at least four known suitors on this list: Manchester City, Manchester United, Real Madrid and Chelsea. According to his representative, Mino Raiola, "there are only a maximum of 10 clubs that can afford this signing." The Italian left the door open for up to six more clubs to bid. Of those mentioned, each one is in a different situation at the sporting level, all with the economy affected by Covid-19 and with different arguments to attract a player who, they understand, is destined to mark the next decade with Kylian Mbappe.
This operation, in principle, was ready for 2022, the date on which the agreement reached by the player and the club would become effective to facilitate their departure and negotiate each offer that came for him. Now, the economic crisis derived from the coronavirus forces to improve the income chapter, thus accelerating a possible sale of the Norwegian striker that may touch the three figures since the simple fact that the player does not have a clear disposition to leave makes his departure more expensive.
This Wednesday, Sport Bild offers new information about the signing and places the starting grid in the race for the forward. On pole, according to the Germans, is Manchester City. The skyblue club is able to pay the emoluments it demands and also offers it a main role from the first moment: to be the nine starter of the team.
Kun Agüero faces his final months of contract after a season marked by injuries in which his performance has been diminished. With no news of a new engagement and siren songs from Turin and Paris, Haaland would be a perfect fit. Less age and possibly priced similarly to the other option: Harry Kane.
An offer that tries to unseat the patient work that Real Madrid has been doing for some time to convince the Leeds striker, who is left to love by the whites.
Haaland will listen to Real Madrid
The Norwegian striker knows about Real Madrid's interest, he likes it and does not hide it. "It's always good that someone loves you," he said, briefly in words, after his hat-trick in Seville when asked about the feeling that the praise left him by the Madrid fans.
Thus, through offers that come to him, Sport Bild ensures that the forward is aware of this interest and that, furthermore, it is mutual. Real Madrid at this time would see more affordable the hiring of the Norwegian, whose salary requests are more acceptable (12 million net) than those of Kylian Mbappé and would be willing to assume the cost of the operation although the price would be higher this summer than the next. If Real Madrid calls, Haaland will listen.
For a long time, the whites have been working on this signing and so has Haaland himself. He winks at times and the whites get 'feedback' through Odegaard, his best friend on the national team. In addition, Real Madrid has two more factors in its favor: Raiola's desire to improve his relationship with Real Madrid and the good friendship between Dortmund CEO Watzke and Real Madrid president Florentino Pérez. In the negotiation between clubs, Real Madrid starts with an advantage.
United and Chelsea: a friendship and an unlikely option
Manchester United has another Norwegian as an asset to convince Haaland. This is none other than his former Molde coach, Ole Gunnar Solskjaer. The Old Trafford team is the giant that previously took an interest in Haaland and has tried the most, unsuccessfully, to hire him. He loved him when he left Norway and did not arrive. Also when he did from Salzburg, but Dortmund appeared as a better place to develop before the big jump.
In that great leap to the elite among the elite, United plays with the trump card of their coach, who does not skimp on showing off the direct path he has with the striker. "I am in contact with Erling, it is nice to see him in the player who has become. He is a Dortmund footballer and I wish him the best, we will see what life brings him ahead," he said at a press conference on 24 May. February
Haaland would be that great star who could return United to fight for everything but, even if he arrived, would United be ready as a team to fight for the maximum? That is the great unknown that this operation leaves and that could make the scale not tip to its side.
In London there is also interest. According to the British press, Chelsea entered the negotiation forcefully to try to complete a luxury squad with the Scandinavian forward. The problem? Sport Bild assures that Haaland has not been convinced by the project of the 'blues'
Bayern will not enter the bid
Bayern has been directly ruled out of this race due to a kind of non-aggression pact between clubs, which although they compete for everything, maintain a good relationship. Karl-Heinz Rummenigge, legend and now general manager of the club, verbalized his 'no entry' in this operation. "One thing I can say with certainty: I have a good relationship with Watzke (Borussia president). And as long as I am at Bayern, there will be no other purchase like Lewandowski's. Over the years we have established friendly relations with Borussia, also in the market. Haaland is doing well in Dortmund and, honestly, as long as we have this Lewandowski, we do not need him. What will happen in the future I cannot predict, also because I will remain in office until December 2021, "he said. This trend was confirmed by Sport Bild.
Happy with their forward, Robert Lewandowski, (second in the Golden Shoe last season), Bayern will not enter the auction for Haaland ... for now.
Photos from as.com