Oltra: "I will never use casualties as an excuse"
The Fuenlabrada coach reviewed the news of the azulón team before the duel against Las Palmas. "I have 100% confidence in Borja Garcés," he said.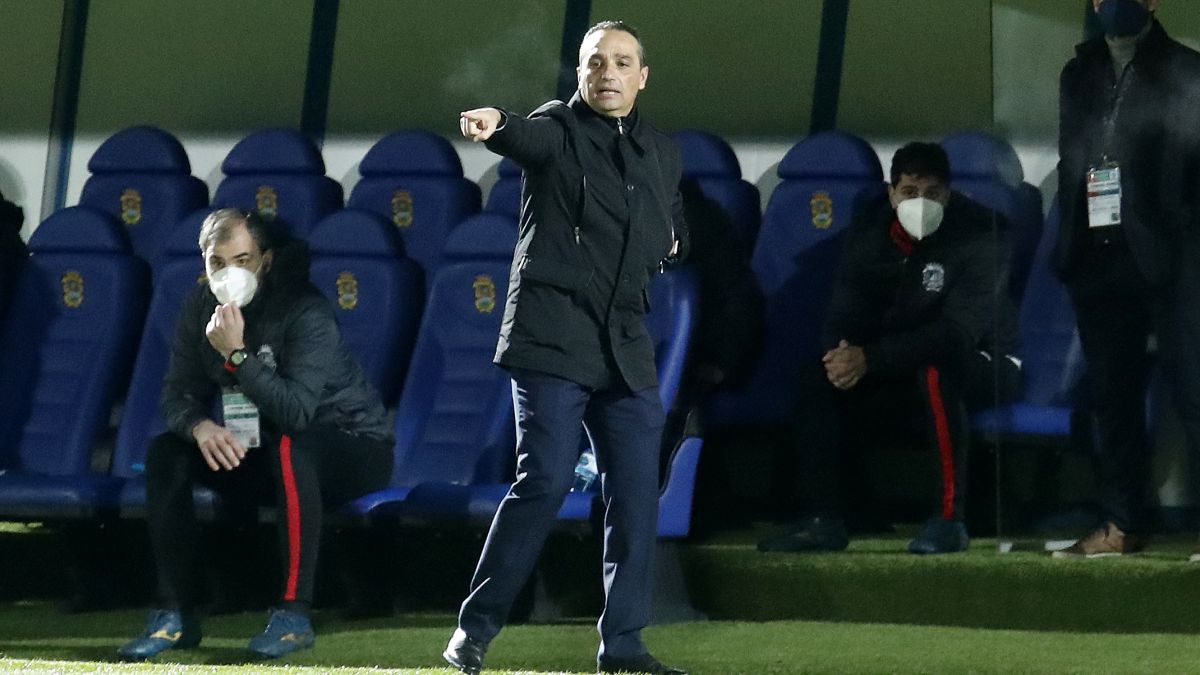 How have you prepared the game ?: "It's a shorter week and it takes away a session. We already knew Las Palmas and had seen it before. It is true that it remains for you to have one more training session, but it is enough to prepare thoroughly for the game. From the first day of work we have only had this game in mind knowing how difficult it is. As locals it is difficult for us and we want to give joy to the fans since we want to add three at a time ".
Defense losses. Who can you count on ?: "I'm a coach who doesn't look for excuses. We are going to take out eleven players who compete, who want to win and will be competitive. It takes away your freedom as a coach when choosing what you would do under normal conditions, it is true but we will be a competitive team. Confirmed by injury are Pol, Ibán, Sekou and Kante. Doubt is Mikel Iribas, we will see how he is in the last session and Diéguez and Glauder are suspended. Six casualties confirmed and one in doubt. Enough with those we have in the call and people from the quarry. If we are not victorious, you will not hear a lament on this matter. "
What do you expect from this game and from the rival ?: "Las Palmas is a team with a great coach and great experience, who always has an ace up their sleeve to get things out of the team, in a season that seems like a transition to me due to to the pandemic situation. It is a team that is being built to give joy in the future. It seems to me a team with many virtues, that plays football well and that at times of the season has deserved more than it has achieved. In addition, Las Palmas have had bad luck with absences by way of injury or sanction and that on many occasions they have not been able to make the team they would have liked. Beyond that, it seems to me a very dangerous team that plays football well, that you have to push hard and you have to be well prepared to compete well in the game. "
Kanté holder since the arrival of Oltra. To what extent does your injury disrupt? Borja Garcés, ready for the start ?: "Yes he is, but not because of Kanté's injury. Borja is prepared for the title as much as Kanté. Kanté seems to me an exceptional footballer who has not been fortunate with the goal. But I am not going to cry because he is not here, and I also have full confidence in Borja. His second half in Lugo is extraordinary, he has an easy goal and has other virtues that he will have to put at the service of the team. You have left in terms of the possibility of resources in that area, but I am not worried, I have maximum confidence in the entire squad and Borja could have been a starter in all the games I have directed, we are going to try to make him play a good game, like everyone else. equipment and that balls arrive in conditions so that it can materialize. "
Is this game against Las Palmas becoming a more important game due to the fact that Fuenlabrada then plays against Leganés, Mallorca and Espanyol ?: "It is the most important game of the season, because it is this week, not because of whatever comes or what has been done. Each game of the week is the most important, then we will face the other duels, but in this category you can win everyone and lose everyone. The important thing is to compete well and face each game based on many things but with the aim of winning, but I haven't thought for a second about what comes next.
How is Sekou ?: "Progress properly. He is improving, he is in Barcelona and continues his recovery process, meeting deadlines. However, now it is not a priority, it is not, although I hope that he recovers as soon as possible. "
What is the reason for the lack of aim ?: "The important thing is that we have the volume of completion that we are showing. As for completion, there is a percentage of success and confidence. When those at the top do not score, over time it generates distrust and makes you make bad decisions in the completion, lack of success and confidence. But I insist, I told the footballers this week, if we continue to play like this, the day that dynamics changes, the goal will come. For me, the important thing is to continue maintaining the offensive baggage of the team, which is above the average, and is enough to have achieved one more goal that would have meant some more point ".
Have you ever had so many injuries? How does it affect the preparation of the team ?: "I don't remember. In the preparation of the confrontation it does not affect, it affects in the definition of the eleven since with all well, the alignment would be another one ".
Is it frustrating to draw so much and not add three at a time ?: "What happens is that the team has deserved victories. In our heart we know when the team has deserved the most points. He has proposed, he has had chances and the feelings are good, but we have not translated that into three points. Unfortunately, people go to cold data: since September they have not won at home, 10 draws, but it is not said that of those 10 draws they have deserved more in many of them. We are on the way and what worries me is that the team does not go off that path and that the day we turn draws into victories and we give them continuity, what we have done will be very good. We have lacked a little in the areas, we improved against Lugo in defense since we did not fit in and now we have to take the step to be more efficient in the offensive area, but the line is frankly good. "
How do you see Jesé? What is your concept of him as a player ?: "I will not be the one to discover Jesé, I think he is an incredible footballer. With all due respect to UD Las Palmas and to the entire category, I believe that he is a top-level player who has gone through a period, apart from injuries and lack of continuity, in which he needs to find himself and reclaim himself, and nothing better than in Las Palmas, at home, in your surroundings, in a place you know. Incredible player of overflow, imbalance, uncheck, a goal that probably needs a longer period of adaptation, especially in the rhythm of competition, but who knows that best is Pepe and he will handle it very well. He is a brutal player and with very good conditions. "
Photos from as.com