Obradoiro dies on the shore after tracing 16 points to Estudiantes
Students know how to suffer in the last minutes and achieve a vital victory in their goal of saving themselves. Impressive Avramovic: 33 points and 35 PIR.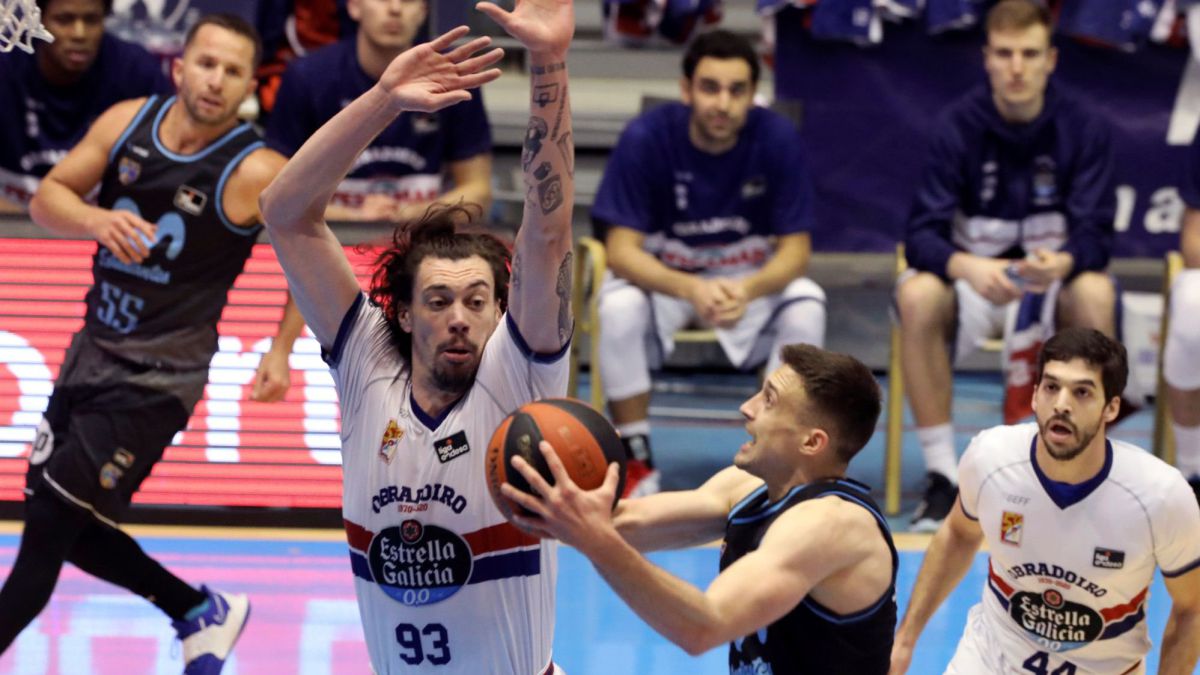 Monbus Obradroiro was unable to complete his comeback this Wednesday after cutting 16 points in the last quarter to Movistar Estudiantes (87-91), who knew how to suffer in the last minutes to add a vital victory in his career to avoid relegation, objective that is complicated for the Galician team after chaining their fourth defeat in a row.
The Madrid team punished the low defensive intensity of their rival at the start. The 2-10 start of Estudiantes forced Moncho Fernández to request a time-out very soon, although four points followed by Mike Daum and a much more aggressive defense reactivated Obradoiro, who came close on the scoreboard despite his 0/6 from three point line. It took almost twelve minutes for Obradoiro to score his first triple. Too many mistakes for a team used to living off its artillery. But Estudiantes did not know how to take advantage of it to break the clash, despite the fact that they again enjoyed a ten lead at the start of the second quarter.
With a partial 13-3, Obradoiro tightened the shock (31-31, min.14) despite the fact that their two most decisive players in attack - the Lithuanian Birutis and the Canadian Robertson - still did not appear. The errors happened and Jota Cuspinera moved the bench. The American John Roberson unblocked his team with five consecutive points, before the exchange of baskets that allowed Estudiantes to reach the break with an income of nine points (39-48), again exploiting the Galician defensive fragility and their electric game.
Another bad start weighed down Obradoiro, who also lost Pepe Pozas due to injury the minute after the restart after poor support in the fall when he tried to block a tray from Avramovic, decisive in the student take-off (44-60). Moncho Fernández, desperate, stopped the match and his team was activated in defense. Estudiantes got stuck, and two triples by Turkish Ozmizrak and four consecutive points by Daum gave life to Obradoiro (60-67, min.29). At the beginning of the last quarter, Estudiantes, led by a sensational Avramovic, destroyed Obradoiro, victim of his numerous losses. The clash seemed doomed with those of Cuspinera twenty up (65-85). But several triples revived Moncho Fernández's men, despite the visiting coach's timeout.
El Obradoiro rowed, and was placed at six before the rim spit a tray from Rafa García that would have been a 2 + 1. The point guard missed his second attempt, and on the rebound Cohen fouled Delgado, who went to the free throw line. Small details that were decisive because shortly after Brown, a former obradoirista, sentenced with a triple.
Photos from as.com