Vicente Moreno supports his 'top scorer' in the "unfair" debate on Espanyol's game without him, regrets the accumulation of casualties and Fuenlabrada's alert.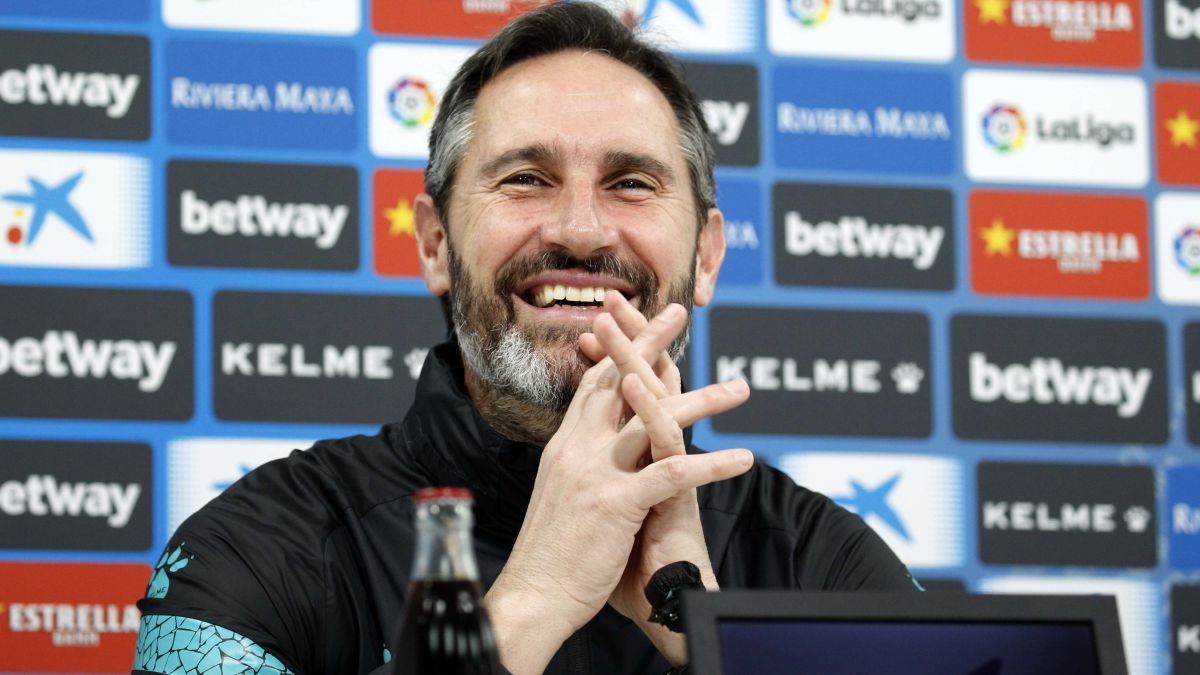 If Espanyol faces the thirty-second round as the leader of the Second Division, it is, in large part, thanks to Raúl de Tomás. His coach, Vicente Moreno, wanted to make this clear, in the middle of the debate on whether the parakeet team plays better when their top scorer –author of 16 goals and two assists– is not on the pitch. "We are unfair to him if someone talks that we are better or worse without him on the pitch," said the coach this Wednesday, prior to the visit to the RCDE Stadium in Fuenlabrada, of which he is suspicious of the 4-1 Monday to Mallorca, due to its potential as a candidate for promotion and because Espanyol himself arrives with numerous casualties, including two due to COVID-19.
Casualties: "We have some problems due to COVID, but it is not me who is responsible for saying the names of the players. It will be they or the doctors who say who they are. Hopefully the two from the U-21s can make it to training this afternoon, but they played last night, which says they are not in the best condition. Keidi Bare I think he will not even make it to the game. And Matías Vargas will land during the afternoon-night, that is, he will be but coming from Japan. And some player has discomfort, like every week. But if they don't play one, others will, and they will do it well. "
Raúl de Tomás: "Raúl is fine, which is the most important thing. For us, he is a strong player, we need him to be well. Playing one or the other encourages different variants, but everything that appears when Raúl or Dimata is there is positive because they are great players. We are unfair to him if someone talks about us being better or worse without him on the pitch. It has been very important that we have 61 points, that we are first. Due to circumstances, it may or may not start from the beginning, but we need it. "
Two victories in a row: "The happiness that victories give you, we agree that it is the best thing that can happen to you to face the following matches. We come from a good dynamic, it is about maintaining it. We have a very difficult game, nobody thinks that it will be easy after seeing them the other day. But the illusion is to win to give continuity to our moment. "
The weight of being a leader: "We are the team that has been in the first position the most times, so it is normal for you to lose when you are at the top. It doesn't seem like a special statistic to me. We think about winning the game, to continue depending on us and looking only at what we do. It is the claim we have, nothing more. "
Best mood: "We are in a good moment, but I think we have been many times this season in similar moments. We come from two broad results, with goals, good feelings, and one remembers the most recent, but previously there were equal or better games. Hopefully we continue in that dynamic of sensations and physical condition. In all the teams we have been in, the physical state in the final part of the season has been very high, and I think we are in that situation again. That is objective, that we can reach those last ten games in a very high state ".
Approach to Fuenlabrada: "The intention is to be superior to the rival, dominate all facets and win, but in front of us we have a rival who has little to lose, with energy for the last result. He has only lost one more game than us, Mallorca and Sporting, which tells you that it is very difficult to beat him. One thing is what we try and another, what I let you do. I hope we can take the cat into the water. "
The 4-1 from Fuenlabrada to Mallorca: "I do not need that result to know the potential of Fuenlabrada, I have it very clear, it does not surprise me. Come prepared. Last year he fought to be in the playoffs, and he will fight to be there again. "
Three more days of rest: "Everything matters and it doesn't. Today we will also have to train individually, the next game we will have less recovery ... It is how each team is playing. These are the situations that arise, there is no need to make excuses. "
Calendar: "In our minds we only have tomorrow's game, what comes next I don't know. If we face the following games with the three points tomorrow, the tranquility and positivism will be greater. I don't lose any more energy. "
First ticket in two months: "It is losing energy and losing sight of the minute by minute. If we stop to think about May 31, we will not do what we should do on April 1. To be happy at the end of the race, you have to win on day 1 ".
Altitude evil: "We only see it from our perspective, but we forget that it is not only we who have a goal at stake. Each of the rivals has their own, so we all enter that phase where everything is so important that you have no margin for error. Each time it costs more to win, it is something that happens every season. Whoever does not remain calm, gets carried away, does not have clear ideas, may have problems. "
Conviction of not losing anymore: "I have it, another thing is that afterwards it happens or it does not happen. We have lost few, and now I see in the players that we are not going to lose more. We have to keep calm and not think about that, but about facing the game leaving everything we have, being better than the rival in everything we do ".
Photos from as.com