Movistar Estudiantes warm up for the Copa de la Reina
The college team travels to Valencia on Tuesday to play the second KO tournament in its history. "We are looking forward to it," says Alberto Ortego.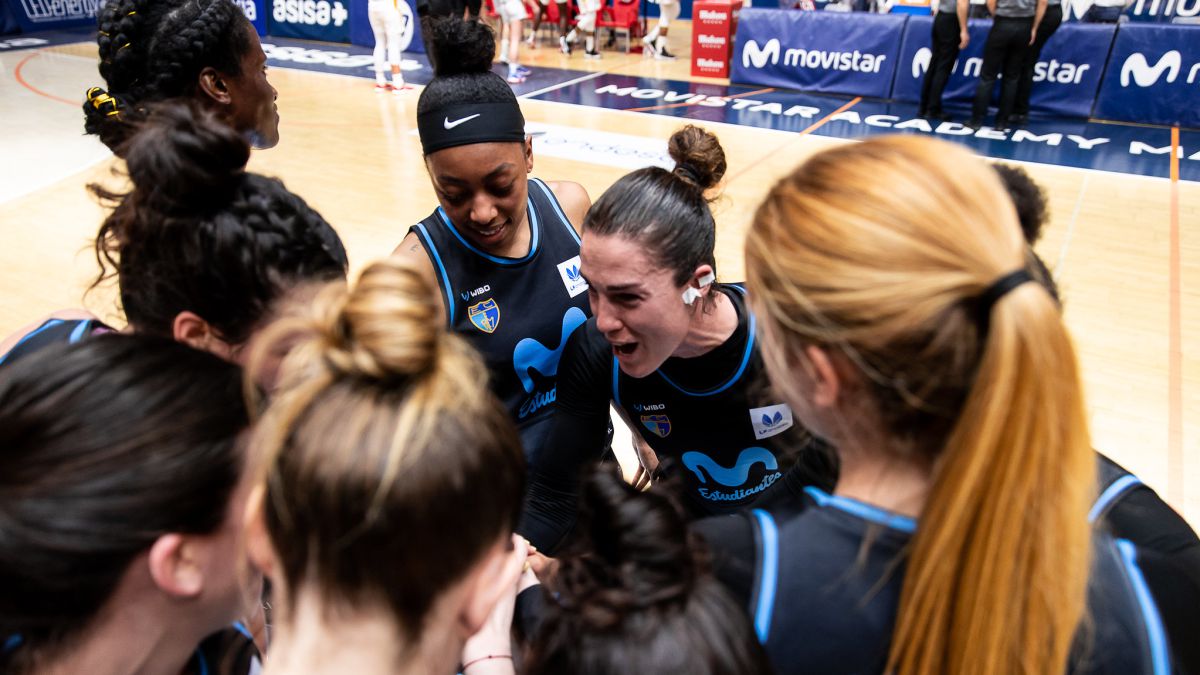 Movistar Estudiantes will play the second Copa de la Reina in its history in Valencia (from February 4 to 7). And it will do so 16 years after the first, and with two coincidences: the headquarters and the coach. Alberto Ortego (Madrid, 1971) was, as now, the coach of the Women in Black in La Fonteta, also the venue for the KO tournament in that edition.
Rivals in the quarterfinals also have the same designation of origin: Catalonia. In 2005, it was the CBF Universitari de Barcelona. In 2021, Uni Girona, current leader of the classification with 24 victories in 27 games. A very difficult rival for some schoolgirls who, it should be remembered, have just been promoted to the category and are fourth in the table with a season of honors: 16 wins out of 25 possible. Not bad.
"This is sport and a lot can happen in a game. But it is true that in the Women's League there are fewer surprises than in the ACB: here a 15th is unthinkable for one of the top players to win. We know that one of the top three is going to win it. It is practically impossible for one of those below to beat Pefumerías, Girona and Valencia. What can you win a game of those? Yes. Can you win all three? You can also get the Euromillion for one year, but it is complicated, "says the Madrilenian at the telematic press conference before marching to Valencia this Tuesday with two great doubts: Leslie Knight and Jana Raman, both affected by the coronavirus, a disease that has beaten the squad since the start of 2021.
"Let's go without pressure"
"We are not at our best. Since we started the year, we have had too many stoppages from COVID. We have to live it now. There are few training sessions, but it does not serve as an excuse or complaint: it is what it is, "continues Ortego. The Estu could only play two games in January, with a 21-day break between the last of December (Campus Promete) and the first of January (Quesos El Pastor), and another of 13 from January 29 (Cadí La Seu) until February 11 (IDK). In the last week, on the contrary, they have played three: Gran Canaria, Al-Qázeres and Casademont Zaragoza. The result, two victories, the last one very convincing against the Aragonese: 83-54.
"After the match against Zaragoza, the feelings have improved. We came from not playing good games, but we saw that team that does not give up a lost ball, that DNA that we have had throughout the season and, in that sense, more optimistic than five days ago because those feelings reappeared . It has been very good for us to face the Cup with that spirit that we had lost ", underlines the coach, who knows that they have nothing to lose in this tournament:" We are very excited to live the Cup. We are going without pressure. If the circumstances arise, we are correct ... the stars may align. We must be competing for 40 minutes and reach the last with options. "
Photos from as.com