MoraBanc does its homework but stays out
The Andorrans swept Mornar Bar, but Granca's victory against Unics Kazan leaves them out of the Eurocup quarter-finals.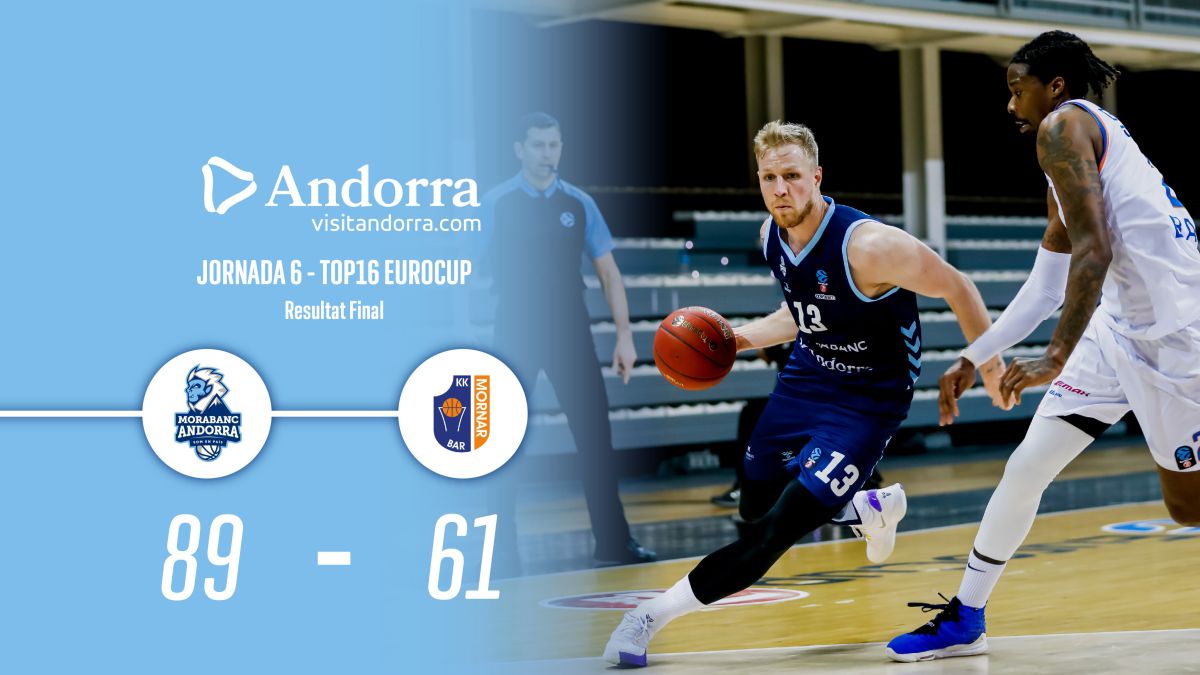 BC MoraBanc Andorra did their homework and beat KK Mornar Bar 89-61. Those of Ibon Navarro also needed the victory of Unics Kazan on the Herbalife Gran Canaria court to qualify for the Top-8 of the Eurocup, something that did not happen, which is why the Principality team remains at the gates of the quarterfinals of the competition.
After 374 days, the public, with a minimum attendance of 200 spectators, went to the Andorra Sports Center and BC MoraBanc started the game nervous. Many unforced errors and he did not score until after three minutes of the game with a triple by Tomasz Gielo to tie 3. From then on, those of Ibon Navarro began to flow in attack with a defense to the limit that drowned the attacks of Mornar Bar. The partial from 13 to 2, with five consecutive points from Jelínek, ended the first quarter for the Principality with 23 to 10. An advantage that brought the necessary calm to face the second quarter.
In that period, BC MoraBanc had a small gap in their game and suffered a partial from 2 to 9 that brought Mornar Bar closer on the electronic score with 25 to 19. Those of Mihailo Pavicevic scored a 2 + 1 from Gordic and a triple Jeremic's key to his little reaction. The locals woke up through their good defense and responded with a partial of 10 to 2 with a triple from Hannah and another from Palsson for 10 to 2 (35 to 21). The Montenegrins, without the injured Jacob Pullen, Whitehead and Hamilton, were always in tow and suffered the success of the Andorrans in attack.
The Mornar Bar was required to earn 10 or more points to have qualifying options, but stopped having options earlier than planned. MoraBanc was solid and brilliant on an offensive level. With a triple shot, Ibon Navarro's men achieved a maximum difference of 21 points with the hits from the 6.75 line by Palsson, Jelínek and two consecutive ones by Sergi García. The Montenegrins, leaders of the ABA Liga, lowered their arms and their rival played at pleasure to end the third quarter with 71st 51. The monologue of BC MoraBanc continued in the last quarter with a partial of 11-0 and one rival more than delivered. The locals, with a very choral game, recovered their smile after losing two games with comfortable results. But the smile was short-lived, barely an hour. Until Gran Canaria certified his pass and the Andorran elimination.
Photos from as.com