He has come to the ACB and he knows what his job is: to play basketball and win. It is not very expressive but at last he starts a smile to confess that he is "very happy" in Bilbao, "the best place".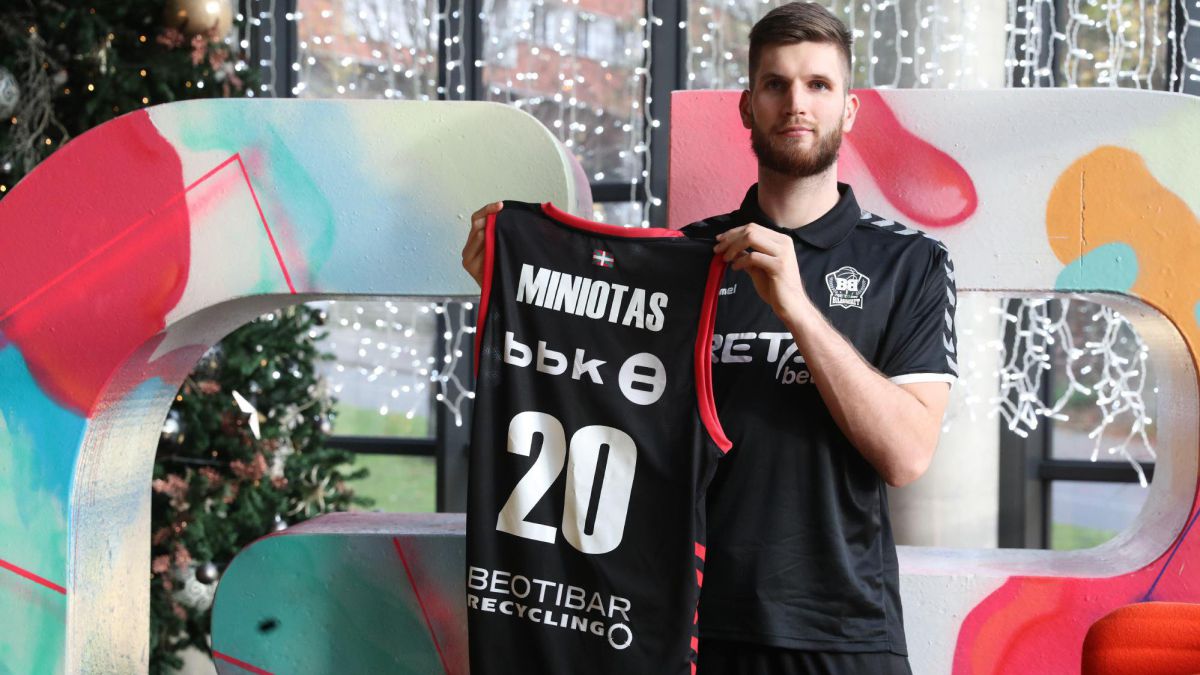 Miniotas is like the guardian of a dungeon. With his beard closed, his gaze very fixed, almost suspicious, frowning and always serious, it is almost impossible to get a laugh out of him. It seems that instead of enjoying the successes and externalizing that happiness, you are already thinking about the next mission. Win, win and win again, what the great Luis Aragonés would say. 'Don't lavish smiles, don't you think?', Was launched today. And there he does threaten with a jovial gesture: "Bilbao is the best place I have been in my career, I am delighted with the city and the coaching staff, and even the Miribilla tide, although unfortunately I have not felt it I want to give the level, I'm happy and I want to work here. I know I don't smile much, but in matches I'm going to play concentrated, yes, I can confess that I am happy. "
Regimantas Miniotas, it takes a name! It is known as 'Regis' by everyone in Bilbao. Against Murcia he spent 27:36 minutes on the court, his top since playing in the ACB, taking important shots, adding eight points and giving a hand in the rebounding side (6), but he maintains that the important thing is the group. "I'm not the best person to talk about what I did, I leave that to the coach, I do what he needs to win." The great virtue of this team is the personality of never giving up. "It is one of our strengths, we all fight and support the teammate on the side no matter what happens, and so we will continue fighting," explains Miniotas. Of course, he misses the Miribilla boiler crowded with people: "It would be a differential point if we had the people, a spectacular help, I hope to have them back next season" .
Four place has become more expensive. Kulboka was the discard in Murcia, but Zyskowski improvised there. A wake-up call to the Lithuanian compatriot. "We must all give one hundred percent in our work, the coach chooses the correct twelve, it is a matter of teamwork." There is no time for long celebrations ", after winning in Murcia in extra time." We were very happy on the day of the game and the next, but now we have a new mission and we are looking to Saturday, "sums up the Lithuanian international center, MVP in the league from his country. He has noticed the leap to a more demanding competition. "I expected an ACB with a high level, but not to this extreme, the teams are very strong, well prepared and anyone can beat you."
After winning on Sunday, RETAbet abandoned the red lantern, although it is still in the relegation zone. "The coach had a perfect plan in Murcia, against a very physical opponent, they were going to provoke us, and we responded well, with force, the work of the last months was reflected on the track." The focus is now on Manresa, "a good team that is playing great basketball. There is no simple game here. They are very high in the standings and we will have to do very well to beat them."
Photos from as.com