Mérida and Tejera, two lives predestined to meet
Both, born in the 90s, were the talents of Espanyol and Barcelona in grassroots football, they emigrated to England at the age of 15 and their careers pointed to the National Team.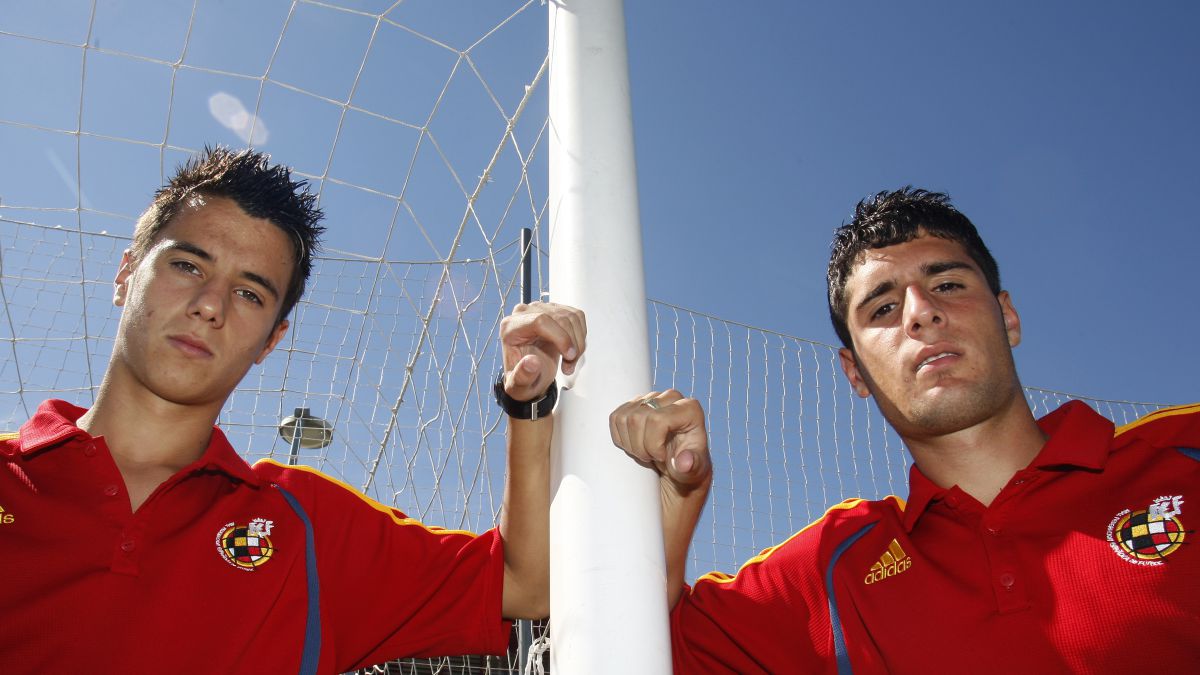 Any Catalan youth football coach from the late 90s who was in charge of touring the different clubs in the province of Barcelona was amazed by two left-handers, clones, from Damm and Santa Eulàlia who responded to the names of Sergio Tejera and Fran Merida This Friday they will see their faces again (if the technicians consider it appropriate) now in elite football, in a SmartBank League that 20 years ago would have outgrown them, because their careers aimed much higher.
Lluís Planagumà, now a Japanese Imabari coach, was one of those coaches. Planagumà was not even 20 years old, but the coach did not miss details of players like Tejera and Mérida. "They were impressive. We signed Tejera. And I think it has more merit because the batch of 90 in Espanyol was not very powerful. There were no decisive players. At the age of 15 he was promoted to the National Youth League, he even competed in the Honor Division ".
Mérida could also be a parakeet. That pre-junior midfielder who was already playing with youngest and thrashing did not go unnoticed, although at that time "we had not yet formed youngest in the quarry and Barcelona already had a more structured school," overlooks Óscar Perarnau, who at that time was training the Alevín B parakeet. Mérida decided, then, to dress as a Barça player and share changing rooms with "Vallès, Falqué, Bojan ... They stood out and were very good. There was a lot of difference."Pioneers in going as cadets to England
Both, born in 1990, left-handed, midfielders and icons of Espanyol and Barcelona, also decided to travel the same path as a transition to professional football. Mérida, at the age of 15, left Barça and followed in the footsteps of Cesc Fàbregas. In 2015, he decided to go to Arsenal, with whom he made his first team debut. Over time, and after the Barcelona complaint, the player had to pay 3.2 million for training rights.
Also Tejera, in 2006, decided to leave a Espanyol that he considered was too small for him to sign for Chelsea. A tournament in Tenerife with the U-15s had aroused the interest of countless clubs. Tejera returned without having officially debuted. "Now they are similar, but Tejera played more as a midfielder and scored goals. Mérida was more of an organizer or interior. Perhaps his career has not been as top as he was aiming for at the beginning," says Planagumà.
In 2010 both had already left their past in England behind and had already resumed their adventure in the League. Mérida did not catch on at Real Sociedad or Atlético de Madrid, while the club where he had the most continuity was at Osasuna. Tejera, on the other hand, has had more experience in the Second Division after passing through Mallorca or Espanyol, in a not too successful second stage. Now they see each other again for the umpteenth time. Two players predestined to always meet on a football field.
Photos from as.com