Mascarell opens the door: "It's time to find a new adventure"
The 28-year-old Schalke player attends AS to talk about his future, his team's crisis, the level of LaLiga, Jovic, Haaland, Nagelsmann ...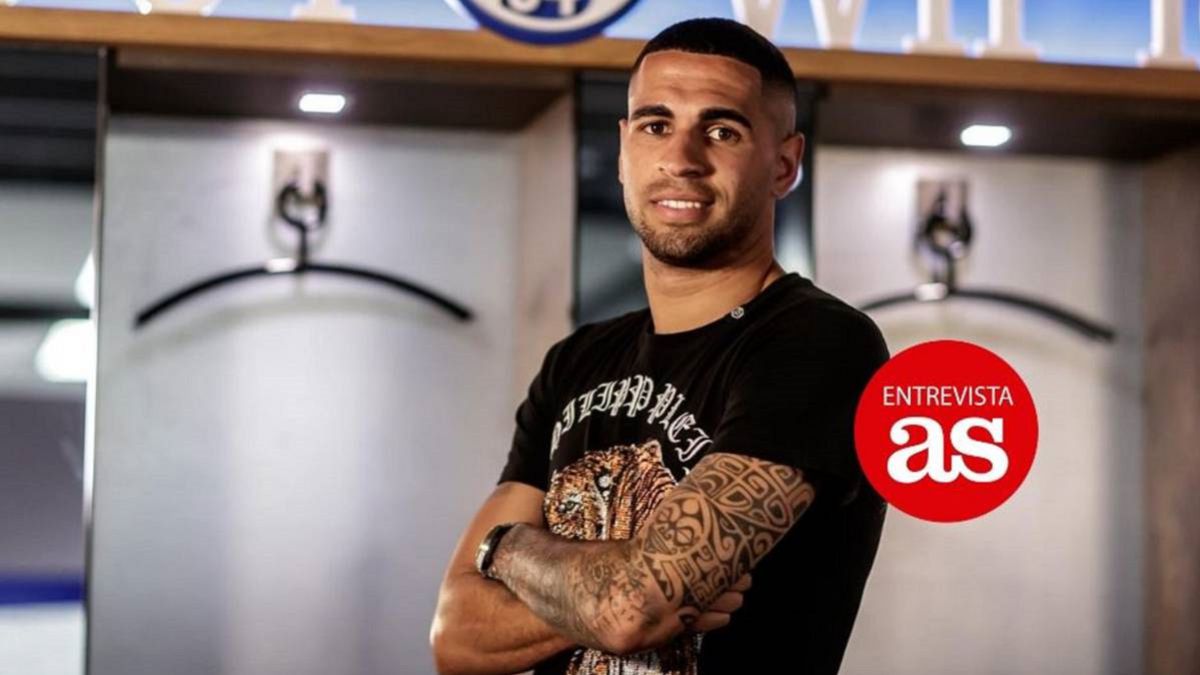 Omar Mascarell (Santa Cruz de Tenerife, 1993) faces his most difficult challenge as a professional: trying to save Schalke from relegation with ten games to go and he is nine points away from salvation. The Gelserkinchen team has changed coaches five times this year and the undertaking seems almost impossible. Even so, the former Madrid player does not give up and hopes to work the miracle and, once the season is over, make a decision about his future, which seems to be far from Germany.
What a year old for you, and not just because of the pandemic. Schalke is bottom and has had five coaches in one year. Paints very black ...
The arrival of Grammozis has brought energy to the team, illusion. He is a very good coach, but the truth is that we are in a difficult moment. There are fewer and fewer matches left and the situation is very difficult.
Do you sign 16th place and stake your stay against a Bundesliga 2 team?
In this situation we are in, without a doubt.
Five technicians is too many, what went wrong?
It has been a general problem, not only of the equipment. The club is not having a good time either and all this leads to hasty decisions being made and people getting nervous. Hopefully now things will calm down a little and be able to get hooked on the fight in the next matches.
Was it a patience problem?
Things were going very well with Wagner but after a bad run they stopped counting on him. Then came Baum, who is tactically one of the best coaches I had but he was not lucky either. Soccer is results and they did not accompany him. A pity, but we had to keep looking forward.
From the outside, it appears that Schalke has hit the ground running.
R: When there are financial problems, you have to make decisions. It is true that those that have been taken have not been the best, but it is normal, in a situation like this you do not think clearly. Therefore, for the future of the club and planning, permanence is key.
Would you have liked to go out in winter?
I already said in summer that I wanted to stay and in winter I had options to leave but as captain I could not abandon ship and I said so. I do not regret having made that decision. I don't like running away when things go wrong.
Your contract expires in 2022. If you want to get something for you, you have to leave this summer ...
I will fight for it. But it's time to focus on salvation and try to play as much as possible. Then you will have to sit down and see all the options.
Would you like to return to Spain?
Of course, it is my country and I have only played one season in LaLiga, when I was at Sporting. Although it is true that in Germany I also have a good line-up, with spectacular years at Eintracht and Schalke, where I achieved the dream of playing in the Champions League. Even so, after five years, what I most want is to look for a new adventure elsewhere.
You met Jovic at Eintracht. What do you think happened to you in Madrid?
Playing for Madrid is very difficult. There is a lot of pressure from minute one. You don't have the patience that you have in other clubs. But I have seen him do incredible things and now that he is back he is showing them again. He is a great footballer.
Do you think that in Madrid young people are not treated well, such as Jovic himself or Odegaard, Achraf and Theo? 444 444
It's strange. If you look at the squad, it has many young players but it is true that it seems that the decisions that have been made with those he names are not the most correct. In Madrid they barely had minutes and they are one of the most prominent players in other leagues.
Do you think LaLiga has hit a decline compared to other competitions?
I don't think it's a downturn, but it is clear that football is changing. Tiki-taka is no longer the rule. If you look at City, which for me is the team that best plays with the ball, it is very vertical and suffocates you in the pressure. Football is evolving in that direction of the physical but I don't think Laliga is lagging behind. There are teams with a lot of level.
Has Spanish football remained anchored in this evolution?
It is true that if I compare the Bundesliga of my first year with that of the latter, you see incredible progress and improvement in every way: tactical, technical and physical. The new coaches, who are very young, have great qualities and are leading teams without much fame to the elite and it may be that that in Spain does not happen with the same assiduity, but I think it is something that will arrive little by little in LaLiga, which in quality is number 1.
Does Nagelsmann mark that new path?
He is fighting Bayern in the league with Leipzig and he does things very well. Even if he is young, he imposes a lot It has a lot of character and it transmits a lot. That's why I don't think it takes time to go to a big one The egos of a European great's locker room are not going to dwarf him.
What is it like to face Haaland, the other fashionable man in the Bundesliga?
He is an athlete with a very great mentality. Mind you, he has quite an arrogant personality on the lawn. That may be what makes him so good.
Would you sign Mbappé or Haaland for Madrid?
Ufff… Very complicated. I would not like to see myself in that situation ... For Madrid's style, maybe Mbappé.

Photos from as.com