Martín: "Incredible how fast you change gears in MotoGP"
The Madrid native made his debut with the Pramac team's Ducati, with which he crashed, and was impressed by several things at the Qatar Shakedown.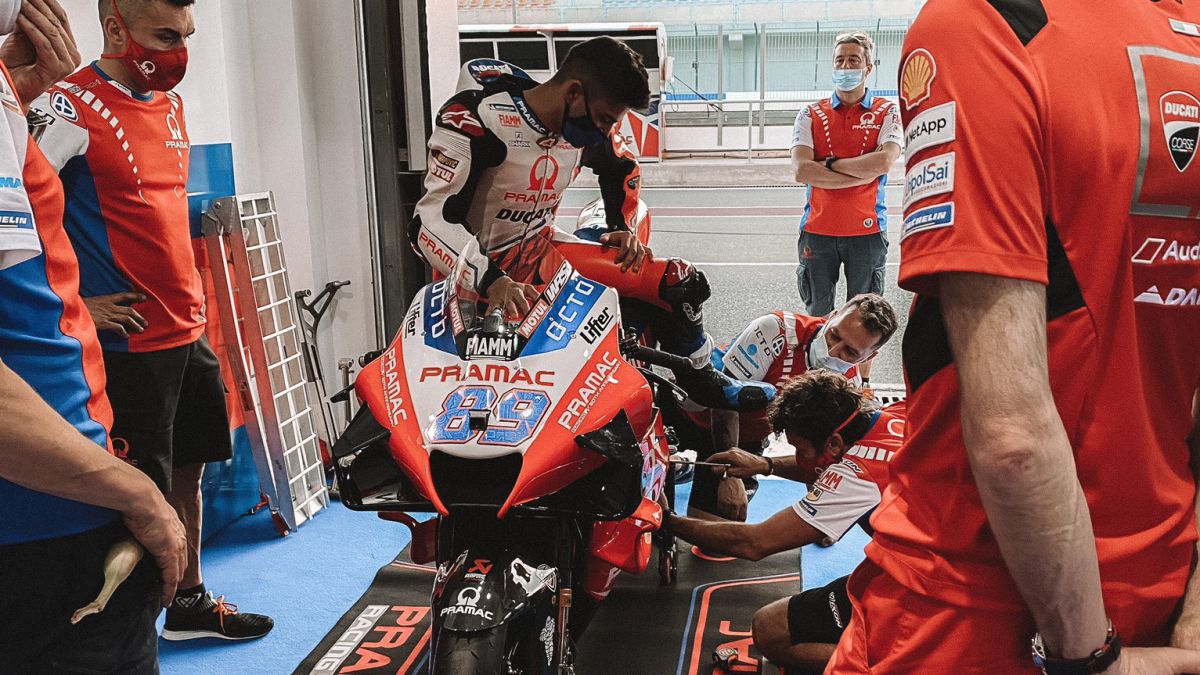 Jorge Martín is already a MotoGP rider for all intents and purposes. The man from Madrid made his debut today on the handlebar of the Pramac team Ducati in the Shakedown of the Qatar 1 test. He did it in tenth position, 3.2 behind the head, which is now an anecdote, and also with his first crash in the queen class, which is taken with philosophy. The change to the Desmosedici has surprised him, because it puts gears at full speed, and how impressive it is to fly at more than 300 per hour and be able to brake normally. He tells everything himself in detail.
-What can you say about your first day as a MotoGP rider?
-The bike is quite good. You can feel everything and electronics helps you a lot. I have tried to ride for myself, for my goals, and I have not noticed the other drivers at the moment.
-How have you prepared physically?
-I have worked a lot on the physical, because I lost a little. I've done a lot of motocross and a lot of things, so I felt pretty good in that sense. I still need to improve in some areas, but I think we have done a great job.
-What has surprised you the most?
-The change, because it's amazing how fast you can change gears. It's crazy on the straight. You don't feel the sound while shifting and there is always more power and more power. When you hit the sixth you notice a shove in the ass. (Smile). The braking is also very good, because I think I have put myself at 309 per hour and the braking is crazy, because it brakes very well.
-How was the fall?
-It was a shame. I was going to go to the box now, but coming out of turn 3 there was a big bump and the bike moved a lot and I couldn't stay upright and I fell. It was an aggressive crash, because I was going fast, but I'm fine. The bike not so much, but these are races and sometimes these things happen. Ducati has prepared everything with work and now I am going to make them work a little more, but I am relaxed because it is normal for these things to happen. If you go slowly it doesn't happen to you. Wait for tomorrow.
-How about the tires?
-I have tried two compounds. From the front I felt a lot of grip and I still have a lot of margin. And behind I've done some skidding. I have done a lot of distance with the medium and it went well. I think we have worked well and we have not shot to the fullest. We have to wait for other days.
-How is the bike compared to Moto2?
-Everything is much better and we have a lot of time and many things to improve. We have worked a lot with electronics, because there is a lot of information, and you have to learn.
Photos from as.com