Madrid have ready the immediate replacement of Marcelo
The Brazilian's latest extra-sporting mess entangles his future even more. The club sees in Miguel Gutiérrez, Raúl's star 'three', an immediate replacement and is ignoring offers for his pearl.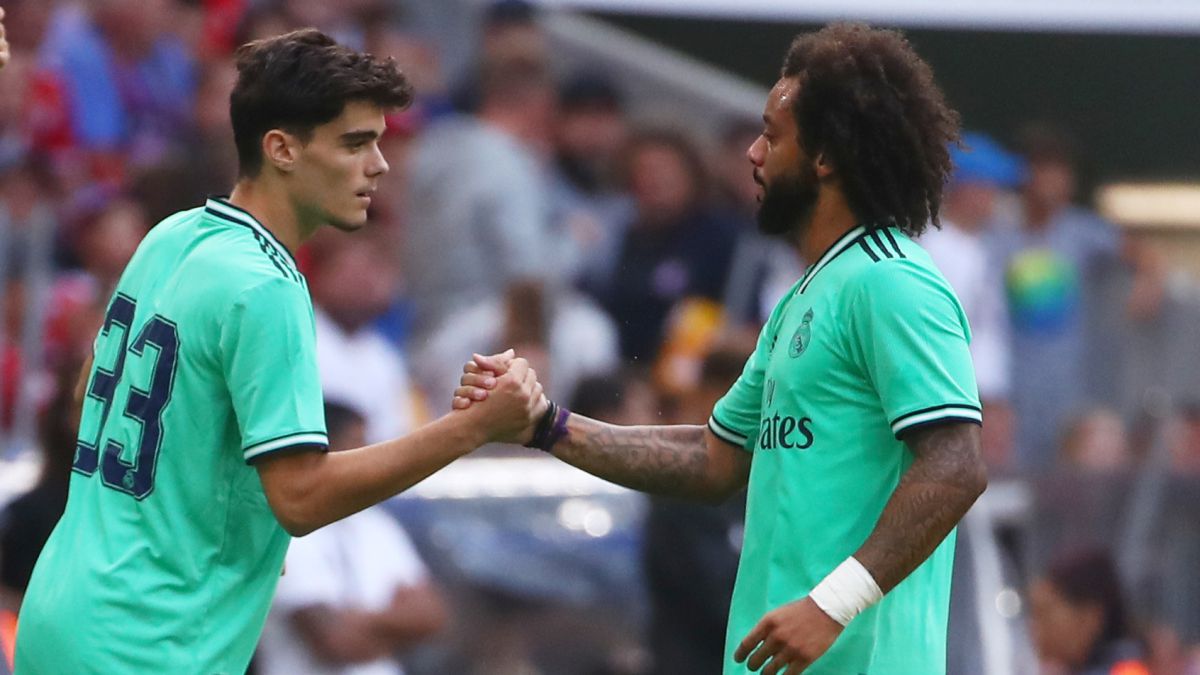 Marcelo's continuity at Real Madrid beyond this summer continues to become entangled. The Brazilian full-back has given a twist to his physique, thinking of being appetizing again as a starter or in an upcoming outing, but a new off-sport incident clouds his already complicated future in Chamartín. The second white captain uploaded a photo to his social networks showing himself on a beach in Valencia ... and the Generalitat wants to fine him for skipping the perimeter closure. An event that does not help him precisely because Madrid is very bothered by these problems in the middle of the pandemic, as happened with Jovic and his escape to Serbia, but he has an immediate replacement prepared for a Marcelo whose very high record (8 million euros net) It is in the salary mass savings plan. If he leaves, Madrid's second left-back position has a name and surname: Miguel Gutiérrez.
The 19-year-old Castilla youth squad is one of Madrid's strongest bets as an entity. He is seen ready for the jump and Zidane is being able to verify it from confinement, just a year ago. No pressure, because he has not yet made his official debut since Zizou respects Marcelo's hierarchy to the maximum while he is a Madrid player, but without pause. Unlike Reguilón, for whom Zidane has never shown the slightest predilection, Miguel has been acclimated to his work formula.But many of the repercussions of the roster configuration will depend on Zidane's intentions regarding his own future. If there were relief on the bench and Raúl inherits it, a roadmap drawn up by Madrid, one of his first requests from the 'Seven' would be Gutiérrez. He is one of his praetorians in Castilla. And one of the homegrown players most protected by the club. As reported by AS, as a Cadet Manchester appeared to offer him an almost irreplaceable contract but the boy wanted to stay and Real Madrid himself took advantage of it to sign a professional bond until 2024 and a very high clause.The Bundesliga knocking on the door
That has not prevented that last summer, after his decisive role in the Youth League and as happened with Antonio Blanco, a good number of Primeras called Madrid to request his loan or the new formula he uses Madrid in these cases, the sale of half of the rights of its youth squad (it did it with Baeza, Dani Gómez, De Frutos ...). The answer was always the same: Real Madrid does not negotiate for Gutiérrez. Nor when they call clubs 'friends' from outside. Borussia Dortmund and Eintracht have done it, with whom there is a very fluid relationship in the Bundesliga. Several English and Portuguese clubs also made the consultation. Everyone has been told that the Madrid tres does not come out. And the boy hasn't asked to leave either. With Raúl, he feels protected and highly valued in Castilla and sees that the first team is close.
Marcelo has one more year on his contract at Madrid, until 2022, but this coming May he will turn 33 and his salary almost doubles that of the owner, Mendy. An anomaly in a club that faces salary challenges such as the renewal of Ramos and facing a part of the record of the year that Bale has left, which threatens to return to the capital of Spain. In that sense, if Miguel Gutiérrez goes to the first team, his contract would improve but the impact on the accounts would be much less. Marcelo is trying to extend his sports career with the contribution of an individual coach. But Miguel Gutiérrez is the next generation that has been pressing the accelerator to the maximum. From Madrid and the National Team.
Photos from as.com