Madrid, facing the abyss: four finals to survive in Europe
Real Madrid, Baskonia, Valencia and Zenit will play the last two places for the playoffs. Pablo Laso's team can't afford any more scares.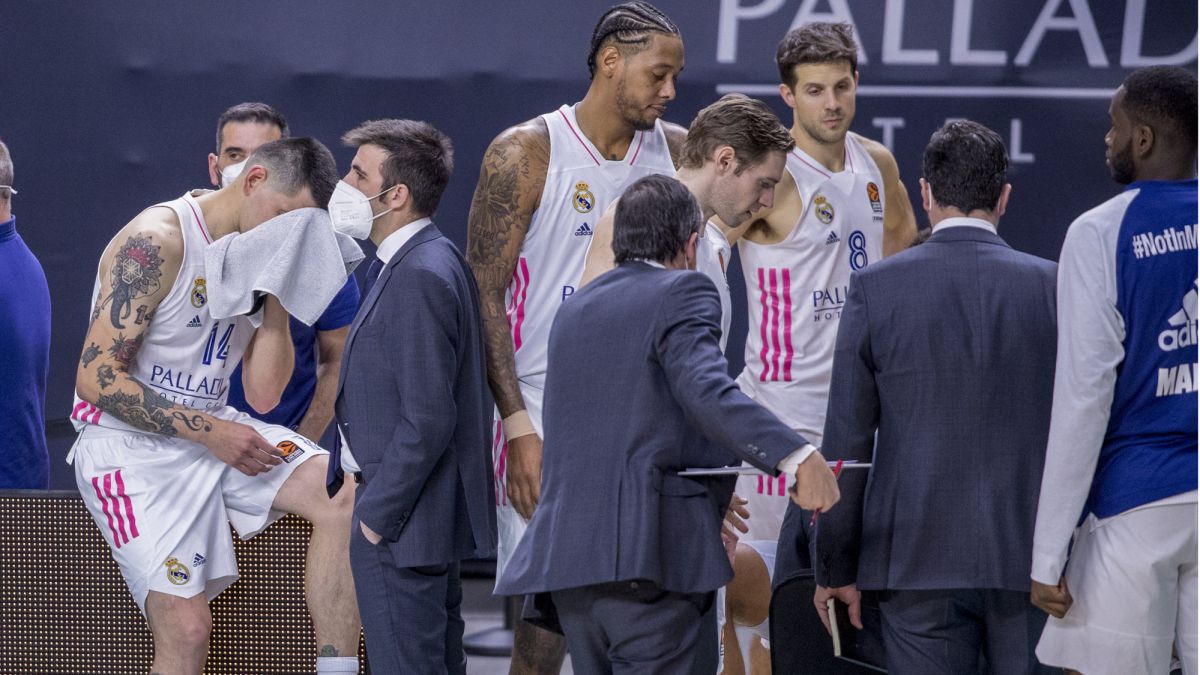 Real Madrid is on the wire. The loss to CSKA Moscow has considerably reduced your chances of entering the Top-8, necessary to play the playoffs and face the quarter-finals, which allows you to enter the Final Four. In a year full of complications, starting with the departure of Facundo Campazzo and ending with the injury to Anthony Randolph's Achilles tendon, we have to go through the coronavirus and the defects of an aging squad that has not signed anyone of height to replace his casualties, he relies on Edy Tavares too much (they have no other choice) and now has the difficult mission of not avoiding something that has not happened for a long time.
ACB matches are nothing like those of the highest continental competition, where you can win or lose with anyone. Madrid's talent is less than that of other years and also that of the teams that are ahead of them in the standings. In this course and without a reference like Campazzo, Pablo Laso's team cannot compete with the talent of Barça, Efes or Milan and their shallow bench depth prevents them from resisting in many games, as well as the innumerable injuries they suffer. some of its most important players, such as Sergio Llull at present.
The calendar of the four involved
Considing that Fenerbahçe seems to be closer to qualifying (except for a capital surprise) and that Zalgiris is practically eliminated, there are four teams involved in the fight for two playoff spots. Zenit is the only one with five games ahead, as they have a postponed match against Panathinaikos, while Valencia visits Khimki this afternoon and if they win they will continue in the fight. Against the bottom, in fact, Madrid lost, which after a bad start, got a 12-1, but has come out of all the duels against the Spanish teams (0-6) and has left games as important as the one was left in Russia.
Baskonia comes from a miraculous comeback at Zenit and has won seven of their last eight games, losing only to Barça. They are ahead, Milan and Efes at home and Panathinaikos and Valencia away, a last duel that can be dog-faced. Zenit have lost seven of their last nine, but have the easiest schedule of all: Khimki away and three at home: CSKA, ASVEL and Maccabi. Valencia, after Khimki, will be left with Bayern, Olympiacos, Alba and Baskonia, all playing at home except the one that will face Aíto García Reneses' team.
And there is Madrid, which has Rudy and Llull on leave, and they remain, alternating away and at home, ASVEL, Efes, Olympiacos and Fenerbahçe. In addition, between Sunday, March 21 and April 4, he plays a total of seven games, and he must be physically well while he continues to compete in the Endesa League, which he leads with solvency. The good part for Madrid is that, of the four, it is the one that is best in the classification (they are seventh), and that they could go through winning only one game, ensuring the classification with two victories. That is the only thing that plays in favor of Pablo Laso's team, which has lost three of the last five games and will have to survive a long, hard and complicated year as much as possible, both physically and mentally. Madrid, before the abyss.
Photos from as.com