Luca Vildoza: "I love playing against Real Madrid"
The Argentine, MVP of the Final Phase of Valencia, warns of the danger of his rival this afternoon (18:30, #Vamos). "They have to show that they are the real Real Madrid."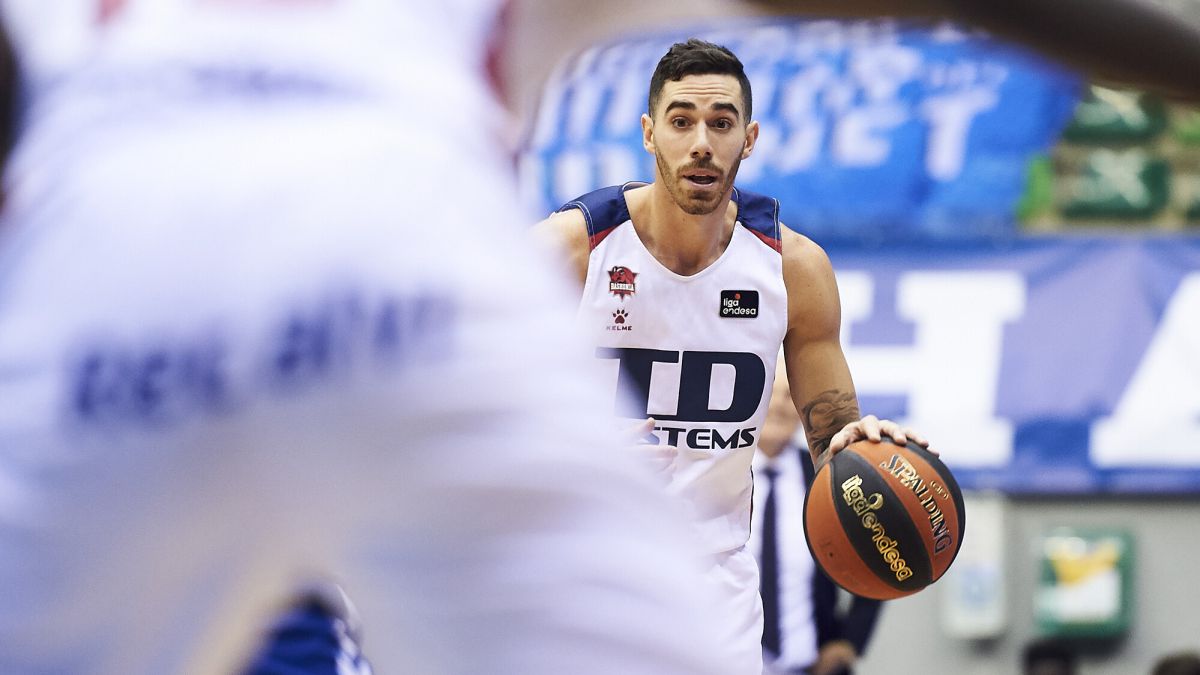 Luca Vildoza (25 years old, Quilmes, Argentina) was the MVP of the final of the last Endesa League, a very strange edition due to the pandemic that ended the bubble in Valencia. He scored the decisive basket. And this year he had a similar action against Valencia Basket, with an incredible triple with one second left to finish the game.
How can you beat Real Madrid?
We know that he is a very difficult opponent. The final result in the last games we played against them (win 64-84 in the Euroleague and loss in the ACB 92-83) shows that we were at the level, but we know that it will be very difficult again. Besides, they need to win too, they have to prove that they are still the real Real Madrid.
Are you motivated to play against them?
On a personal level I am very happy to be able to face a rival like this again, I love it.
How are Baskonia at this stage of the season?
We are in a good moment. It is true that in the Euroleague, in Barcelona, we had a very bad first quarter but it was the rival who also led us to it with great defense. Although then we were able to come back and equalize the score again, at no time were we able to play at our own pace. But I think we are at a good level, finding the chemistry and enjoying playing together. Anyway, all the games are different and that makes you change your tactic. It also influences who does it best and who wins.
Have you spoken lately with the Argentines of Real Madrid, Deck and Laprovittola?
I am not a lot of talking and sending messages but I have a great relationship with them thanks to the national team. I have known Gabriel (Deck) since he was 14 or 15 years old, when we met in the Argentine national team and the truth is that he is a great person, like Nico (Laprovittola). I get along very well with both of them.
Y, with Campazzo after his departure to the United States? He's doing very well.
I contacted him when he was not having minutes and everyone was talking about how maybe he did not measure up to be there, but now that he is in a good moment, I have not done it and I am not going to write to him. I am very happy because he is in the best league in the world and he deserves it and I know that, step by step, he will go as far as he wants. I'm happy for him.
There is a lot of talk about the interest of various teams in you and that you could leave Baskonia in the summer. Are you calm in that sense?
Yes, I am happy here. I have years of contract and I feel very comfortable in Vitoria. I notice that I am very sheltered by the people and the team and I am really happy in this city.
At the Palau, in the Euroleague, he received a severe blow to the knee but was later able to play against Obradoiro and Bayern. How are you?
Very good, they always hit me on the same leg but then he recovers quickly. It was just a blow and we were able to treat it with the physios without major problems.
On Friday they were able to beat Bayern, one of the revelation teams in the Euroleague. So they still have a chance to make the playoff. Will that game serve as an impulse when it comes to facing Madrid?
I do not think so, each commitment is different and I was not satisfied with how we defended. We accumulated a big lead in the third quarter but then they came close to six points and almost beat us.
Handles Ivanovic's speech. Should we be more solid?
Yes, we have to defend better because that gives us confidence later in the attack.
I reiterate, do you have any real options to enter the Top-8 of the Euroleague? Zenit, Valencia and Zalgiris seem the direct rivals for that last place.
Of course, we are working towards it and I think that, except in some moments of the matches, we are at a good level.
Everything is on track to re-qualify for a title. The important thing is the team.
Yes, as I said once, we don't have the best players, but as a team we are very good.

Photos from as.com