Liz Mills: "Real gender equality is still a long way off"
The Australian chats with AS after becoming the first woman to qualify a men's team, Kenya, for a major FIBA tournament.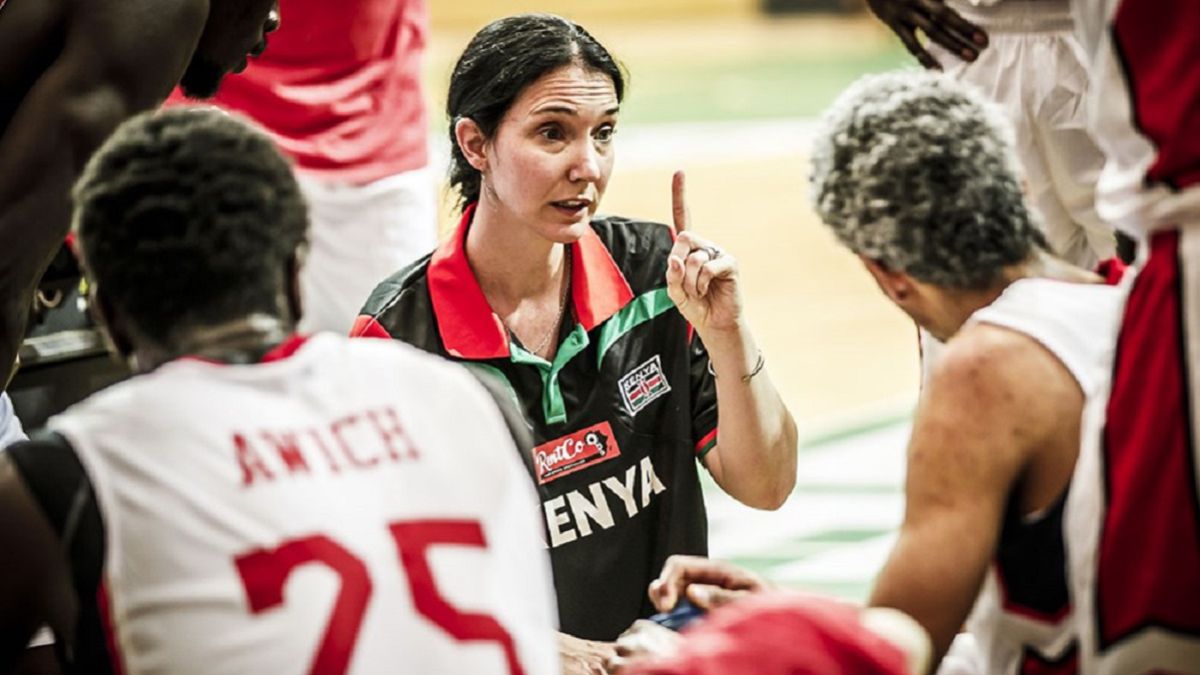 An in extremis basket by the captain, Tylor Ongwae, caused the delirium of Kenya, who defeated Angola (74-73) and managed to qualify for an Afrobasket for the first time in 28 years. The 115th selection in the FIBA ranking (now 112) beat 32 (now 33), an African basketball classic that had swept Kenya in the first Qualifying Window (66-83) and was on track to do the same ( 9-22 after a single quarter) on February 20, in the second round of games to decide the line-up for Afrobasket, the great African basketball tournament.
But something happened from that disastrous first quarter: Kenya began to play coherently, with intensity and intelligence, with a pressing and tireless defense and an attack focused on doing many little things well to get good shots. Only a few weeks before, the Federation was looking for a coach for a Window in which a single win was needed to be in the Afrobasket thanks to which he had joined in the first matches against Mozambique. The chosen one against the clock was a woman, the Australian Liz Mills, who screamed at the sky with clenched fists after Ongwae's basket, the image that summarized a historic triumph, the one directed by the first woman who has qualified a men's team for a FIBA Grand Tournament.
Mills celebrates their success, but looks forward to the day when the gender of a coach is not news, only their achievements. And it pushes from its social networks for federations around the world to promote the rise of young women who are trying to break through their technical organization charts. She celebrates being a trailblazer, but looks forward to women stopping being trailblazers and just being coaches.
Liz Mills has become known worldwide with this success, but she was already a personality in African basketball, a continent with which she has lived an idyll since she arrived in Zambia in 2008, together with her twin sister, to work as a volunteer. with children affected by the HIV virus. Three years later, the move was final from her native Australia, where Liz had studied sports science and sports business management and had begun (at 16 she was already training) to enter the world of basketball while her sister opted for that strange distant cousin, the netball.
If the predominance of the benches around the world is overwhelmingly male, in Africa the situation becomes even more radical. Until a little over a year ago, at the Dakar Afrobasket, there had not been a female coach, not even in the female category. The first was the American Natosha Cummings-Price, with the Cameroonian women's team. Mills has gone a step further, a fundamental one in a career in which he has won titles and has worked with clubs and national teams in Zambia, Cameroon, Rwanda ... he has created with his sister a Christmas day for young talents (boys and girls ), the Mills Christmas Basketball Tournament, has acted as a consultant, participated in symposia and talks throughout Africa, and came into contact with the African Basketball League promoted by NBA and FIBA. She has also worked on high-performance projects for the IOC and the United Nations and, as a coach, she has specialized in advanced analytics to help develop all that immense potential that beats at the heart of African basketball. The land where Australian Liz Mills, who talked about all this with AS, is a pioneer and already a reference."I hope the old school mentality will go away soon"
What was the first thing that crossed your mind when Tylor Ongwae scored the winning shot and your National Team defeated Angola and qualified for their first Afrobasket in 28 years?
Pride and deep emotion. Angola has won the Afrobasket eleven times, defeating a team in that category was an incredible achievement. I was very proud of my players, very happy that we qualified.
At that time she became the first woman to qualify a men's team for a major FIBA tournament.
I feel very proud, without a doubt. But at the same time it is sad that in 2021 we have to be talking about these kinds of milestones. I hope that in the coming years we will see a drastic increase in the number of women leading teams, both male and female. I hope it gets to a point where it seems normal that there are female coaches and we don't have to keep talking about gender when it comes to training.
Taken charge of Kenya for the matches of the last Selections Window. How did the players welcome you in the dressing room?
Since I arrived they tucked me in and welcomed me very well. After more than a decade training on the African continent, I have a reputation that the players know, they knew what I was going to bring to the team. It is a dressing room with players with a lot of personality, it has been a lot of fun working with them.
As you say, you have been working in Africa for years. Do you see yourself as a pioneer in that regard as well?
No, not really. I just see myself as a coach who is carving out her career. I have always loved being in Africa, training here. It has been a wonderful experience.
You are a white woman. Has it ever been something problematic to open that path on the African benches? 444 444
Not too much. Here in Africa there are many foreign coaches working with teams all over the continent. Unfortunately, yes, I have experienced sexist discrimination based on gender, but within the teams I have been in, I have always been very well received. In addition, I have been here for so many years that I am part of the community, everyone knows me, they know that I work to help African basketball grow.In relation to this, the women who work as assistants in NBA franchises often insist that the players always receive them wonderfully, that in the locker room the relationship is normal and that prejudices tend to be more at other levels of franchises and competitions…
I have been treated well in the places where I have been, from the managers to the players. The biggest problems are usually with rival teams, other federations ... people who do not see it as normal for me to appear as a coach. But hey, it's an old-school mentality that I hope will go away altogether soon.There, in the NBA, the highest level in world basketball, there are women who seem about to make the final leap and become head coaches. Becky Hammon is the clearest case. How do you see your situation from a distance?
I have no doubt that Becky Hammon could already be coaching an NBA franchise. I hope it is something we can see very soon. As soon as a woman achieves it, and is a head coach in the NBA, she will be a great example for everyone. Those who do not want women training their teams will run out of excuses anywhere in the world.
In the end it comes to the debate of identity, representation ... the girls who dream of being coaches have to have women like Becky Hammon or you as an example to feel that they can really achieve it.
This is critical. It is essential that younger girls see that there are strong, intelligent and successful women in leadership positions. You can't expect them to dream of achieving great things if they don't have those role models. Some women have to break down the barriers and set the example for the next generation. It is crucial, and I hope that even in a modest way I am being able to do my bit to light the way for women on basketball benches.
What would you say to those young women who are beginning to dream of making a career on a bench?
Work hard, set goals and earn your own opportunities. Let them be the ones who forge their own destiny.
From what he says, the day is near when it will be completely normalized to see women managing men's teams.
It is that we are in 2021, it should be like that by now. Unfortunately, real gender equality is still a long way off, but I hope that in the near future it will no longer be great news for a woman to coach a men's basketball team.
Will your future continue to be tied to Africa?
That is my intention. Now I want to lead an African team in a World Cup, an Olympic Games ...
She came to the continent in 2008 from her native Australia to volunteer in Zambia. So it has already become a long relationship for you… .
Africa is like a home away from home to me. My twin sister and I felt a special bond with this continent from the beginning. That is why we have lived and worked here for more than a decade.
What is the most beautiful thing about working in African basketball?
I think this last step was for me, getting Kenya into Afrobasket 2021. Since I started working on the bench in 2012 it was the big goal for me, and right now I have just achieved it.
And the hardest?
It was a huge disappointment for me not to put Zambia in the Afrobasket 2017. It was a blow, but I learned a lot from that blow, I learned many lessons that I have used later as motivation, on and off the court. I've done a lot of work on advanced statistics and video analytics to give my teams a competitive edge and better prepare them.
African basketball is in full swing, in any case. In the All Star 2020 there were two Cameroonians, Joel Embiid and Pascal Siakam among the players selected as starters.
It is growing very fast. There is a lot of talent, a lot of potential on this continent. It is a very exciting time to work in African basketball. The collaboration of FIBA and the NBA to create a great Continental League is another very important step. The players are going to grow more and they are going to have more exposure. We will see more triumphing in the NBA.
Photos from as.com