Impressive game of the point guard, who with his 50 points helps his team to go back 17 behind. Zion had the shot to win.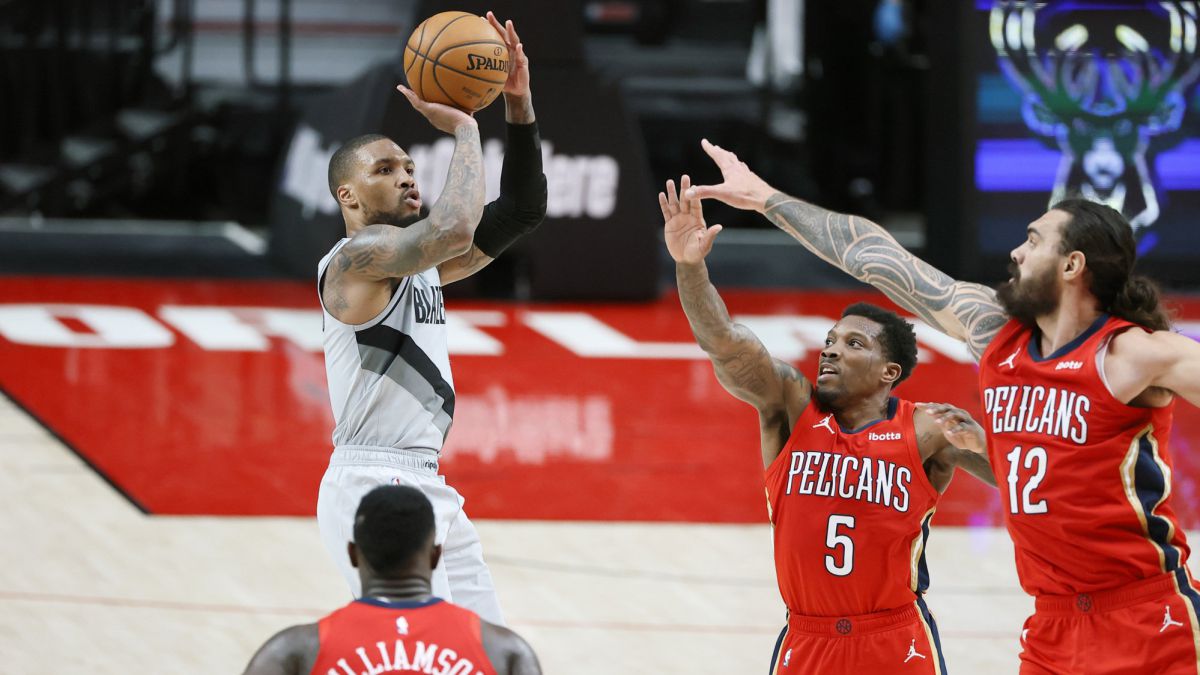 If Damian Lillard played in a big market, he would already have an MVP. It is a statement that cannot be guaranteed 100%, but seeing games like today it is difficult to explain that this player has finished only once among the five most voted for the award (fourth in 2018). Of course, if he continues playing like this, it is more than likely that in 2021 he will join his personal list ... and we will see if in a higher position.Today's was one of those nights in which the league, almost entirely, reacts to the action of one of its own. Many players took to Twitter to show how shocked they were by what happened. What happened was that the Portland Trail Blazers won a game that they had lost for a lot of minutes. They did it thanks to that way that this team sometimes has of never giving up, of continuing to push to get to the last minutes alive. And in those moments, when the game is on the wire and there are few possessions left, Lillard is king. Last night it was two free throws of his at 1.2 seconds that gave his team the victory. But first he made two more free throws, a 2 + 1 and a triple. All within the last three minutes. Well accompanied by Gary Trent Jr. and Carmelo Anthony, who also made key baskets in those moments, the point guard was once again infallible in the moment of truth, completing a lavish performance.
Because before all this I was already signing a legendary match that ended up being historic. 50 points on 20 pitches. It is the third fewest number of shots a player needs to score in order to score that many points. Plus, it's their third 50 + 10 assist game, tying Tiny Archibald and Russell Westbrook for second in history. He also ties with LeBron for seventh on the 50-point list of games and, overall, surpasses 16,000 goals and 4,000 basket passes in his first nine seasons, something that only LeBron himself, Larry Bird and Oscar Robertson had achieved. .
In this way Lillard keeps his team firmly in sixth place, holding the pull of those who come from behind and avoiding for the moment to enter the play-in positions. In addition, the Blazers had good news: the return of CJ McCollum, who when he was injured in January was signing his best scoring season (26.7 points). Last night he played 27 minutes (his coach warned that he would be limited in this regard at first) and scored 10 goals. Ahead, the New Orleans Pelicans roller coaster has no end. After sweeping the Clippers, it was time to fall. The lack of consistency and regularity of this team begins to be exasperating. It is very difficult for them to link two really serious games and, many times, they even have a hard time looking like a solid team within 48 minutes. The games that they have thrown away after having them quite dominated begin to form a significant pile and, although they follow two victoris of the 10th place of the Grizzlies and are supposed to be more talented than those of Memphis, it is difficult to argue that they are favorites to end up in that position.
It was a great day for Brandon Ingram (30 + 6), Zion (28 + 5 + 8), who had the winning shot, and Lonzo (11 points and 17 assists, a personal record of the season), who is every time playing better. But the defensive bleeding continues and talent is not only worth showing behind. That is the lesson that as long as they do not learn, it will not allow them to advance.

Photos from as.com