Laporta makes Messi laugh: "I'll do what I can to make you stay"
The president of Barça once again asks the Argentine to stay in his inauguration speech, which lasted half an hour: "If the field was full, Leo, you couldn't go."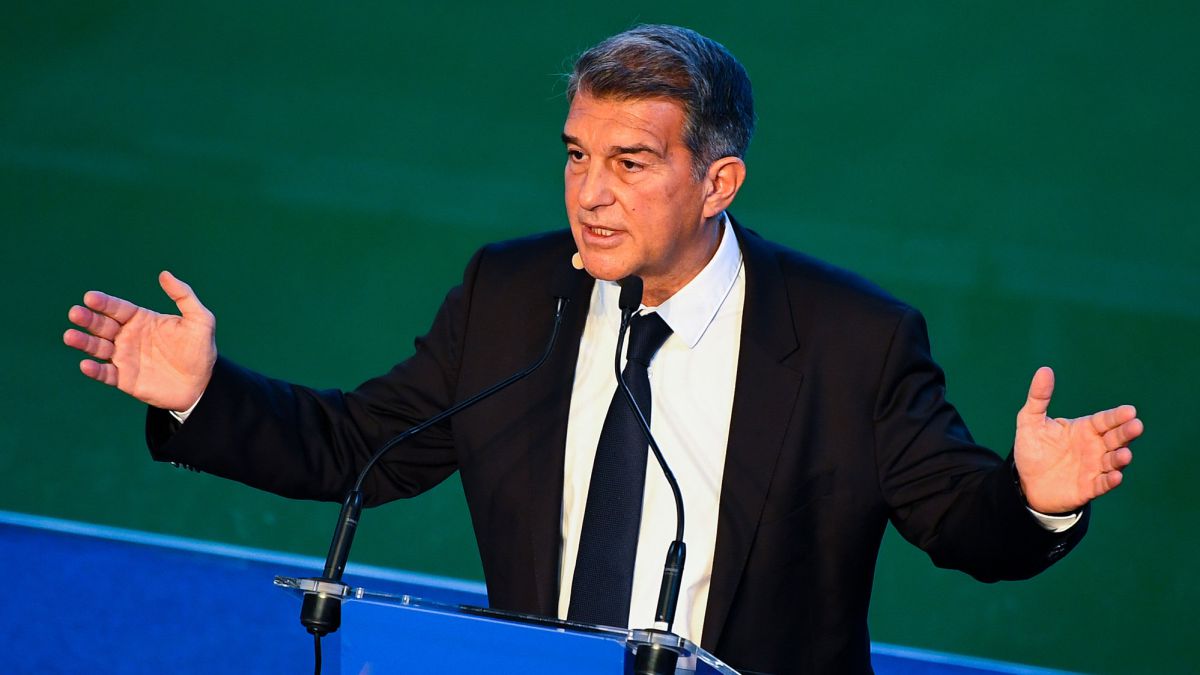 Joan Laporta appeared on the Camp Nou rostrum around 6:35 p.m. to give his inauguration speech as the new president of Barça until June 2026. Cruyff at the start ("only God knows what it took to get here) ; The players at the center of the speech to recover the virtuous circle; Gamper as the axis ("it was door to door when we had 32 partners"), to recover economic sustainability. But, above all, Messi. The Argentine did not flinch, but the The appeal was direct almost at the end of the speech. Laporta goes to work with the Argentine: "As long as we have the trunk of the club healthy, it will be fine. I appeal to the Barça fans, to those who think about what they can do for Barça, to help in this situation. But that does not mean shirking responsibility. That is not running away from responsibilities. Because I come here to command; and trying to convince Messi to stay. Because Messi loves Barça. And if the field were full, Leo, you could not leave ".
Messi, overwhelmed, almost did not flinch as the stands applauded Laporta's speech with rage. The first, his teammates Gerard Piqué and Sergi Roberto, who were on his right (Sergio Busquets, with a personal matter, could not attend). But also the new basketball heroes: Jasikevicius, Mirotic, Oriola. And even Bartomeu and Rosell. Laporta wanted to explain to Messi that he is possibly the only Barça asset that generates unanimity.
Laporta's speech, which lasted almost half an hour, had everything. To begin with, and as always, to the great Cruyff ahead: "It came to my mind when Johan said in this stadium; God only knows what it took to get here." And he left his first pill: "And he was not only referring to money. I always try to flee from catastrophies, victimisms. I always try to be positive. I want humility, but also courage because you have to be brave" .
A decisive part of the new president's speech had to do with the players of the professional sections. In complicity with them, and now with them, Laporta conceived and wants to achieve the success of his mandate: "I want to tell you that I have a special sensitivity with the players. Thank you for coming. You are the ones who give joy to the Barcelona fans. When I posted that A thousand square meter banner in Madrid, in Paseo de la Habana, I also put it up for you. I wanted to see you again. I'm happy to see you again. You are the soul of this club, which allows it to walk. You know me. You will see a president who will be at your disposal. We are here to help and protect you. Your work is hard. People think that the player's life is easy and it is very difficult. You have great talent and you are the key to the club. And now more than never. Because the boys and girls in this club are more alone than ever because they don't have the support of the people. Now we have to love them more than ever. You won't be alone with us. And there are no things that make me more excited that you are comfortable in the club. that's what we are. In never leaving you alone. "Laporta also made a gesture to the club's workers, subjected to ERTES and layoffs during the pandemic." You have set an example and have kept the club alive, "he said.
A game changer in the direction of the economy with a fantastic nod to Gamper: "When we had 32 partners, he went door to door to keep Barça alive." As in the campaign, Laporta wanted to send a message of calm: "The economic situation has generated some concern and we have the priority that the club is sustainable. It will take work and effort and, now that we have full powers (transferred by the Management Board only an hour before), we will have to implement the crash plan and try to reverse the situation. And we will. It gives us respect, yes, but it does not scare us. The team of people that accompanies me has this way of being. changes are scary. And if we have to make decisions that have never been made, we will make them. " And a tweak to the players: "You have to go for the Cup and for LaLiga. I know there are other sections, what can I say about the women's girls, Pasqui in handball or Saras, but in football we want to go back to win. We have already conspired from Paris to win titles and we will do anything to show that we are competitive. " For Koeman also a particular message: "Full confidence, Ronald" .
New mention of Gamper to explain to the members of the audience at the Camp Nou what La Masia means: "It has to be a guarantee of the future of the club. Gamper said it, I think in 1925. Underneath the shield our hearts beat. Gamper wanted Barça, it saved us from a difficult situation, when we were left with 32 members. And now we find ourselves in a difficult situation. We have to take the suitcase and sell to Barça again, find the sponsors. of which we are proud is Gamper's legacy. We know that in this club there is no margin. Barça do not have a hundred days of margin as in governments. This is in the game on Sundays. There is no margin but that does not matter to me. It scares. No one is a virgin in this story and we know how to take it. "And of course, a speech full of convictions about freedom of expression that Barça has shown in its history: "Barça is more than a club. We have an important symbolic and representative charge of Catalonia. We do not want to supplant (he said pointing out Pere Aragonés or Laura Borràs, faces of the Government of Catalonia in the absence of Mayor Colau) to anyone but we will work so that Barça is an engine and we will carry our values with pride. This is a club linked to the country. around the world, and we have always been involved in the defense of rights and freedoms. We are a Catalan club and open to the world. And here there is room for all ways of being and doing. I will not fail and I will try to integrate all people they want Barça.
There was also applause for the other two candidates for the presidency, Víctor Font and Toni Freixa, and the request of a united Barça to be able to find stability sportsmanship: "Stability is key. I had times as president in which I thought: how Everything went so well for us? First, because we had a generation of great players. But it also went well for us because we maintained stability. When we don't have stability, Barça does not work. If we are stable, it is key. Stability is the backbone. As long as we have the trunk with health, it will be fine. I appeal to the Barça fans, to those who think what they can do for Barça, to help. And that does not mean avoiding responsibility. And that is not fleeing from responsibilities ". And there came the pinch to Messi: "Because I come here to command; and try to convince Messi to stay. Because Messi wants Barça. And if the field were full, you could not leave" .
Laporta finished sincerely excited. With the look in the sky thinking about his father: "He educated me in Barcelona, in Catalan. He was culé to the core". "We have to be an example," he said goodbye before the song that unites Barça fans: "Visca el Barça and Visca Catalunya" .
Photos from as.com