L'Equipe reveals the three people who have resurrected Dembélé
The Frenchman has hired a physical trainer, a physical therapist specializing in sprinters and athletes and an international chef who are working to readjust his performance.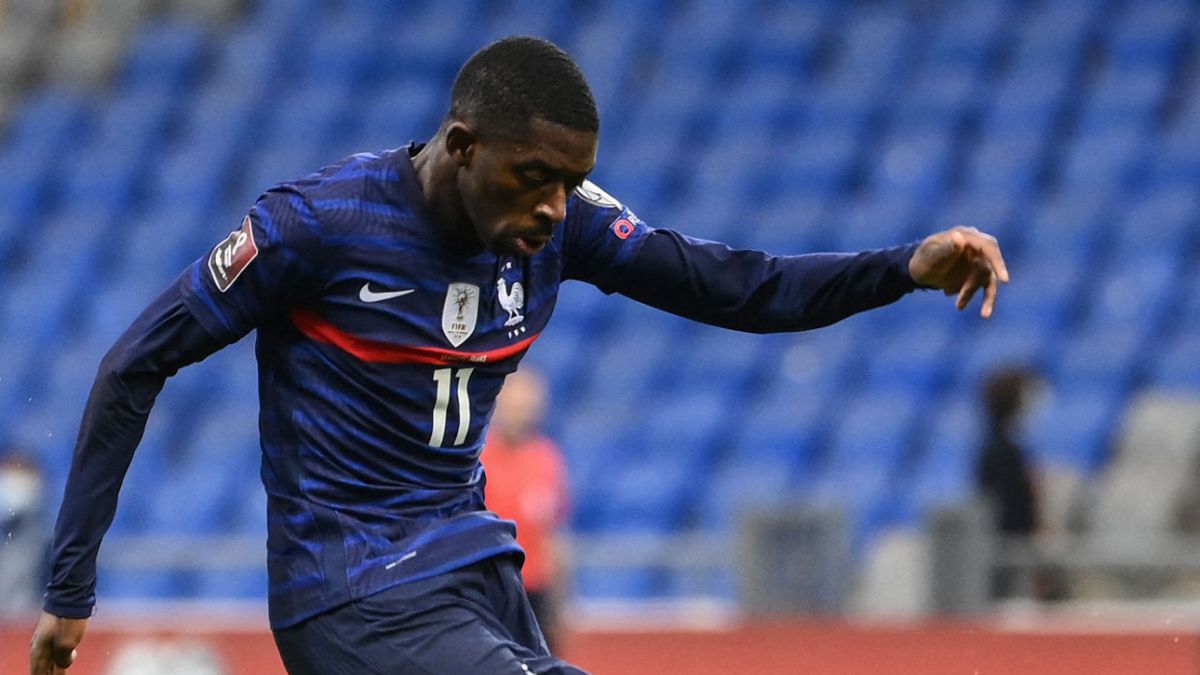 Ousmane Dembélé is reaching his best level. The French winger is dazzling and is displaying his best level away from what has been his great enemy since he arrived in Barcelona: injuries. Vernon's does not have an empty sheet this year (he had a muscle injury that made him miss five games), but he is far from other seasons in which he was ruled out due to discomfort for more than a hundred days.
The attacker accumulates minutes with good performances and goals. This campaign is close to ten with Barcelona as well as one more with France to open the can in their last game against Kazakhstan. Everything has changed for Ousmane in recent months, but what has led to these changes?Three 'signings' for Dembélé
Dembélé has added to his personal staff three professionals who are being key to understanding his physical improvement, as explained by L'Equipe. The Barcelona winger has signed Salah Ghaidi, physical trainer, Jean Baptiste Duault, physiotherapist and Anthony Audebaud, chef.
The former had always worked in the preparation of French sprinters, and although he had not worked with footballers, it is precisely his experience in athletics that was why he was signed. The knowledge of the corporal behavior before the strong starts and the actions at maximum speed, two strong points of Ousmane's game, have been key for the winger to decide to work with him. "Ousmane has an explosive game, he is alive and fast like a sprinter. I know this profile well. For us it is like having a Formula 1 in our hands. We are here to take care of him and help him optimize his performance. He is not yet 100% physically. Not if you know how far you can go. It is a machine ", he assures about the extreme in this French newspaper.In that 'we' he encompasses Jean-Baptiste Duault, a former physiotherapist for the French athletics team who now works hand in hand with Ghaidi to 'polish' Dembélé's physique. Ghaidi squeezes him to reinforce while Duault watches carefully that all is well. "My goal is not for him to run faster. My goal is for him to withstand the workload and prevent all possible injuries," he says. To do this, according to L'Equipe, he travels to Barcelona every fifteen days or so (he clarifies the date with the player) so that Ousmane passes through his hands and check the 'state of the engine' of the Barcelona player.
The last one is the one that contributes the gasoline to this "Formula 1". Anthony Audebaud is a renowned chef who has worked in different kitchens awarded with the famous Michelin Stars. Now it is installed in Catalonia and goes from the restaurants to the kitchen of the soccer player's home. The chef is committed to a diet that is as natural as possible and to train the soccer player nutritionally. "It is important that you like to eat and that you understand that I put you to eat. I only cook local, fresh and natural product," says the chef, who claims to take into account the calendar, his situation or the hardness of the training to choose one or other plate
Three men who are key in Ousmane's improvement and who point out that his full potential has not yet been seen. "War machine", "Formula 1" ... The new Dembélé arrives.
Photos from as.com