Kulboka, the cold Lithuanian sniper from Miribilla
He reconverted to the open 'four' position and wanted to learn playing against Mirotic and Shegelia. "I have shown what I can do, but I am still qualified for more", it is demanded.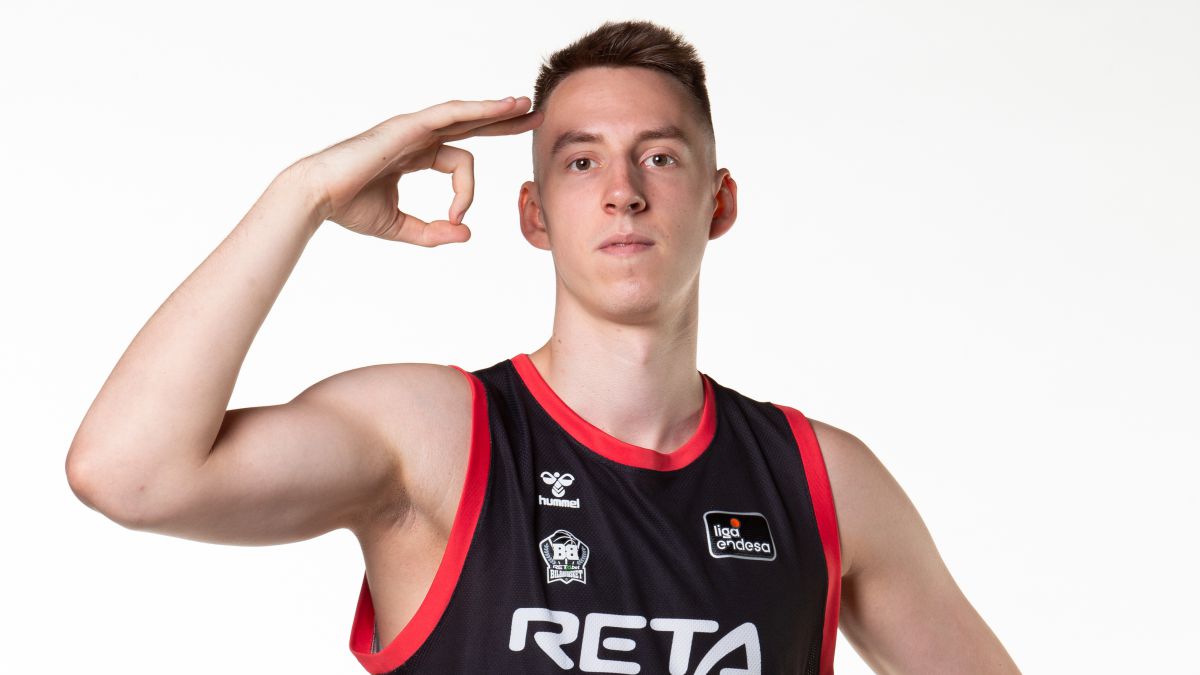 Kulboka is a cold player, although sometimes he is also very expressive. This season he had to endure a bad shooting streak and he was seen as jaded on the court, he even hit a triple and far from being relieved, he made a gesture of exhaustion, nothing to celebrate it in style. A throw and sinking gesture back to the defensive field as the ball went through the air on its way to the basket. After passing through Germany and Italy, in Bilbao he has found the affection he was looking for, patience and confidence also on the part of the coach, although his game has not quite taken off. He is young, has a lot of quality and the step from three to four and in a league as demanding as the ACB takes time. The dream of the NBA for the moment remains far away. He came to Spain and proclaimed that he wanted to learn by facing the best in his position, Shegelia and Mirotic. He has a contract until 2023. But he feels very comfortable in Miribilla, both he and his partner, with whom he spent the confinement a year ago and even astonished on social networks when walking down the hall of his house a tea bag in a cup that rested on the kitchen table a couple of feet away. The presence of his compatriot Miniotas, with whom he is competing for the position, comforts him even more.
"It is only my second year in the ACB, I am expanding, improving, what I can contribute as a player on the court. I have shown what I can do, but I am still capable of more," he demands of himself. Bilbao is a profitable stage for him, although in the fantastic last year he could not enjoy the climax, the final phase of La Fonteta in bubble mode. "It was hard not being able to play, because I was fine until the break, then something happened to my knee. We were a good team and we thought we were capable of achieving something important, but it happened and I can't change it," he admits with a hint. of sadness.
Arnoldas is evolving and although he cannot be asked to get very close to the basket or post from his position as a four, he does grow in terms of defensive predisposition. His work two days ago against Radoncic was more than interesting. Precisely the victories against Gipuzkoa and Betis have taken Bilbao Basket down. "We are enjoying the victory on Sunday, but we need to realize that each game is decisive, the one with Estudiantes, which is the one that comes next, is super important." He reiterates that you have to play every afternoon as if it were the last game, "because those who are behind can continue to win."
The Lithuanian center does not want to hear about the permanence. "The objective is not that - he argues - but to win as many games as possible, so that our fans are happy. To think that permanence is achieved would be a mistake." It has been a very tortuous year, due to COVID, injuries and cuts from players who have not acclimatized. "Training all together is important. Minotas joined later, like Jenkins." The Lithuanian 'four' considers that the player has his weight in Mumbrú's gear, "there is not a superstar, although John (Jenkins) is an incredible, he helps to free us with his shots and that we play more comfortable. With his example, he makes us others have to step forward ".
The pity is that Miribilla attends matches every day without an audience in the stands, but it is no excuse for Kulboka. "We are professionals, once we take to the field the rest disappears, last year we played with a lot of advantage, but these are difficult times and we have to adapt," concludes the shooter from Marijampole, a city in southern Lithuania.
Photos from as.com