Koeman and the Dream Team: this was the comeback in the League
The Dutchman won three Leagues (1992, 1993 and 1994) in the last game, two of them with a great comeback. Cruyff's Barça was a great follower of Madrid and Depor de Arsenio.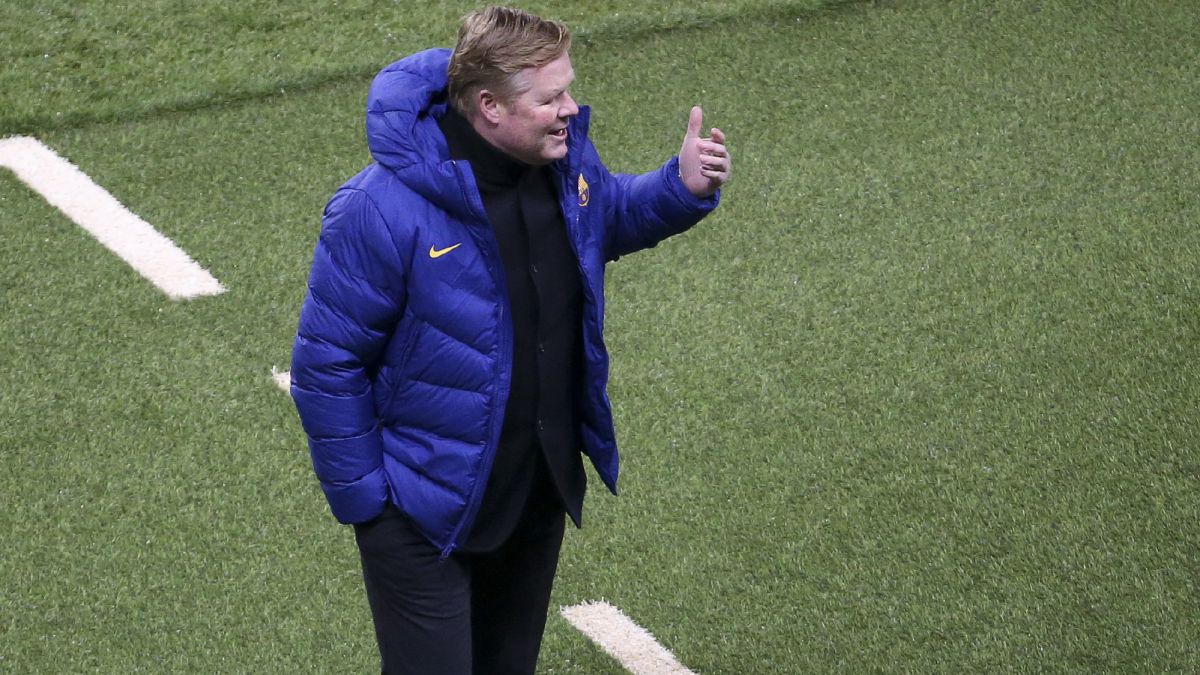 If any coach in the current competition knows the way to pressure a leader in LaLiga, that is Ronald Koeman. An important part of Cruyff's Dream Team, Koeman won four Leagues with Barça, three as a result of successful historical pursuits, especially two.
In the 1991-92 season, Madrid was the leader on matchday 33. In a league in which victory was worth two points, they had a three-point lead over Atlético de Madrid and four over Barça, who had dropped one point against Burgos that day. However, since then, Barça have won their last five games. Al Cádiz (0-2), Mallorca (3-0), Valladolid (0-6), Espanyol (0-4) and Athletic (2-0). The last three wins came just after the Wembley win with a goal from Ronald Koeman. In that magical year 1992 for the city of Barcelona, everything seemed possible. And Madrid got scared. They lost in Oviedo on matchday 34 (1-0), drew in Pamplona against Osasuna (1-1), and lost the last match against Tenerife (3-2) in a crazy and historic match. Barça, with Koeman as one of the leaders, won LaLiga with 55 points. Madrid was second with 54.
The 1992-93 season was different. Barça did not have the 'hype' of the European Cup. On the contrary, they had the pressure of being considered one of the best teams on the continent and being able to finish the season blank. On matchday 35 he lost in Vigo (3-2). A draw in Pamplona (0-0) against Osasuna was enough for Madrid to take the lead. On matchdays 36 and 37, Barça and Madrid did their homework. Koeman's men quickly beat Sevilla (2-1) and Osasuna (0-1), with a lucky goal from Stoichkov. Madrid beat Real (2-0) and Atlético (3-2). But in Tenerife, again, Madrid crashed. And the Barça of Cruyff, and of Koeman, of course, again sang the alirón.
The 1993-94 season was the most difficult yet. On matchday 23, Barça collapsed in Zaragoza. He lost 6-3 (Koeman, humiliated at some point in the game, was replaced in the 53rd minute by Nadal) and fell six points behind Deportivo in a league in which the victory was still worth two points. A Depor, in addition, that felt very safe. That day, Cruyff sat in the press room of La Romareda and said that Liga was not lost. Improvised solutions. To begin with, the system began to change. He stopped playing with the classic 3-4-3 and began to put an asymmetric system in which Stoichkov was a false right winger, Sergi stayed with the left-handed lane and Romario played as a center forward. Laudrup stopped having the same prominence. Barça, except for a couple of setbacks, began to win everything. And he put fear of Depor with a 3-0 at the Camp Nou. Fear entered Depor and drew 0-0 against Valladolid, Lleida and Rayo. And one more, the Djukic penalty .... Barça was champion.
Koeman knew what it was to be a chaser, and learned from Cruyff about how to put pressure on his rivals and be successful. The situation at Barça is very similar to that of 1992 and 1994. It remains to be seen how the Dutchman from Zaandam is capable of handling it.
Photos from as.com