Juanma Bravo "This Alcorcón is very much alive"
On Monday the Anquela team, currently in 20th position with 26 points, want to leave the lower zone with a victory against Mirandés.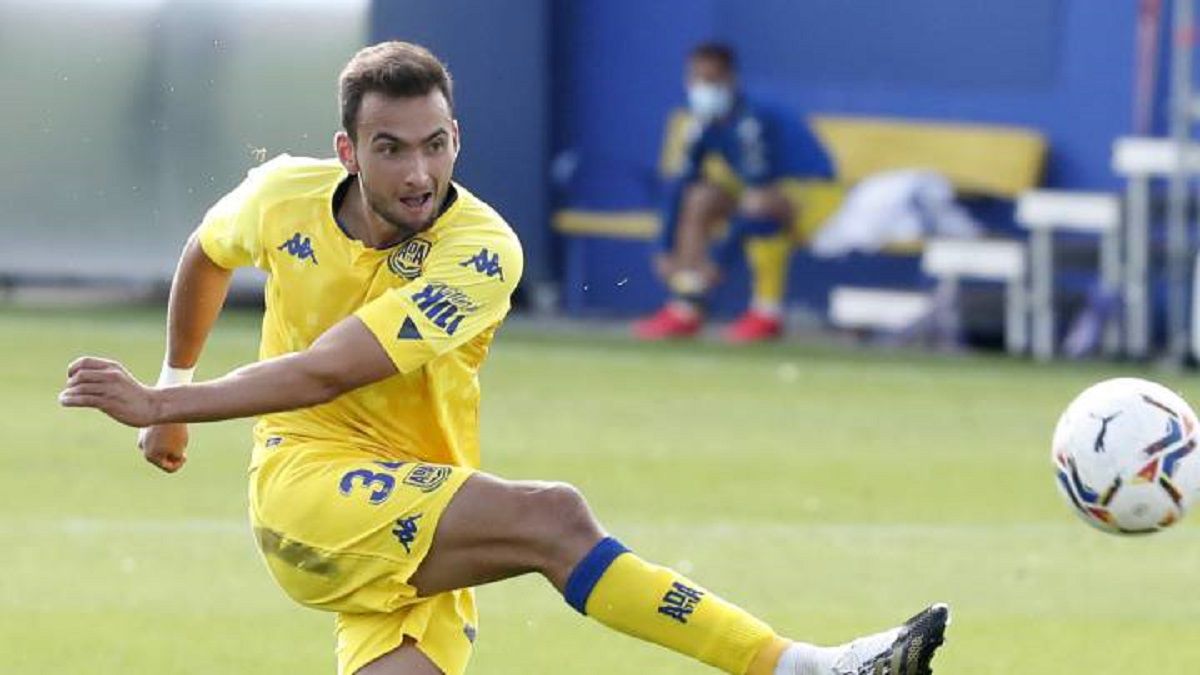 Long week for AD Alcorcón as they play against Mirandés on Monday. Those of Anquela come from playing a great game against Tenerife, they dominated and were superior for 77 minutes, but they ended up losing. Diario AS chatted this Thursday afternoon with Juanma Bravo about the present and the future of the Madrid team that occupies the 19th place with 26 points. Bravo recognized us that "The Tenerife thing was a very hard stick. We did a great job, very focused… The Second Division is very difficult. In a simple mistake any team can beat you. We have to continue, work and learn from our mistakes. "
The potter midfielder told us that "we are aware that we must improve our aim." Against Tenerife, Alcorcón created more chances than the rival and smashed two balls against the wood. However, once again their lack of gunpowder, they are the team that scores the fewest goals with 15, it left them with honey on their lips.Mirandés
The squad now only thinks about the next opponent: "Mirandés is a fierce team. They come from getting good results in recent weeks. That dynamic is difficult to change. They have a quality midfield that is capable of controlling the games, "explained Bravo. The Murcian analyzed potter football "It is important to take advantage of the second plays in this category. We have to be an uncomfortable opponent against any team. We have to close the goal again. In the last few weeks we have done a great job in the pressure. Both against Zaragoza and Tenerife we managed, at times, with that work, to stop the rivals ". Bravo told us that "The rivals already know that this Alcorcón is not dead. That he has been able to resurrect and is going to fight. This Alcorcón is very much alive. "
Holder
Bravo arrived this summer at Alcorcón from Real Murcia. The midfielder has played 996 minutes in the League and 265 in the Cup in 27 games in total with 13 starts, as in the last two games against Zaragoza and Tenerife. Bravo told us that the beginnings in the Smartbank League were not easy. "I got out of shape. Think that it had been stopped since March since Second B was not resumed after the start of the pandemic. It was very hard. I have spent many games on the bench and now the ownership and playing when the Mister decides it I value and appreciate it a lot. Bravo added that "We are many teammates in the center of the field. We can all do well and we all work hard to earn the job. I am very excited and eager ".
We also asked him about Anquela: "I knew him about Alcorconazo but did not know anything about him beyond what was published in the media." Bravo added that "I expected him to be just another old-school coach because of his age and stuff (laughs), but that's it… Nothing about that… He's a very modern coach. And above all very demanding ".
Photos from as.com