Juan Muñoz, Lasure and Brandon, on the periphery of the Garitano era
They are the only three outfield players the coach has yet to use. Against Cartagena they stayed on par for the first time.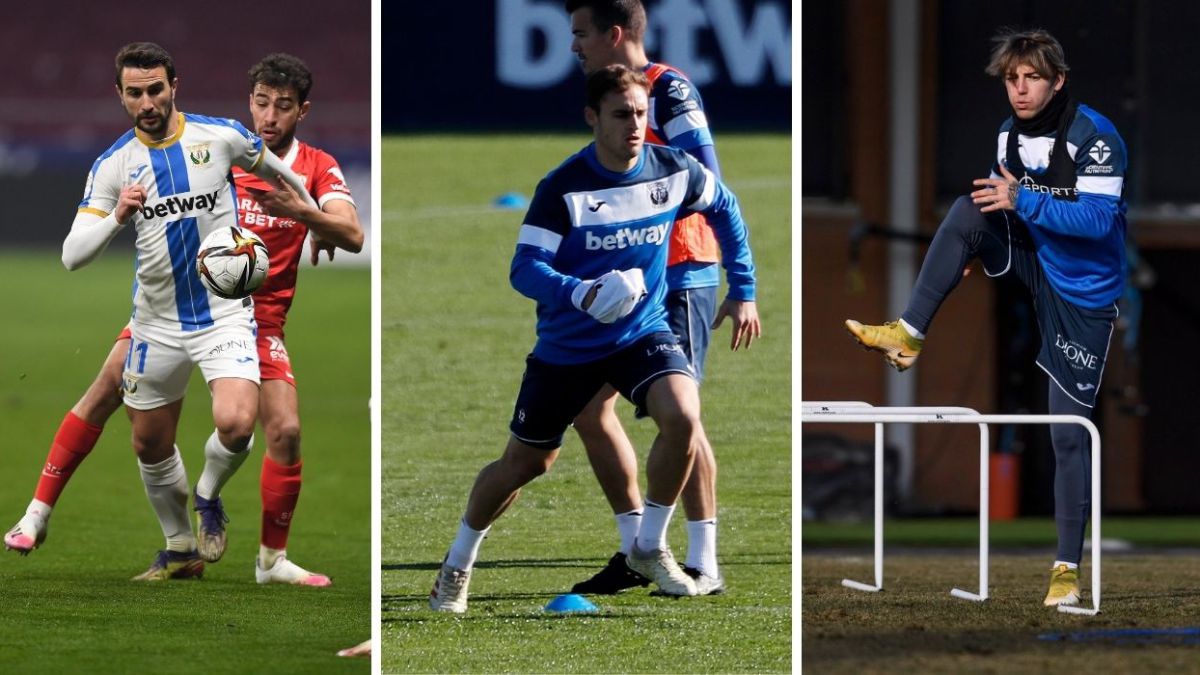 Asier Garitano, Leganés coach, has used almost his entire squad in the short month he has been directing the pepineros after his return to Butarque. Rotations have become a norm that, however, borders on five footballers. Two are goalkeepers (Riesgo and Conde). The other three, outfield players: namely Juan Muñoz, Dani Lasure and Brandon Thomas. The three stayed for the first time at par outside the call against Cartagena. The three with different individual situations that make them the victims of the change of bench.
The most striking is the perspective of Juan Muñoz. The Sevillian striker was not a fixture for Martí, but he used to be part of the Mallorcan's plans. Either as a starter (five starting games), or as a substitute (six presences, the sixth most used reserve). Thus he accumulated 472 minutes in the first 21 league games.
With the arrival of Garitano it has not been able to increase that figure. Until the duel on Friday he had six calls in a row without playing. But before the black and white he was left off the list. It was the first time it had happened for technical reasons.
The Fuenlabrada option
In the winter market, this former from Alcorcón, Almería, Zaragoza or Seville among others had options to leave until the last second, when several teams knocked on his door. Knowing his circumstances and that with the new coach he would have fewer minutes (Garitano plays with only a '9'), the Sevillian did not rule out this option for which Fuenlabrada called insistently.
Finally it was Leganés who decided not to open the door in anticipation that he could use it between now and the end of the season. The desire not to reinforce a potential rival also played a role. Because then (at the end of January) Fuenlabrada was not so far from a Leganés who feared falling out of the promotion play-off. Hence, an exit that would have benefited a player whom Garitano compliments, of course, was stopped, making it clear that playing in this Leganés is complex.
"I see it well. He has had uncertainty about the end of the market. He has talent. He knows where he has to improve. But we are talking about a very large squad. In many positions there are many people. There are people that we have not even taken to warm up But the requirement here forces us to be prepared at any time, "he said at the press conference prior to the visit to Cartagena.
Lasure and a complicated course
In those same words Garitano also quoted Lasure. The left-back from Zaragoza (27 years old) was also able to come out at the end of the market with Fuenlabrada as one of his strongest suitors. The same thing happened as with Juan Muñoz, although in his case, more than to reduce the status of this left-back, to prolong him in the limbo in which he found himself.
He signed for Leganés in September and as soon as he arrived, he made his debut. But that initial momentum soon subsided. Martí did not have him regularly and in the Cup, against Sevilla, he had the ugly detail (apart from the dressing room he did not like) of leaving him out after having played the mud matches against Ourense or Socuéllamos. Knowing that he is not a player like Garitano and that it would be difficult to play, he was looked for exit options that did not bear fruit.A signing run over by the transition
In that last winter market Brandon Thomas was the only signing of Leganés. He arrived after a complicated operation that was closed without the certainty that the Mallorcan could join the team. A vacancy was needed that Dani Ojeda freed. This forward capable of playing as a winger arrived in Martí's last week as Leganés coach.
In his epilogue game as a cucumber coach, he gave him a few minutes against Las Palmas. But then the replacement of the bench arrived and with it, an absence of minutes that at least did not separate him from the calls. Up to now. Against Cartagena he was left out in part due to annoyances that, however, do not hide a complicated situation.
His incorporation was endorsed by Martí (he had it in Girona, he shared with him dressing room in Mallorca), but without him, his role is cornered to that of a footballer with few options to have a presence in the eleven: Garitano trusts more in another profile as a footballer to act as '9' or extreme, in addition to believing that he is not yet physically at the top, as he already admitted in an appearance. By not changing the scene, Brandon risks a turnaround in his status. From not playing in Osasuna to not playing in Leganés, when the main reason for his move to the south of the capital was precisely to play the minutes that he could not enjoy in Pamplona.
Photos from as.com