Joaquín Muñoz: "Simeone told me: if you want to earn money, stop making 'gambettas and shoot'"
Joaquín Muñoz (Málaga, 03-10-1999) is one of those dribbling artists that are so popular in Spain. Loaned by Huesca, he has no purchase option. Atlético has it.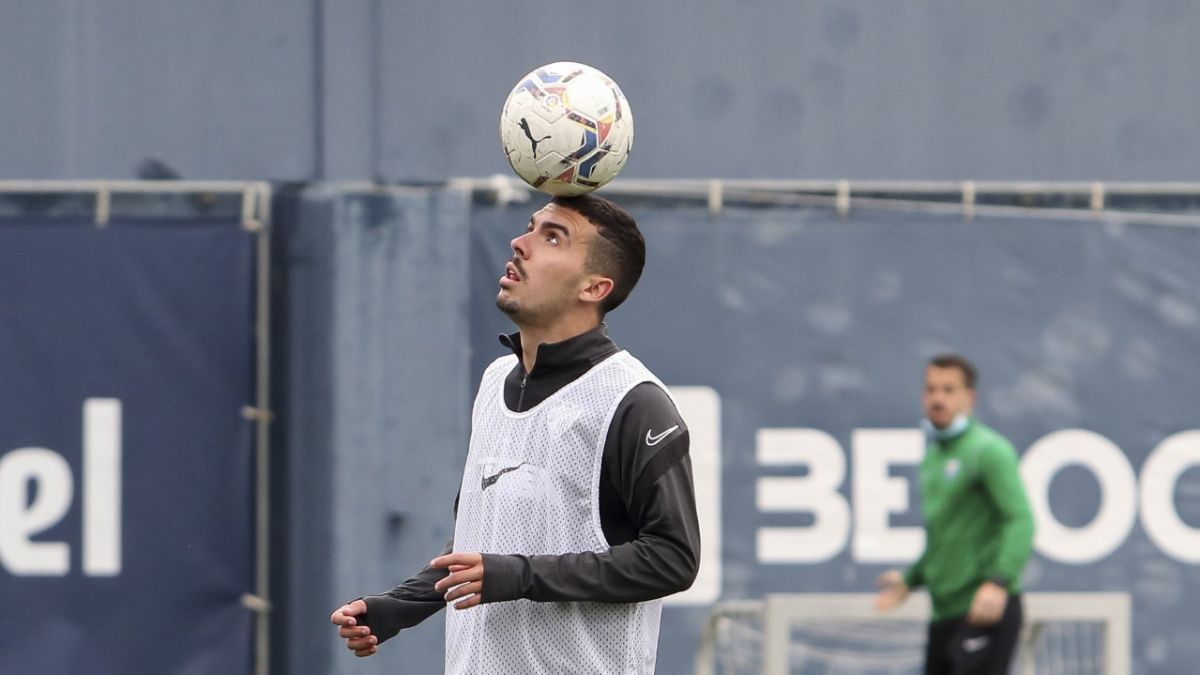 After scoring his first goal as a Malaguista, against Rayo, he said his heart stopped with emotion.
It was the first goal he scored at La Rosaleda. And it was very special because I saw myself reflected in the stands when I was little and dreamed of playing there and dreamed of scoring a goal. It was a moment that passed very quickly. You look at yourself and you see the child who came to the stadium with my father and my mother and you say, my mother!
Do you remember your first game as a fan as a child?
As far as I remember, a Malaga-Racing from Ferrol. I remember that we were twice in the area where Málaga was attacking because we had a friend in security and in the second half, who were attacking from the other side, he sneaked us into the other corner.
Will you remember Málaga in the Champions League?
Of course! The Málaga of Baptista, Joaquín, the Bunny Saviola, Van Nistelrooy, Toulalan, Santi Cazorla. Oh my God, what a great outfit! How I enjoyed!
Do you remember Isco's goal against Zenit Saint Petersburg?
One who caught her on the edge of the area and put her in the squad. A great goal!
How did you get Joaquín's shirt?
My mother gave it to me because she took advantage of the fact that I called me like him and bought it for me some Christmas. He was a player that I liked a lot because we played in the same position.
The feint and the sprint ...
That's what they tell me. I try to boost my game to the maximum and always give my best level. We are band players, but I don't know if we have the same style of play.
What is your favorite player?
As a child I liked Isco Alarcón. In fact, I took the number 22 for him in Huesca because he wore it in Malaga and at Real Madrid. Then I really like Iniesta. In the end there is one that is more colorful, Leo Messi.
Joaquín Muñoz, expert dribbler.
I like it a lot. When the ball reaches me and I face, I try to threaten him a lot so that he tries to put my leg in and thus find the hole to be able to get out. And sometimes I go away.
Are you one of those who haggle on the Rastro?
Hahaha! That's what my mother tells me. "I'm going to take you to the Rastro so you can dribble"
Tell us about your origins.
I started in Unity. I spent two years and from there, to Puerto Malagueño, which is where I grew up. It is a quarry team from which very good footballers have come out such as Francis, Junior ...
When did you know you would be a footballer?
As a child, I used to play soccer for fun. But I knew that I would like to be a footballer. When I was seven or eight they came to do some tests with Barcelona. My parents got in the way and wouldn't let me go.
A test with Barcelona?
I was playing with the Port. A boy came to Malaga to talk to my parents to tell them that they were looking at me and that they wanted to do some tests to see if I would enter La Masía. My parents didn't want to because they said he was too small.
Do you consider yourself a street footballer?
I grew up on the street and my game is street game. Whenever I could, I would do dribbling and my friends would tell me, they saw something special in me.
How did going to Atlético de Madrid come about?
It was difficult and beautiful. Difficult because I had to get away from the family and beautiful because of everything I experienced in Madrid. He was just 16 years old. At the beginning I was going alone, but a vacancy came up for the subsidiary because they were looking for a central-lateral. And they signed my brother Rafa.
His brother Rafa now plays in Italy for Gubbio in Serie C. How is he doing?
Now he participates less, but he is happy because, in the end, a language is brought from there. He tells me that it is a very different football than here. It is good for him to learn another football culture.
How was the rojiblanco experience?
What am I going to tell you! You leave as a child and it is already a prize to be there, in the end you get a prize that is to debut with the first team. It was in Huesca to replace Lemar and it was brutal because making his debut for an Atlético de Madrid that is at an immense level is a joy.
What did Lemar tell you?
It gave me a lot of encouragement. He gets along very well with young people and encouraged the new ones, both Víctor (Mollejo) and me.
How is Simeone?
Very good coach. He has the claw and ambition to be better every day. I have a very good anecdote. One day he caught me and told me that if I wanted to make money I had to stop doing 'gambettas' and shoot more at the door.
From Atlético de Madrid, to Huesca.
It was a difficult time. I came to Huesca with many objectives, both for me and for the club, but they did not happen. There were things that were not understood and in the end the best thing I could do was go out to Mirandés. I signed with Huesca until 2023 and Atlético has a buyback option.
El Mirandés, turning point.
It was a huge step forward. In Miranda they gave me an opportunity to play professional soccer. And I am very grateful to both the club and Andoni (Iraola) who was our rival the other day (with Rayo) and I thanked him in person because he taught me a lot and gave me a chance.
And, finally, Málaga.
Coming home with family and friends is wonderful. When they called me, I didn't think twice. I said that if I had to go out, coming home was an option I couldn't pass up. I had several offers and many people told me to think about it, but that I understood. I made up my mind.
How did this malaguista stage begin?
At the beginning it was difficult because I arrived injured and I really wanted to be able to play and contribute to the team. They had to stop me more than once because I wanted to go forward. I was fried for putting on blue and white.
And finally comes the debut.
The day I made my debut in Ponferrada was brutal. An immense joy. It was on November 15 (2020). It will stick with me for a lifetime.
Were you aware of the complicated institutional situation of Malaga?
But in the end, nobody expected to be in a more or less calm situation. And that is thanks to all the workers, the technical staff and the whole team because they have supported and we are all going to one. It's what makes things go so well.
Chavarría told us that Pellicer is a coach who makes his players better.
I have said it in some interviews. It is the same whether you are 84 or 18 years old because he is a coach who gives opportunities and teaches you because there are many coaches who one day screw up and never step on the pitch again. He makes you improve in these aspects, he tells you what to correct and he always wants to help you-
How about Chavarría? (This question was asked before the Argentine's unfortunate injury was known) .
He is a player that I really like. As I say, he is a warrior. He goes to everything and sticks with everyone and a striker who fights them gives you life.
Why is it so hard to win at La Rosaleda?
It was a bit difficult to explain because we came out with the best illusion of changing the losing streak and anything that we left to palmar would get complicated or happen to us. Then. Against Rayo we were able to win.
What does it tell us about Luis Muñoz?
Luis Muñoz has scored two goals that, as I said, are of another category. Is very good! If he sets his mind to it, he'll go far.
Who is the Malaga player who has surprised you the most?
Chavarría and Ramón. He was already followed when he played in the lower categories of San Félix (a quarry team linked to Málaga) and when I saw him he would say to me: "ufff, this one has talent". And when I have seen him in person, this boy, oh my! A player that I really like. Chavarría is 33 years old, but it seems that they are 20 because seeing how he runs and fights.
Are you left-handed or right-handed?
I am right handed. All my life I have played for the left wing, but when I arrived at the Atlético subsidiary they transferred me to the right wing because I was going to better exploit my game.
How far can this Malaga go?
As far as we all commit. As I have always said our main objective is permanence. From there we will see what we can do. In two years to see if it can be in the highest category. This season, for 50 points and from there, to dream.
Does Malaga have a purchase option on you?
No. Only the assignment.
Would you like to continue at Málaga?
That, since I don't know, I can't tell you because you never know what's going to happen. I am very grateful to Huesca because they really bet on me by getting me into the Second Division, even though I was on loan later. I also want to be able to show that I play well not only in Malaga because, as they say, when you are at home you play well.
How did you do with Michel?
Very good. He taught me quite a few things and I am also grateful to him. They told me he played for Malaga for six months.
What do you like outside of football?
Spending hours on the beach. The sea relaxes me a lot. Look I made the wrong choice! (jokes) Madrid, Huesca ... without the sea. Malaga has the climate, the people and the quality of life.
How about this Second Division?
There are very strong teams. Espanyol, Mallorca, Leganés, Almería, Rayo Vallecano, Sporting, Zaragoza… there are teams with a lot of names, some are better and others are worse. The competition this year is being beautiful.
What is your best memory as a footballer?
The day I made my debut for Atlético's first team in Singapore against Arsenal. It is the first time that you enter professional football and it is one of my best memories. It was a friendly match, but it's like it was your first time with the grown-ups. The truth is that being from Atlético is being different with the philosophy that Cholo instilled in making a small, very big team. There have always been homegrown players in the first team.
Explain your 'gastronomic' celebration after your goal against Rayo Vallecano.
I was eating with my parents and I promised them that if I dialed, I would have a celebration and that they would be attentive to the TV. And it was the coincidence that it was nothing else to start the game.
The best of this Malaga?
That we are a pineapple, there is always a good atmosphere and we all go to one. That shows in a team. The good thing that is happening to the group is the work of the coach.
Photos from as.com