Joan Mir: "We missed a preseason day"
The champion regrets the loss of the last day of testing, due to the poor condition of the track due to the sand brought by the wind: "We have needed to work more on the 2021 chassis".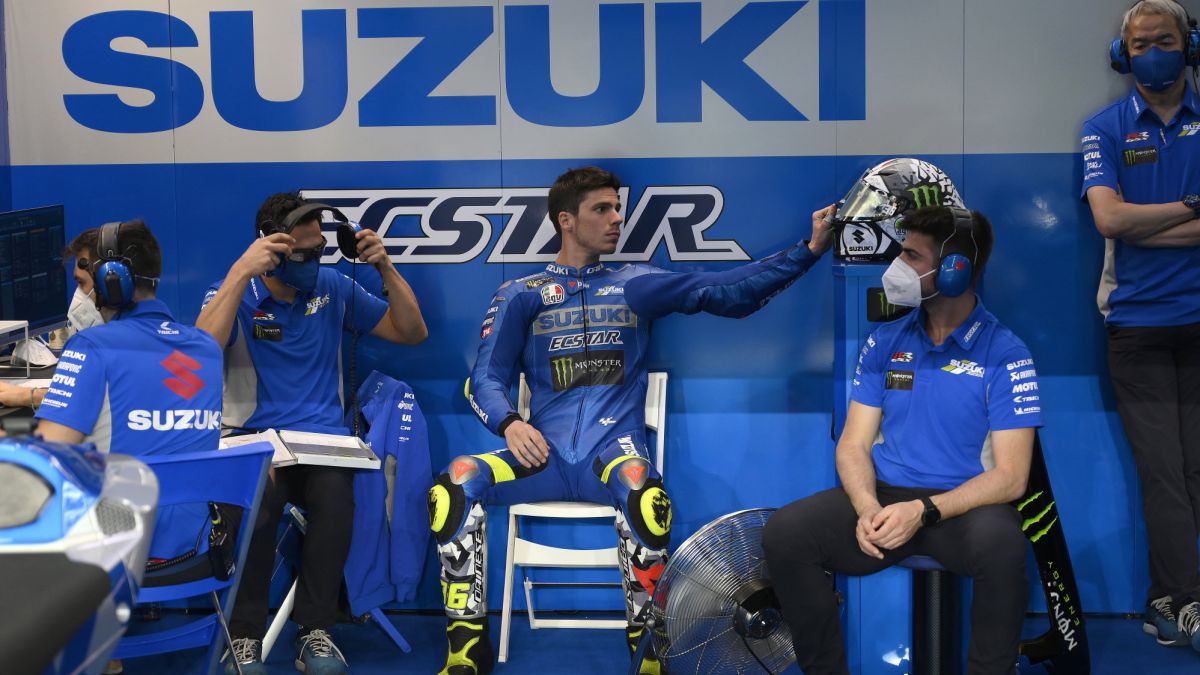 Joan Mir regretted that the sandstorm that hit Qatar today made the last day of testing of the MotoGP preseason useless. It feels 70% and I wish I had one more day to work on the Suzuki's 2021 chassis.
-Pre-season balance? From what it says in English, it has missed a day ...
-Yes it is true that I would need it today. I don't like to go too long, far from it, and I don't think we have excelled in this test to say that I have a day to spare. Especially on this circuit, seeing the top speeds of the Ducati, it is difficult that they are not competitive. It is a circuit with a very long straight, they are going very well and the drivers are working. Also all the Yamaha riders were very fast. We are there, we are neither better nor worse. We have done a good job, but I have room for improvement. Today I would have liked to work on that margin of improvement that I have left to really know where we are, but I feel good and I think we can make a good start to the championship. We have needed more work on the chassis of 2021.
-Will you use the new chassis for the first grand prix?
-We will surely keep the one from last year, which is not bad either.
-How about the vaccine?
-We have to be very grateful that they have been able to give us the opportunity to be vaccinated. I am aware that there are many people who will say how can this be, because there are many people who need it, and I strongly agree. I have not asked for it, that first, but I also have to say that they have offered us the vaccine. To all those people who want to create controversy, I can't say "No, don't put it on me and give it to other people." We can't do it. It is something that thanks to Dorna and the Qatari government we have the opportunity to wear it. I haven't put it on yet, but these days I will surely wear it. It is an opportunity to get the vaccine that is surely an act of total responsibility, because we move all over the world. The irresponsible thing would be not to wear it ourselves, because we could infect many people. In this way I am also calmer traveling or if I coincide with an elderly person, in this way I am also calmer. I am also grateful that they can put it on me. I don't think that because they put it on me they will stop putting it on others. We just had a chance.
-He has been seen somewhat tired. Can it be?
-I'm not tired. It can give the impression by photos and images, but it is not that. What is happening is that three days trying a lot of things in a row and without really being able to leave me ten laps with a set-up that works, so that I can pull and improve my pace a bit and work towards the race. These last two days were for that. Yesterday I was calmer and we had tried many things. This is what it takes to be in a factory. People in Japan bring things to improve, of course, they do not bring them to improve. Sometimes they bring many things from which several must be discarded and sometimes this creates a fatigue that is part of our work. Testing is not what I like to do the most. I like more that they leave me a motorcycle that works and work on a good basis. But it does not mean that he is tired far from it. Thankful that they were able to bring many pieces.
-Who can be the surprise in 2021?
-I don't know who it can be. It is enough for me to worry about my own thing so that there are surprises. I hope there are none. Pol seems like he can do it right. I would not like to be asked again the question of who will be the top five, because MotoGP has changed a lot and there are many very competitive people. Looking at the test results, the first nine have a rhythm, so you never know. I can't say one, but I hope no one will surprise me.
-Are you expecting tight races in Qatar?
-It depends on what Ducati decides, because that year what happened is that Dovizioso surely had tire consumption problems, he put a fairly normal pace throughout the race and then in the last two laps he decided to defend himself. But you can only do this if you have a good engine. But this will be decided by them; us behind, to see how we play our cards. They can play these cards and we can't, so we will surely play others.
Photos from as.com