Jenkins and Hakanson take Bilbao out of relegation against Betis
The American gunman executed with his crack shots and the Swedish point guard, reborn from Illunbe, blocked Randle's decisive shot.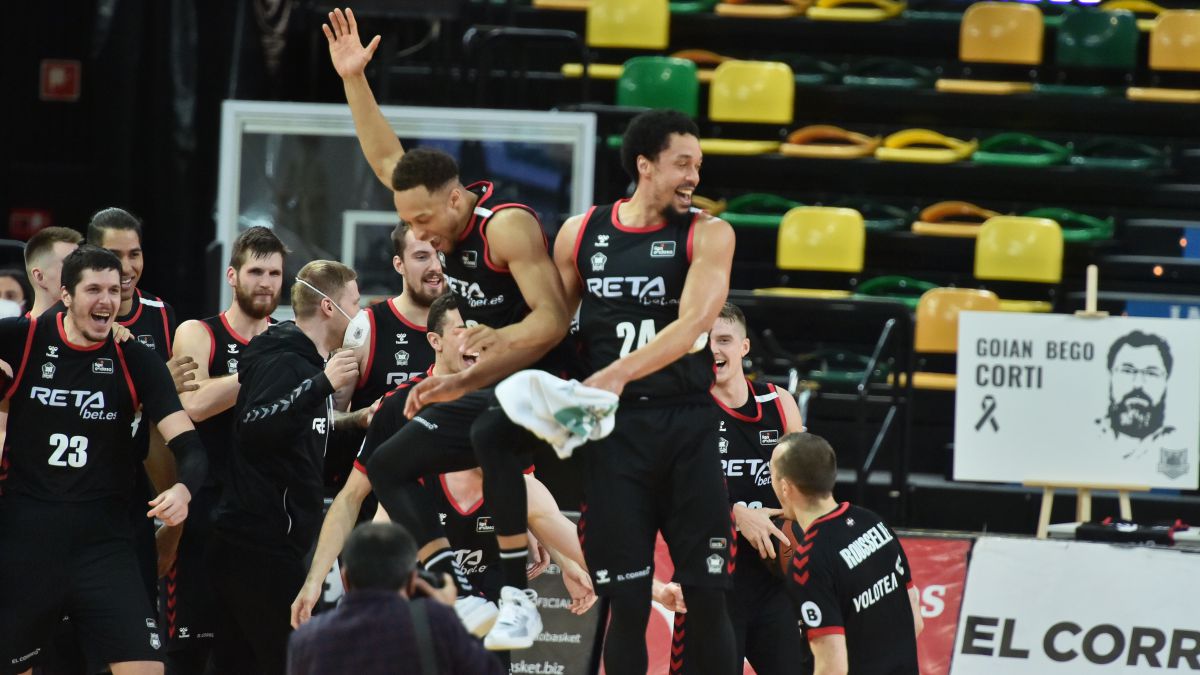 In a moment of sheer anguish, with 86-84 and almost half a stay in play in the five seconds remaining until the final honk, the ball reached Randle. Betis' small point guard had a one-on-one deal on his mind and hands against Hakanson. On the other side, the one they call weak, after crossing the baseline, Feldeine went, who had curdled a huge game. Ludde waited for the right moment, he knew he had the decisive move there. The American game director with a Ukrainian passport was face to face, gave four bounces and changed the ball to the left, just a misleading maneuver to show that he would penetrate that area, although it was only to propel himself into the air; He rose, adjusted the springs on the Swedish base and put a pop that will not be forgotten for years. Plaza revealed that he did not want a long shot but to secure with something more immediate to the basket or even look for free throws. They must have ignored him or he made up an excuse not to look bad. Jenkins loaded his rifle in the second half and Hakanson finished off the play. Result: Bilbao Basket goes downhill, continues its perfect journey with direct rivals (two victories against Betis and GBC and one for now against Fuenlabrada in the first round, only a very strange one against Estudiantes has escaped). He has finally chained two wins.
The dawn of the game brought an emotional charge that was difficult to overcome. If it is already a serious thing to be a month away from your home, the time that has passed until having a match again in Miribilla for the Cup and the last FIBA Window, I do not want to tell you how the drumming of hearts rose with the tribute paid to Cortizas, a historic journalist who has covered in the pages of El Correo the entire trajectory of Bilbao Basket since its birth in 2000. A beautiful act with images, the number one shirt with his name and a bouquet of flowers, that were delivered by Mumbrú and Salgado, the two legends who are still in the club right now, to the ex-chronicler's daughter, June. A moving act with the stands empty, which added a very intimate tinge.
A victory with five months and nothing to put in the mouth in the last two, since January 2, is a lot of famine for a pavilion like Miribilla. In sports, the match had the same tension coating as yesterday's Fuenlabrada-Gipuzkoa. Attacked is little. The day wanted to match four of the inhabitants in the sewers of the ACB. If the GBC was very damaged in Fernando Martín in terms of hopes, in Miribilla similar vibrations were going to be emitted, and that was noticeable during the 40 minutes of play. Betis started on the back of Borg, who acquired a lot of offensive prominence against his former team. With the return of Rousselle, Mumbrú had to make a discard and the chosen one was Zyskowski. Bilbao Basket, with Balvin out of tune, was very weak within the zone and it happened to him as in recent chapters, that the vertical of the free throw line towards the basket caused headaches. The verdiblancos began ruling, although the party ran on the terrain of equality.
The 'men in black' weren't that cheery, dynamic, well-defined role-playing team of Illunbe a week ago. They did recover part of the pose when Huskic came out to distribute the ball in attack like Marc Gasol. Joan Plaza has indeed changed the defensive posture of his team, which pulls his physique and puts his body in to block the rival's fluidity, although they had incomprehensible mistakes under the basket. Serron committed an unsportsmanlike game on Feldeine, expressionless until 6:10 left until half-time. Then he woke up, and in what way. The fact is that he scored both free throws, then made a triple and immediately scored again from the arc. 0-8, which joined with another previous basket from Ndoye and raised a 0-10 that put the 25-32.
Bilbao shot with pride and endured the first Andalusian attack: tied at 37. Mumbrú put Dos Anjos, before the two fouls of his two main five, and the Brazilian blocked in the area, contributed physical and even added two points in attack. RETAbet missed a focus on Jenkins, and he took the reins in the second half. Triple for 55-50 but then 0-7 and 59-62, the team was in a hurry. Jenkins was bleeding from his elbow and his departure from the track was a blow, because Bilbao ran out of his light. Brown was in one of those days when almost nothing comes out and based on a pick and shovel, virtues that never leave him, he ended up being decisive.
The swing kept swinging back and forth. A robbery and a triple by Jenkins gave a lot of oxygen to the 'men in black', who in this round of the competition have shed those dire loopholes that led them to defeat every afternoon. The Jenkins-Feldeine gunmen's duel was pure dynamite. With a tie at 66, the third act ended. A game in ten minutes. Life or death. Villalibre festive trumpet or drama symphony. Tied at two in just over three minutes, no one scored there. Ndoye was making a great game and the attack rebound boosted the Andalusians. Mumbrú had to stop with 70-73 (-5: 53). For every second that was discounted, agust grew several feet.
Mumbrú put two bases at 3:24 to finish, 75-80. Rousselle was not physically well, but she added as much ground as she could. The details were going to tip the balance and the king of those little minutiae is Serron. A steal, a triple, a passing line pressure ... He dominates everything. Fortune also plays in these cases, as happened with a pass that the great protagonist of the morning, JohnJen ended up making a basket. Each ball burned as if it had been taken from the Etna volcano. Brown did his bit. He took a free kick in the middle of the field that was worth its weight in gold, due to a slap from Feldeine trying to protect possession. Then, on the Betic ring, Jenkins continued with his recital: 84-82, 36 seconds to go. Of his 28 points, he made 23 in the second half. Great birthday party, which arrived yesterday (30 tacos). Ndoye tied with a great reverse and Balvin hit a basket with his heart after an offensive rebound. Gunman Jenkins eventually left the hero suit and cape for Hakanson. Definitely, this Bilbao Basket is another one after recovering people and closing ranks for three weeks. He managed the final two minutes better and has regained his defensive instinct. Tell Ludde.
------------------------------------------------- -------------------------------------------
Mumbrú: "We played very well the last two minutes"
Mumbrú stressed that the key to the victory achieved against Coosur Real Betis was that they knew how to "play very well the last two minutes" of the game knowing "clearly" what they needed after being five points below and, in addition, having "hit" .
"These matches are decided by small details and both Betis and we have deserved to win," said the coach before acknowledging that although John Jenkins, decisive with his 28 points, was "inspired" the American has been able to stand out thanks to "the overall group work ".
"We were clear that it was going to be a long match. Between the success of one and the nerves of another we had the necessary peace of mind being below the scoreboard to continue attacking and defending with confidence. We knew we had to row until the end and we succeeded an important victory, "he summarized.
Mumbrú valued that the triumphs chained against two direct rivals for permanence such as Acunsa GBC and Betis give them "confidence to continue working", but warned that "there are still many games left" and for now they only have in mind the next match against Movistar Estudiantes .
"The future changes in a week. As the league is going, so even, thinking beyond the next day is a mistake. We are happy for the victory, but it has already happened. Celebrate it just enough because there are games ahead and we have to think about what comes to us, "he said.
Plaza: "There are wrong decisions, but I'm the first to blame"
Joan Plaza admitted that the key to the defeat against RETAbet Bilbao Basket were the "wrong decisions" made by his players in the last minutes of the match, although he assumed he is "the first culprit" of 86-84 registered in Miribilla.
"With 5-6 points up and just over 2 minutes to go, you have to play with more judgment and defend in a more risky way to prevent the hottest player -John Jenkins- from putting them back into the game. That's right very easy to say from the bench and difficult to execute, but that's the reality, "explained the coach.
Plaza added that, after such a close match and with that minimal difference at the end, his team "deserved as much" as his rival to achieve victory, although he stressed that it is "normal that when the heart goes to 180 beats" it is complicated " make calmer decisions. "
"But the culprit is me. It is my fault and not of the players who have made the decisions," stressed the Catalan before recalling that most of the last defeats conceded by Betis have been "by less than five points" and that "there are things" in which they continue to "evolve" .
"The differences are low, but it does not console us and we must look at our navel and see where we have failed. There are thirteen games left and it will not be easy. That is why we have to prepare and harden ourselves and, although this evolution is not so fast as we wish, we hope it ends up being endorsed in victories, "he concluded.
Photos from as.com