The Swede has scored nine goals in his last 12 shots. Madrid have four games without conceding goals. Illarramendi and Merino, realistic casualties. Zidane recovers four.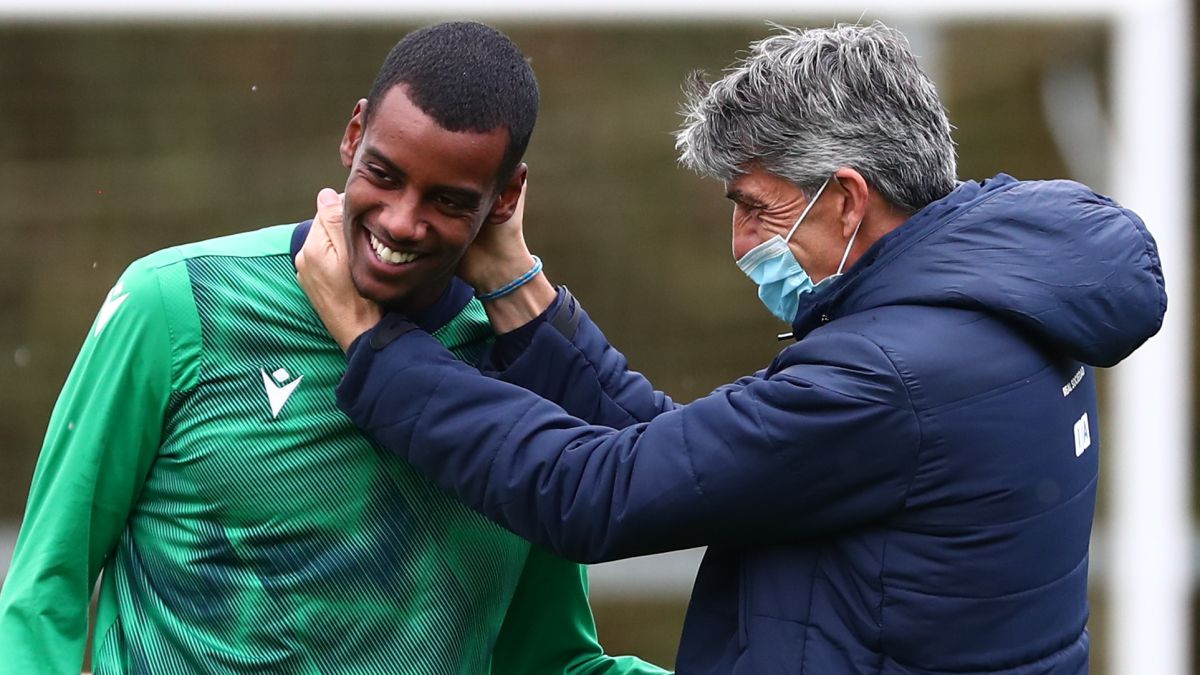 Turned into a shield in the absence of a sword, Madrid has so far fulfilled its last roadmap in the League: winning everything until the derby and trying to recover lost time (and points) at Wanda. To complete the trip, under the pressure of not losing more ground with the rojiblancos and surpassing Barça again, the drink of Real passes today, a team with similar figures (42-41 in goals for Madrid and 19-20 also in favor of the whites in goals against) but that adds eleven points less (follow the game live on AS.com). Those who went down the road on a devilish streak: a win in eleven games between late November and late January.
Now the pace has changed, with consecutive wins against Cádiz, Getafe and Alavés, largely attributable to the Swede of Eritrean origin Aleksander Isak, in whom he knew, at 19, what escaped Borussia Dortmund, which He signed with AIK Solna at 17 (Madrid was part of a very large cortege). Isak, who does not escape the comparison with Ibrahimovic by nationality, physical position (1.91) and scoring production, has scored nine goals in the last six league games with only 12 shots. That telescopic sight has the Real in European positions. An attack top
By Isak paid the Real 6.5 million two years ago. Dortmund had hardly given him opportunities in the season and a half. He gave it to the Dutch Willem II and there he left, but by then the Ruhr team already had Haaland tied up. That is why he sold it to the Real, although he kept a letter: he can re-fish it for 30 million. For the rest, his clause is 70. Last season Barça tempted him, but Bartomeu favored Braithwaite.
Isak is the spearhead of a team as colorful as it is irregular. Silva, who arrived to resume the role of Odegaard, has missed 14 games due to injury, but in return Oyarzabal has accelerated his pace as a scorer (ten goals in the league, six from penalties). The seven forwards used by Imanol have added 43 goals (Isak and Oyarzabal are in the top 8 of the competition), a respectable figure. And from set pieces his performance has been excellent: eight goals in favor, only surpassed by Madrid's nine, and only three against, the best record in LaLiga. Today he is missing Illarramendi, eternally injured, and Merino, the player who fouls the most in the League, sanctioned, but Silva and Carlos Fernández return.
An obvious lead
Zidane's team has returned to that post-pandemic path that gave it the title: defensive armor to combat its poor scoring figures. More with the nine casualties he accumulated in the last week. For this game he recovers four players: Odriozola, Marcelo, Valverde and Rodrygo. None is a starter, but they give alternatives to the French with the game underway.
Five of his injuries in recent weeks have been defenders, but with three healthy, plus Lucas Vázquez, he has been able to keep a clean sheet in the last four games. That's what Madrid lives on, because without Benzema it suffers extraordinarily upstairs. The Frenchman has scored 17 goals and his seven companions of the course, 12 altogether. It already happened last year, in which Benzema added 30 goals and between Vinicius, Hazard, Asensio, Lucas, Mariano, Rodrygo, Jovic and Bale they only made 25.
All 41 injuries
So reaching the derby with chances is almost miraculous for a team that has suffered 41 injuries. All the players in the squad except Lunin, Mendy and Casemiro fell. And the latter missed two games due to the coronavirus. A very precarious but not unusual situation. In the first week of March two years ago and after passing through the hands of Lopetegui and Solari, the Madrid squad also reached 41 injuries. Hands change but an issue remains under investigation.
Zidane already has fifteen outfield players available and only one pending decision: Mariano, Isco and Vinicius for two places, with the Catalan closer to the bench than anyone. Even he has lost that express scorer status that alleviated his ostracism.
Photos from as.com