"When I put on the Madrid shirt I knew something was wrong"
Pedri said about Messi's continuity: "I don't talk about it with him, but it's positive that the results are good. It's clear that Messi is happier."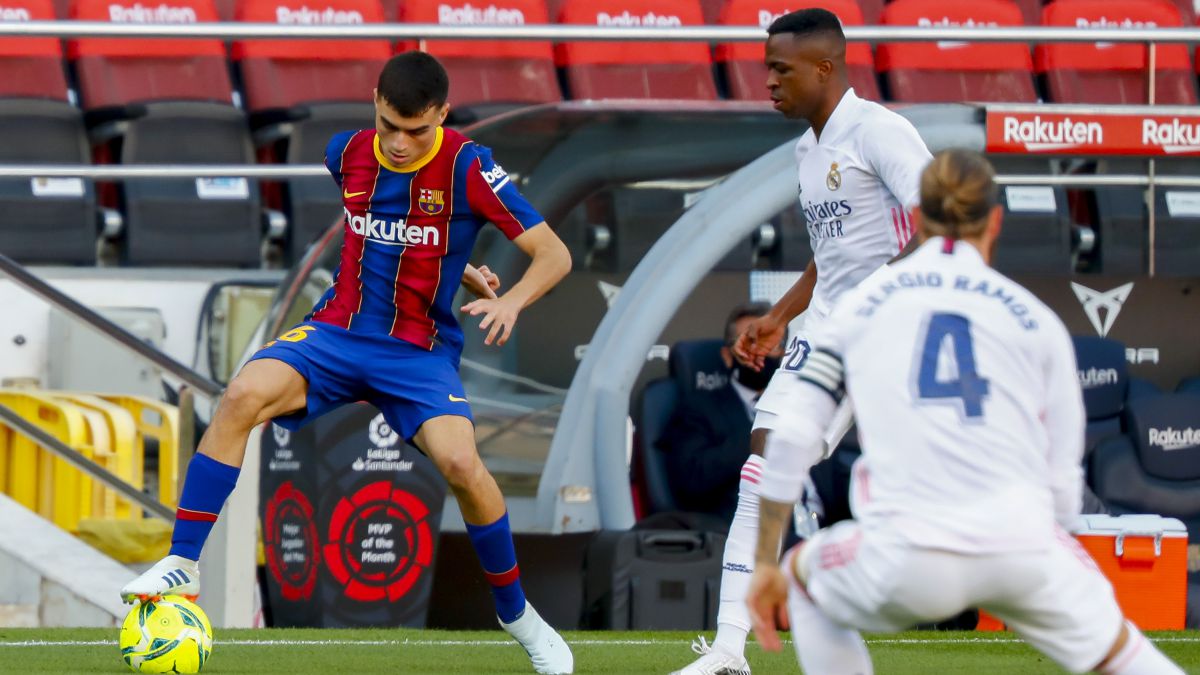 Pedri has given an interview to the program "Tu diràs" of RAC-1 in which he reviews the news of Barcelona.
Real Madrid: "In an interview I thanked him (the person who interviewed him at Madrid and said no). When I put on that kit I looked at the shield and I knew that something was wrong. In the end I have finished on the team I want ".
Renewal of Messi: "I do not talk about it with him. It is a decision he has to make. For me, he will stay for many more years, but it is positive that the results are good. It is clear that Messi is happier.
Messi: "It's shocking to see him in person. He's a magnificent person."
Hallucinate with Messi: "All my teammates when he does something like Huesca's goal. When you see him behind him you say: 'This guy is crazy.'"
Koeman: "I was surprised because I did not think it was the way it is. Bet on the quarry. I would like him to continue and if not I wish him all the luck in the world. He has given me a lot of confidence" .
Meet Koeman: "On the day of the presentation I was in a restaurant, I greeted him, he told me he did not know me and he told me that I had to prove myself. Now he gives me confidence and I thank him" .
Piqué: "He is one of the funniest in the wardrobe. He is one of the pillars and if he has to tell you something he tells you" .
Haaland or Mbappé: "They are both very good and you also have to look out for the good of the club. It is a difficult football to which you have to adapt."
Leaving yielded: "It was one of the things that could happen. If I were in B I would be with the same illusion. At the beginning I was to see what happened" .
Feeling essential: "Except Leo, none is essential. We all have potential and we have to show it to the coach."
Is there talk of a doublet ?: "We have to make an effort to achieve it."
Comparison with Iniesta: "It is not a weight. It is nice that they compare you with whom you have noticed a lot. I have to do my career".
Elimination in the Champions League: "The home game weighed heavily on us. Recalling it was difficult and now we are going to focus on the League and the Cup" .
Failed comeback against PSG: "We knew we were having a great game and we had to try. In the first half we had PSG locked up."
Selection: "It's a pride. I was at home waiting for the opportunity to go. I hope I have minutes."
Eurocopa y Juegos: "I hope I have the opportunity to go to both" .
Season: "It is a dream that I am fulfilling that I did not expect to live. Personally, I have much to improve" .
First starts with loss: "I was screwed with that streak."
Real Sociedad: "All games are key and if we add three by three we put more pressure" .
Injury in Seville: "I went out on crutches and they told me not to step. As the hours passed I felt better. When I had a strong blow, the pain goes slower."
Laporta: "One day he went to my father's club and I knew him. He reminded me that he had signed a shirt for me."
Change of life: "From playing in Las Palmas to playing with Messi there is a step. I am the same kid who arrives in the morning"
Returning home by taxi: "They had not put the driver for me. It is normal for someone to take a taxi. I am now with the license."
Running: "I liked doing athletics. I thought it would help me in football. They sent me to hurdles and I finished third. Sometimes I went under and they didn't realize it.
Gain 3 kilos of muscle: "With the help of Barça, who made me a plan, I try to improve it."
Most beautiful moment so far: "The comeback in the Cup against Sevilla was special" .
Quick test
Miss: "Friendships" .
Dish to order in Tenerife: "Escaldón de gofio".
What did Messi tell you the day you met: "Enjoy him."
Dream: "To be here for many years and win the Champions League" .
Catalán: "The first word was benvingut" .
Place in Barcelona: "The Camp Nou".
Favorite series: "'Prision Break' or 'La casa de papel'".
Fornite or FIFA: "From FIFA. Many times I take myself away because the player is very bad" .
Song: "Some of Estopa" .
Idol: "Iniesta" .
Photos from as.com