Honda 'military' preseason
"HRC has brought a lot of material to Qatar to test it. I have seen Alex and Taka's work schedule and I can say that it is intense," says Lucio Cecchinello.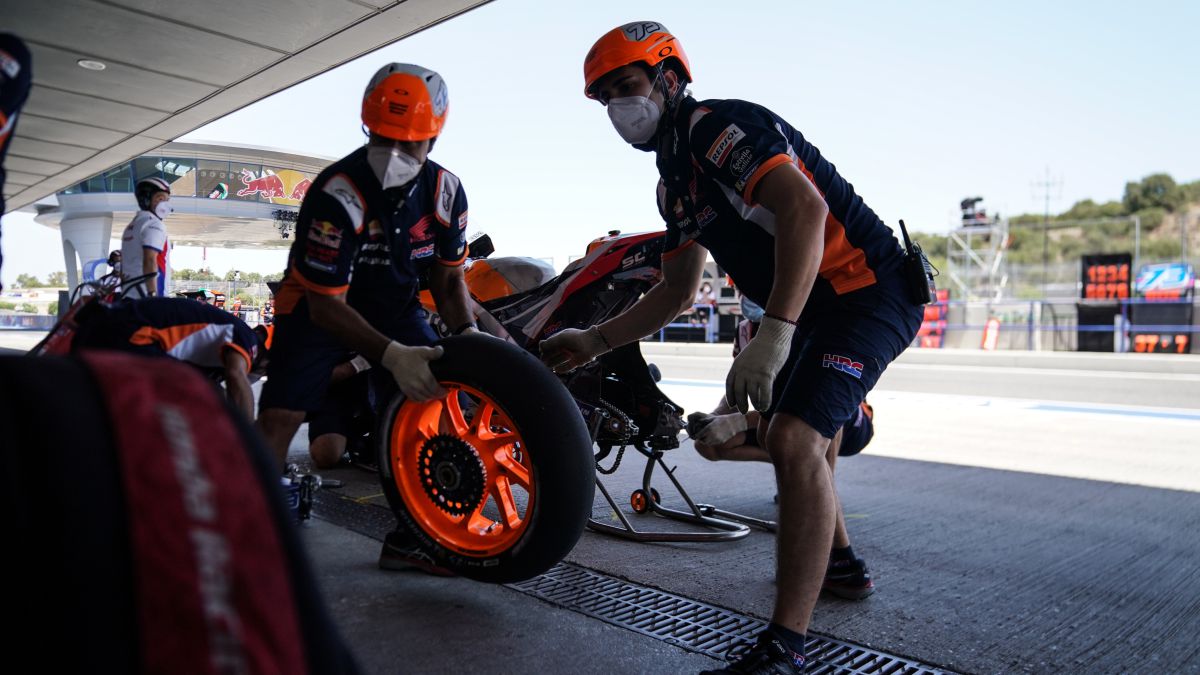 5 test hours spread over five days. This is the period that HRC technicians have to verify together with Pol Espargaró, Stefan Bradl, Álex Márquez and Takaaki Nakagami the improvements they have incorporated into the chassis, swingarm, exhaust, fenders and rear brake caliper of the RC213V to gain power and top speed on the straights and fine-tune the interaction with the Michelin rear tire mid-turn before the first round of the MotoGP World Championship in Qatar (26-27-28 March).
Asked about the 90º turn that the Ala Dorada factory has made this winter to return to the path of victory in the queen class, Lucio Cecchinello anticipates in an interview in 'GPOne' that the youngest of the Márquez and Nakagami barely go to have time to rest between runs in Losail, although the Japanese pilot will initially take the lead when evaluating the new pieces: "HRC has brought a lot of new material to Qatar to test. I have seen the working hours of Alex Márquez and Takaaki Nakagami and I can say that it is intense. Nakagami will be the first to start the evaluation work, he knows the Honda very well and the Japanese engineers like it very much because he speaks the same language, which is always a plus point. . But I do not know the program of Pol Espargaró and Stefan Bradl. When Taka had the opportunity to get on the podium or even to have won last year in Aragon or Valencia he made some mistakes. He must start to manage better. I heard the pressure. I think this aspect has improved, but we need a real test on the track. "Honda did not impose on Team LCR the signing of Álex Márquez
Similarly, Cecchinello affirms that all the team members are excited and wanting to start working with Álex to try to replicate the good results that Cervera achieved in the last races of 2020: "The arrival of Álex Márquez was not an imposition by Honda. A rider who has won two world championships knows how to drive, but we knew that Alex would need some time to reach his maximum level. I thought Alex would need at least one more year to reach it. his best, and our sponsors were very used to Cal Crutchlow. Honda, as part of the agreement, came to meet with us, because I was weighing the potential risks of losing some budget, and then Alex's wonderful surprise came and started to get along very well with the bike, and the result is that now we are all excited and can't wait to start working together. "In this sense, the Italian predicts that his replacement at Repsol Honda will not experience the same adaptation problems that Jorge Lorenzo suffered in 2019: "It is difficult to answer. I think Alex will be strong from the beginning of the year, and perhaps towards the end of the season Pol becomes an uncomfortable rival. I don't think he will have a year like Lorenzo's. Pol comes from KTM, a bike very similar in configuration to the Honda. It is difficult to ride and it does not have a smooth engine. I think it will have less. Difficulties adapting to the Honda than Lorenzo had, who rode in a very different way. Honda and KTM need to be ridden with more force, and Pol has an advantage because he is used to it. "
The 51-year-old ex-driver has also spoken about the recovery of Marc Márquez, stating that the eighth champion will need several races to return to the level he had before fracturing his right humerus in Jerez de la Frontera, as well as that he spoke with Emilio Alzamora to transfer him the Doctor Claudio Costa's interest in advising him: "Marc Márquez will surely need several races to get back to his level in MotoGP. He may be fast on one lap, but it will not be easy to physically manage a grand prix. I think we have to wait a bit to see whether or not he is capable of fighting for the title. On a mental level he will not have many problems. He will arrive very motivated and probably more mature. I have listened to Claudio Costa a lot lately. When a film about him was screened in Misano, he approached me and He said to talk to Marc in case I wanted to have his point of view, which he would gladly give it to him. I did not want to speak directly with Marc, I did it with Alzamora, it seemed like Right. Emilio thanked me, and said that he would inform Marc. Anyway, when you suffer a problem of this caliber, you only have to go in one direction. If you hear a lot of bells, you get lost. Alzamora told me that they would follow a path so as not to create more confusion for Marc ".Cecchinello regrets that Honda has not reached an agreement with Dovizioso
Lucio Cecchinello rules out that Cal Crutchlow may reveal many secrets of Honda to Yamaha because the work system used by Japanese engineers is very confidential, while regretting that the Tokyo brand has not reached an agreement with Andrea Dovizioso: "Cal Crutchlow left me a nice memory. When he broke his relationship with Ducati, someone at Ducati told me 'good luck'. They told me it was something difficult to handle and I must say that Cal is true , although the difficulty is related to the management of his statements. I received many calls after his interviews, but it was great to have him on the team. I remember that Cal has always fallen a lot, but the year he went down the most was when we switched from Bridgestone to Michelin. We spent as much on fairings with him as a luxury apartment in Milano Marittima (laughs). HRC's work system is very confidential. The pilots They do know something, but very little. Since the engineers do not want to influence the rider with certain information, they work a lot based on his feelings and comments. Cal worked with Honda, Ducati and also with Yamaha, so he has a significant background of sensations. You will be able to give Yamaha great information on many topics. The pilots who leave always bring interesting information. Look what Pedrosa has done at KTM. I think Yamaha has made an excellent choice with Crutchlow. It is unfortunate that Honda was unable to reach an agreement with Dovizioso, who might have been able to provide this information to develop the RC213V. "Finally, Cecchinello nostalgically recalls the figure of Fausto Gresini, who died last week due to COVID-19: "I get goose bumps remembering Fausto Gresini. Between us there was always a cordial friendship, although deep down we were rivals We did the same job in the same category, and we were both with Honda at the same time. He was very good at keeping his secrets, but we always respected each other. We used to exchange information when we got in touch with a potential sponsor. lost a person who managed to inspire us all, because his satellite equipment has been a reference for the whole world ".
Photos from as.com