He has not scored in these last three games for Norway and in the previous one he did not. He had never been more than two without marking since he was a professional.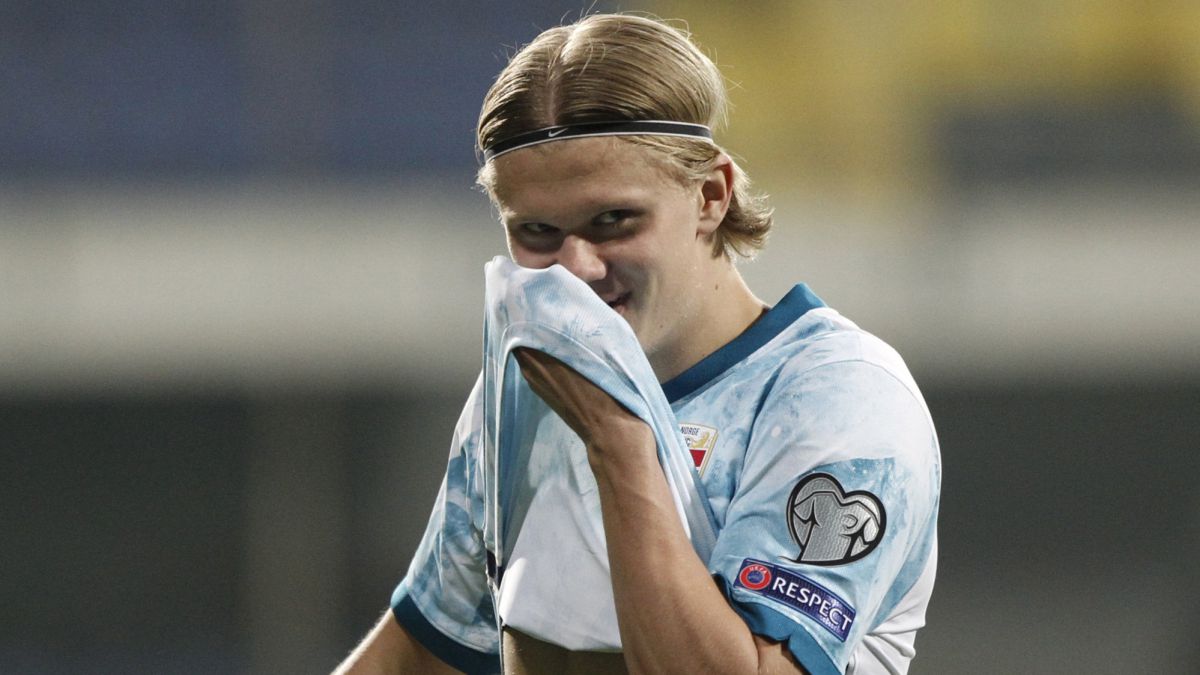 Haaland is experiencing two facets hitherto unknown to him: that of remaining unmarked and that of criticism. The Norwegian giant accumulates all kinds of scoring records. The most notorious is the one that he starred in recently when he achieved 100 goals of his career with fewer games than Cristiano, Messi and Mbappé. A total of 147 required the Norwegian, compared to 180 for Mbappé and 301 for Cristiano. But March ends as the month of scoring drought for Haaland. In this qualifying phase for the World Cup, the overwhelming Haaland was expected, scorer and decisive of the Champions League tie against Sevilla, where he scored them in pairs, but, simply, he has not been.Haaland, self-deprecating: "I have several steps to climb"
The player knows. That is why he was the first to make self-criticism on Tuesday, after the game against Montenegro, on the cameras of Norwegian TV2: "I have to climb several steps. If we want to have a chance, we must do our best. It is important to analyze in what I can improve in the national team. I have to look inside myself and see what things I can do better. " He acknowledged that having a new coach, Ståle Solbakken, has made it more difficult for him, but he assumes that it is not an excuse, that he is honest and that "he must improve his level" .
But what is most striking is the lack of continuity with the goal in the qualifying phase for the World Cup in Qatar. Nothing at all against Gibraltar, Turkey and Montenegro and many failed occasions, something that the fans are not used to. Nor did he score in the previous match with the national team, in October, in the UEFA Nations League B.
In these last dates of matches of national teams Haaland has accumulated its worst statistics. So far this 2020-21 season he has a total of 33 goals in 31 games in all competitions, he has stopped scoring in 12 games, but he has never been more than two games without seeing the opposing goal in the same competition or now not in all his stage as a professional. With Norway after three games he goes empty and with the previous one he has four games without scoring with his team. Since his debut with the senior team, on September 5, 2019, Haaland has played 9 games and scored 6 goals.
"Say Haaland, don't say goal" seemed to be the slogan that most suited the Borussia Dortmund striker all this time ... Until the national team crossed his path. With Norway the slogan has lost all its force and now it is facing the shadows that are eclipsing the lights that have been illuminating it in the German club and before in Salzburg. So much so that during the time he was recovering from his injury, Borussia Dortmund suffered from his absence: the German team only won three of the seven that the Norwegian star was absent.
But in the Haaland Selection it has been another. A starter in the three matches of his team in the qualifying phase for the Qatar World Cup 2022, he has not scored in any. He was unable to score in the victory (0-3) against modest Gibraltar and was substituted in the 62nd minute. On Saturday he started against Turkey, before which they fell 0-3 and was replaced in the 83rd minute. While yesterday, in the victory by the minimum (0-1), against Montenegro, he did not score either and left the field of game at minute 80.
A drought that is being poorly digested in Norway, and in which they begin to see Haaland himself as the main culprit. Critical voices occur in your country. Recently, John Arne, former Norwegian captain, blamed him that his delivery was not the same with Norway as with Borussia Dortmund: "He is highly praised for reacting and showing his character in Germany when things are not going well, but not here. you are seeing none of that ".
Despite this blur, the genius Haaland continues to attract the attention of the big clubs in Europe who want to sign him, with Real Madrid ahead. His agent, Mino Raiola, has hinted that the player is ready to go to a big one.
Haaland leaves the camp with Norway in fourth place in a very close Group G, after yesterday's important victory, which puts them one point behind leaders Turkey, but without their goals.
Photos from as.com