Griezmann and Riqui, two tricky cases in the next Barça
The former may be in the midst of Messi's continuity and interest in Haaland; and the second does not quite convince the technicians but it is an emblem of the quarry.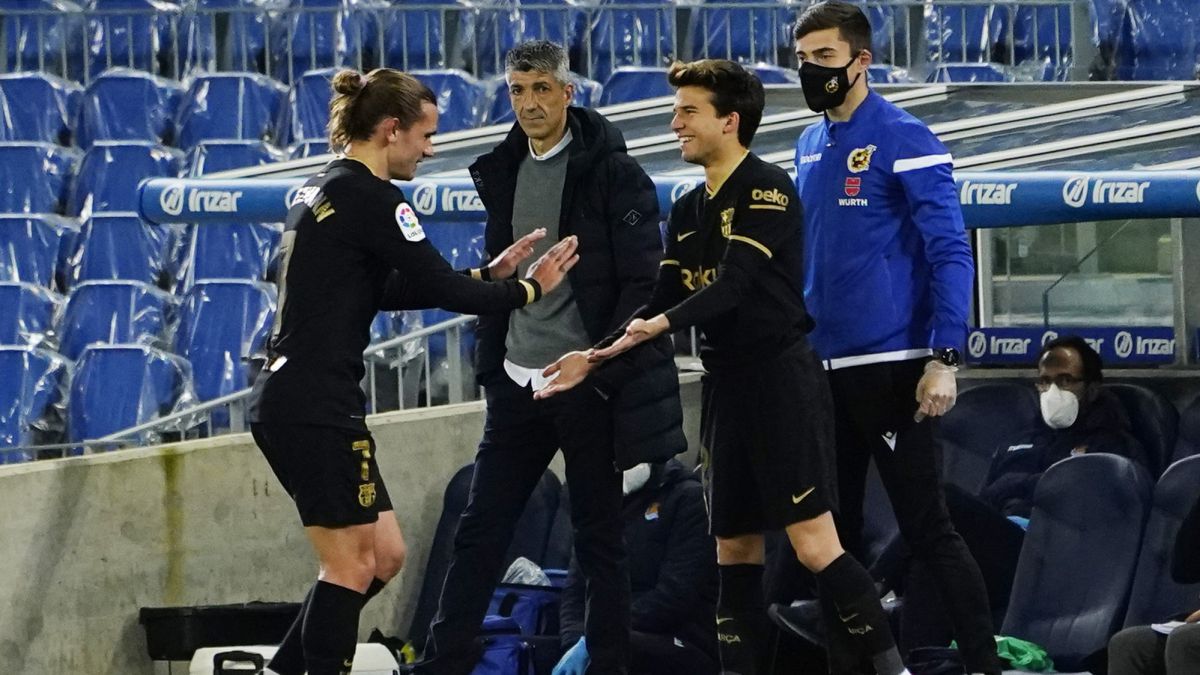 In addition to the list of transferable Barça players, which is very evident and that make up seven players (Neto, Umtiti, Júnior, Pjanic, Matheus, Coutinho and Braithwaite), there are two very tricky cases with a view to Barça 2021-22, each with its own quirks. They are Antoine Griezmann and Riqui Puig. Delicate matters
Griezmann has been in question since he arrived at Barça. He went for his controversial La Decision documentary in the summer of 2018; be it because of the expectations it generated for its very high price, 120 million euros, its merits are discussed. The French forward scored 15 goals and gave only four assists in 48 games last season. This season he already has 14 goals and 11 assists in 40 games. So its performance has improved. His participation in the 3-4-2-1, too. Strategically, the signing of Griezmann was always controversial because he came to the team of the best player in the world, who occupies his preferred position. Despite this, Griezmann had scored 21 goals and 10 assists in his last season at Atlético de Madrid. He is not so far from what he has done at Barça, where his role is also less protagonist (the goals have more merit). Called to have a new position and more prominence when it was known that Messi had sent the burofax, he has rejoined a team in which he knows he is not the franchise player. Griezmann fulfills his job professionally, and one would even say that he looks happier on the field. But Barça wants a nine, specifically Haaland. And although the signing seems a chimera, if anyone has a market at Barça, it is Griezmann. More if Laporta decides to attack the renewal of Dembélé. Another thing is that the player wants to move. Because of the news that comes in, he is not looking forward to it. What happens between now and the end of the season can have a lot of weight in the immediate future of the Frenchman, who the other day showed in the national team that he is at a very good level. Messi's renewal, of course, also indirectly affects Griezmann. If the Argentine decided not to continue, Griezmann would become a key part of Barça's gear 2021-22.
The other delicate case is that of Riqui Puig, an emblem of the quarry for his way of understanding football and to whom, however, something must fail. From Valverde to Koeman, passing through Setién; and even in these U21 Euro Cup matches in which he is not having minutes despite the fact that De la Fuente's National Team has casualties like Pedri's, it has no continuity. The four coaches, each with his booklet, have not found a place for him. He has not reached 500 minutes this season. The technicians also have certain doubts, but the decision to put Riqui on a transferable list is as delicate as questioning a way of understanding the game and producing footballers, that of La Masia. Riqui has gotten tired of saying that he does not want to leave the club and that he is convinced of succeeding. But, in addition to his mess with the player ("you're a leaker," El País published that the boy from Matadepera had told him), he was honest and always publicly recommended that he leave on loan in September and January. Riqui has preferred to continue at Barça, at least for the moment, but, along the way, Ilaix has also overtaken him. And en route could be Wijnaldum. More difficulties for Riqui who, yes, also knows that he has great media support. It will not be an easy case to solve this summer. Guys who have spent their entire careers at the club, and who also maintain their illusion to succeed, have to be treated differently. And they deserve tact. However, a collaborative attitude is also expected from them.
Photos from as.com