Granada is still on a cloud
The Nasrids overcame the nine casualties and played a highly contested match. Quina and Puertas scored for the locals and Boyé scored the goal for Elche.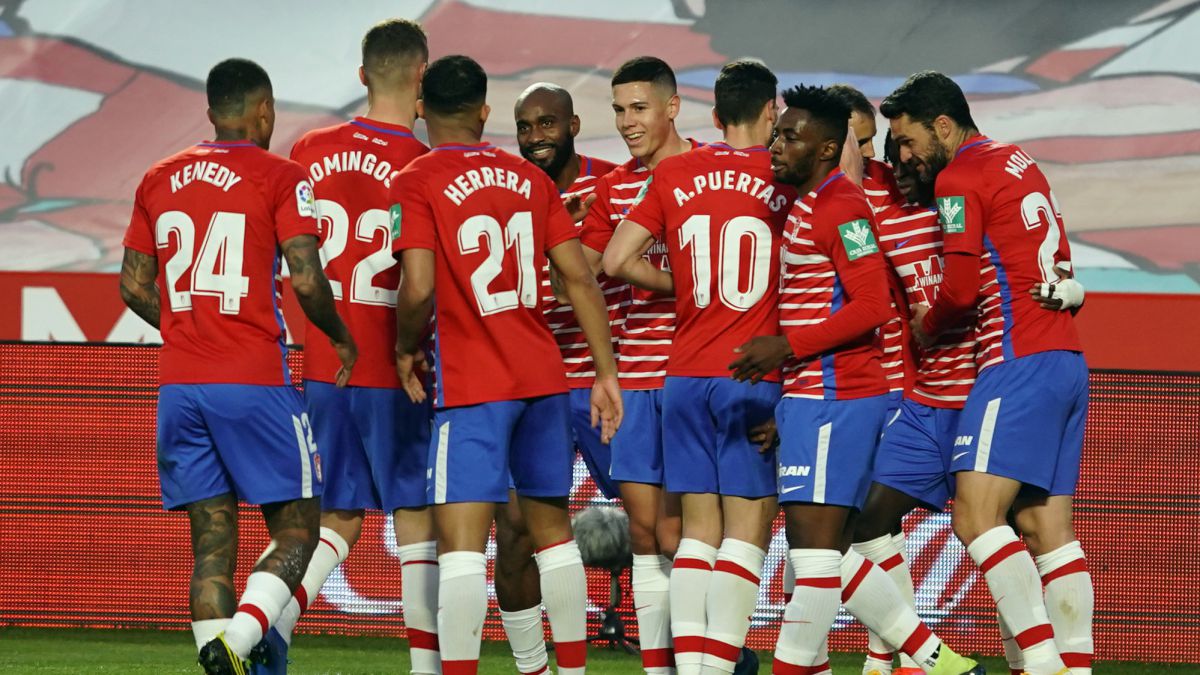 The party continues in Granada. The European hangover left a lot of fatigue in the legs and a part of casualties that scares but does not stop Diego Martínez, a staunch enemy of excuses. Two blows from the newcomer Quina and Puertas punctured the balloon of illusion that had inflated Escribá's arrival on the Martínez Valero bench.
A problems, solutions. And that's what Diego Martínez does tirelessly. Find a remedy for the countless setbacks you are having to face this season. The nine absences, six of his eleven of gala, forced him to shoot seven of the players who beat themselves up on Thursday in Naples (Rui Silva, Foulquier, Duarte, Eteki, Puertas, Molina and Kenedy). But this Granada, where the legs do not reach, reaches the heart. And under that premise, the game and victory were seized.
Granada started better than Elche and took advantage of their dominance thanks to another whip from Quina, who has shown excellent shooting skills in the two games that he adds as a starter. His signing took too long, but his adaptation is being more than positive. In Huesca he scored a superb goal with his right and this Sunday he repeated but, this time, from further away and with his left foot.
Elche was gaining presence and ball as the game progressed. And he raised his self-esteem thanks to a gift from a beginner from Nehuén, who let an aerial ball bounce in front of Lucas Boyé and the forward made him a suit and ended up tying the game. Actions like that are the ones that are deprived of minutes and continuity to the center-back on loan from Atlético de Madrid. The Mexican, at least, was able to retaliate avoiding the tie in the last play of the game.
Carrillo had the 1-2 before the break and Boyé also put Rui Silva to the test as soon as he returned from the locker room. Granada, increasingly fatigued, offered a reply to Elche's dominance based on sparks from Kenedy and an individual action from Fede Vico, which forced Edgar Badía to sign one of the match stops. At the back, the Nasrids remained solid and took advantage of a very good manual action braided by Duarte, Jorge Molina and Foulquier, who appeared on the bottom line to serve a very good service to Puertas. The rojiblanco '10' stole Barragán's wallet and liquidated the game.
Elche only had options to tie in the extension, from set pieces. Dani Calvo had everything going for it but between Rui Silva and Nehuén they aborted the danger and fastened a balsamic victory for Granada, which broke an eight-game winning streak and placed eighth.
The Scribe effect has been diluted a bit. His team lacked forcefulness in defense and was not able to take advantage of its physical superiority and the numerous casualties of a Granada that never bends in the face of adversity and that has turned its motto, "Eternal Struggle", into its way of life.
Diego Martínez: "The team transmits many values and is contagious"
Thank you from the technician. "It will be impossible for me to express in words the gratitude and praise I feel towards my team. I have no words. What this team has done today, this victory, is tremendously important, especially because of the circumstances in which we arrived. On Thursday we managed to qualify for the round of 16 of the Europa League, we returned later because of the fog and we barely had two days to recover; this effort against a good rival like Elche has no words ".
Overcoming burnout and absences. "The first half was very even and we did the most difficult, getting ahead, but they tied us in a rare play and in the second half we got up and went for the game, taking oil from where there was none because the fatigue was evident. We had chances to score, with those of Fede Vico and Yangel Herrera as well as both Puertas, in a very competitive and very equal game that was very difficult to carry out. He was very overloaded with his hamstrings and we preferred to take him off the field to avoid further injury, hopefully not. "
Key to victory. "In the second half we managed to recover in the rival field with better pressure after loss that gave us better situations. With this we have 41 games, and if we were able to repeat players (seven compared to Naples) it was because they rested last Sunday in Huesca. Beyond of the result, we believe in a process, although there are things that we cannot control. The effort engineering to which I refer has to do with the work of many people. Despite this tremendous and long effort involved, the team goes to the matches and wants to win, gives what he has inside and transmits. We will give what we can as far as it goes ".
End of a losing streak of six games without a win. "Honestly, of course we wanted to win, but I don't give much importance to these streaks or dynamics when, if you analyze since January, we have been playing matches at a very good competitive level, reaching the eighth in Europe and fourth in the Cup. Let's go to the match, And the more you play, the more options there are to lose them; it is a reality. But we are clear about our objective, which is to add all the points we can to stay in the First Division. "
Apuros at the end of the match. "It could not be that if we had not won Elche we would be very bad. We always want to win, although it is not always achieved; but when a team competes like this they always do it, even if they lose, they deserve confidence and positivism. Everyone has to be aware that what this team is doing is outrageous. From there, we want to scratch all the points we can, but it will be very difficult because we have to set up a team every Sunday and it is not easy. "
Excited with his team. "It transmits a lot of values and is contagious. And I say it from the 'shit' of the bench in the last moments with each sprint, like those of Soldado or Vallejo at the end without being 100% ... all for the team. They deserved the award of victory ".
The goal of Antonio Puertas. "It was a very good and well-defined action, playing as a winger at the time. I was looking forward to it; in Naples I congratulated him on his game and he told me that the goal was missing, that he had it in his head. he needed it and for him to continue working like this. He has suffered a lot after passing the Covid-19, it has cost him to reach his best level again and I think this will help him. "
Fede Vico. "He is not having a good year, difficult for him like the past with injuries, and it was decisive to win the game. Hopefully this momentum gives him confidence to help us in future games like this one because we will need him," he thanked him. He wanted to be calmer, yes, with Domingos Quina. "You have to leave him 'alone' (a pun on his name). It is true that he has that quality of hitting, among other very good conditions, but also a lot to improve in Many details, which is not easy with so few training sessions and the tactical variability of the team, even more in his position so that he is clear about his automatisms. We are happy with his evolution, he has two goals and I hope it gives him confidence. When he plays he will have to do it at times because when he came he had not done it for a long time ".
Fran Escribá: "Direct duels will be the key to salvation"
Fran Escribá led his third game in front of Elche, with two defeats in a row in the last days. The team was involved until the end, although it was always in tow. Dani Calvo had the equalizer in the 94th minute, on the same goal line. Now come Sevilla and Real Madrid, but the Valencian coach will not give up on getting something positive in both games. He hopes that Mojica and Rigoni's injuries are not serious.
Without fortune: "We have enough experience to know how to deal with these situations. We wanted to win as we said in the previous talk and at half-time. It was an even game and it was difficult to win. Only one mistake could solve it. And that's how it was. We had the last one. clear (Dani Calvo's, in 94 ') and now we only have to think about the next game. There is a lot of League to continue fighting them all. "
Result deserved ?: "It is not that the result was unfair, but perhaps due to the merits it gave for a draw. Injustice is difficult to gauge in football. Sometimes you win or lose these matches. This time, you had to lose" .
Injuries: "Mojica had a discomfort from minute 15. We tried to hold him until the break, but it was clear that he did not arrive, and we did not want him to risk. The Rigoni thing was unexpected as soon as he left. He could have continued, but there was a risk that was more serious. We hope to recover it hopefully for the next day. We must draw conclusions, positive and negative, and think about Sevilla, which is what is coming ".
Missed opportunity: "For the group, which is emotionally strong, it would have been important to win and be fifth behind the tail; even with the tie to get into a quadruple tie. Anything that is adding helps in the score and in the mood. Nobody thinks that this was going to be easy. In these three games we have seen equality, despite the results. The logical thing is not to win easily. We deserved a point and we had it close ".
Arguments to save oneself: "I believe that salvation will be marked by direct confrontations. One is aware that the fans will think that against Seville and Real Madrid we will not score, but we are going to compete them. The important thing will be direct duels because you add and the opponent does not It will be rare for the final to be reached with four teams tied, but when we saved Celta we beat Girona with the goal and that gave us permanence ".
Photos from as.com