Gordon casts Kyrie and Harden, the Raptors sink in the East
The Magic surprise the Nets with an offensive recital, the Jazz save their skin against the Raptors and the Pacers play a perfect game in Miami.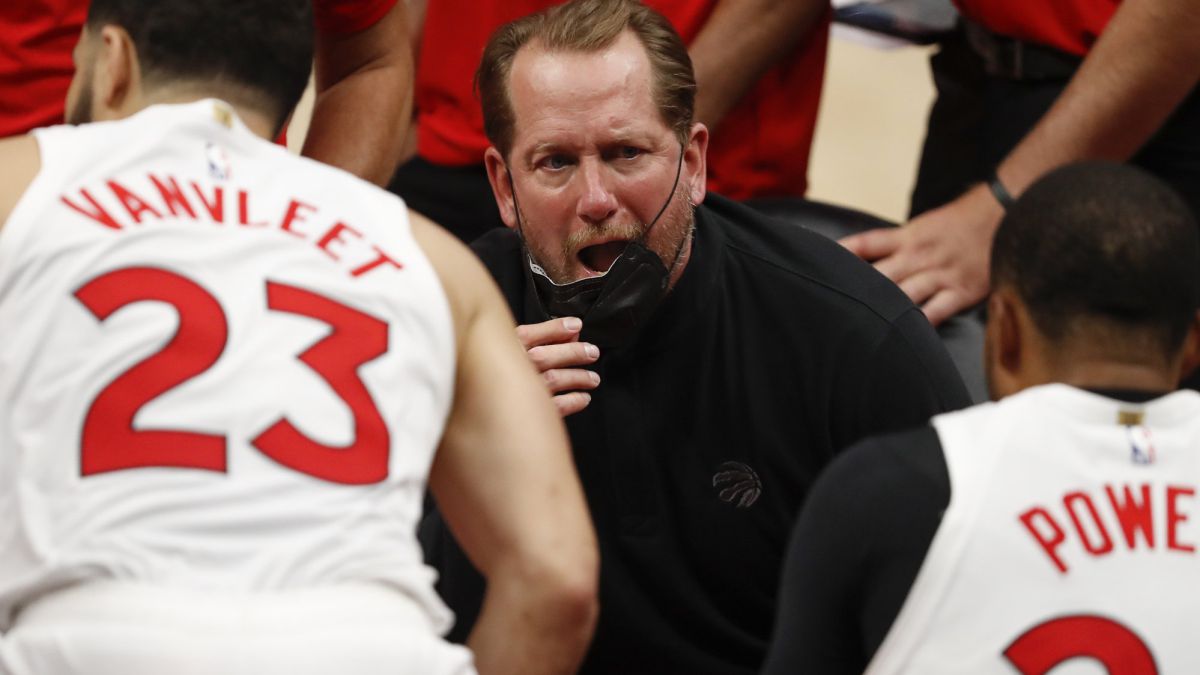 Packed up, with six wins in a row and fourteen in fifteen games, the Nets had an appetizing menu a priori in Orlando, but they were choked by some Magic who played at their best level, at least in attack, of the entire season, a loss for the casualties due to injury (Jonathan Isaac, Markelle Fultz…) in Central Florida. But, at least, Clifford's men (14-27 now) indulged in the media machine from Brooklyn, a team that still does not have Kevin Durant in which Blake Griffin has not yet debuted and who had to give the sand : 121-113 final and 28-14 for Steve Nash, now half a game against the Sixers and one and a half ahead of the Bucks.
An explosive third quarter for the Magic (39-23) left a 103-84 that could not be enough: the Nets opened the last quarter with a 1-16 (104-100) and the Magic reached the halfway point of that final quarter without more production than Fournier's three free throws. But the attack revived in time with the Frenchman (31 points, 6/8 in triples), Vucevic (22 points, 14 rebounds, 8 assists) and the best Aaron Gordon of the season (38 + 6 + 4… and 7/8 in triples). If Fournier and Gordon are going to leave before the market close on Thursday, this match did not exactly hurt their price. With only 12 points off a bench without Terrence Ross, who is still out due to knee problems, the Magic were enough to surprise a Nets in which Kyrie Irving went to 43 points (19/31 in shooting) but were weak James Harden (16 + 6 + 4, 2/8 in triples) and Joe Harris (16 points but 3/13 in triples) .
TORONTO RAPTORS 112-UTAH JAZZ 115
For the fourth time this season, Pascal Siakam missed a final shot to tie or give the victory to his team, Raptors who are not expensive and who have lost seven games in a row for the first time since 2012 and they fall (17-24) in a nosedive in an East in which they are eleventh, a game and a half from tenth place, the last one that gives access to play in. The Jazz, in their worst moment of a brilliant course, saved the furniture and maintain a mattress of two games (30-11) on the second of the West, the Lakers.
The Jazz rebounded much more (31-48, only three in attack by the Raptors) but, above all, they threw many more free throws: 11/14 local, 35/41 of Snyder's, a strange disparity commanded by 15 / 16 from Donovan Michell, who scored five in the last minute, in which he added 8 of his 31 points to secure a hard-fought win. The Jazz took with a partial 0-12 the only advantage of the whole game in double digits, for either team, an 84-94 to which the Raptors responded with triples but not without finishing turning the scoreboard. . With all the players available for the first time in months, and after a few weeks at a minimum due to sanitary protocols, Nick Nurse's men fought to the last possession, literally, but lost again. The bench was a disaster: 6 total points beyond Boucher's 16, a drag despite the good production of the first unit: 27 points and 9 assists from Siakam, 17 + 9 from VanVleet, 14 + 8 from Lowry, 17 points from Powell and 15 from Anunoby, who returned after injury.
In the Jazz the bench did work, with 11 points from Clarkson and 19 with 6 assists and a 5/6 from Joe Ingles. In addition, a Gobert who was doubtful until the end finished with 15 points and 16 rebounds, and scored 15 points from Conley, who had not played in the ugly defeat in Washington.MIAMI HEAT 110-INDIANA PACERS 137
Perfect match for the Pacers, without exaggeration: their highest score of the season and their all-time high against the Heat, a rival they will face again tomorrow and who burned with 58% in shots, 20/36 in triples (for Spoelstra's 9/34, 33 points less there), a first half with 20/27 in the paint, his highest score since 2017, his assists cap (38) since 2003 and the first game in which they rebounded more than the rival (47-36) in more than a month. So an irregular Pacers (18-22) devoured a Heat who are now 22-20, with two losses in a row after eleven victories in twelve games in the heat of the return of Jimmy Butler.
Nothing Spoelstra tried on defense (zones, double markings and even triples…) worked. The attack didn't do much either, with 20 points, 8 rebounds and 5 assists from Bam Adebayo and 17 + 6 + 4 from Jimmy Butler. Ariza debuted, with his first minutes in more than a year while his new team was overwhelmed by a hurricane: 13 + 15 + 4 by Domantas Sabonis, 12 + 5 and 5 blocks by Myles Turner, 27 points and 7 triples by Malcolm Brogdon, 17 points from McDermott and another tremendous game from hyper-energetic TJ McConnell: 16 points, 6 rebounds, 15 assists, 8/9 shooting and 3 steals.
CLEVELAND CAVALIERS 110-SAN ANTONIO SPURS 116
The Spurs added their third victory in a row and are already six games above 50% (22-16) after beating from start to finish (they were never behind on the scoreboard) the spirited Cavaliers ( 15-26). Dejounte Murray scored 22 points and DeMar DeRozan 20, but the big star was Keldon Johnson, who continues with his uncorking and finished with 23 points and 21 rebounds, 11 of them in attack. In the Cavaliers 29 per head for Collin Sexton and for (the top of his career) a Darius Garland who is in his prime and also distributed 8 assists.
Photos from as.com