Gipuzkoa brings out the colors of Valencia and believes in the miracle
The Radoncic-Okouo couple, with a PIR of 56 between them, destroyed a rival without any win for fighting. Ponsarnau put Van Rossom on track when all was lost.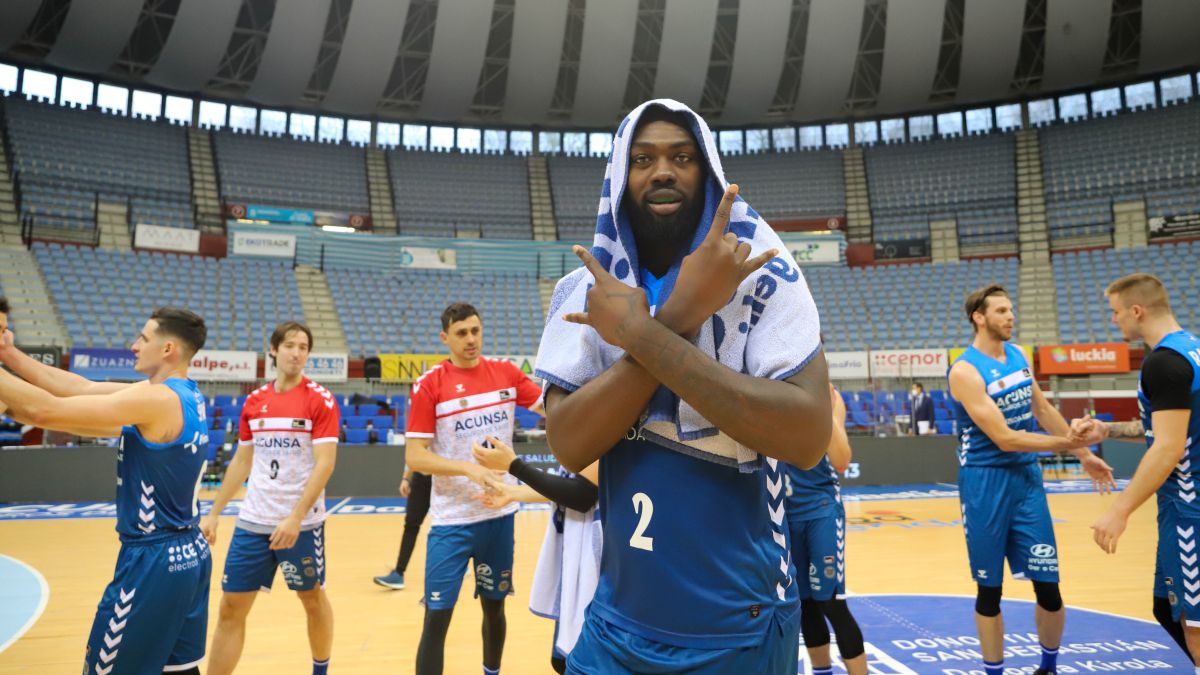 The 'Carlson effect' continues to threaten to revolutionize the bottom of the rankings in the ACB. It is not that he is a star or a main player in Gipuzkoa, but since his arrival, when everyone considered the San Sebastian team for dead due to the injury of their franchise player Echenique, Nicola's pupils have gritted their teeth and are thrown towards a horizon of dreams and hope. With him they add a positive balance: 4-3. He even put a basket against Valencia in the same place as that prodigious one that annihilated Tenerife long ago. In this case it was 67-52.
Acunsa leaned on the inner couple Radoncic (31 valuation) -Okouo (23 credits), how beautiful and easy this game is when the five dominates from the inside and the four opens spaces and generates open, to humiliate a Valencia that seemed move on from the game, as if he was more aware of the visit to the European bottom Khimki next Friday, a key appointment in his fight to enter the Euroleague playoff. With Dubljevic lounging at home and Van Rossom biting his nails for more than three-quarters, the signals Ponsarnau sent were also that the effort had to be focused on another endeavor.
And that Valencia reached Illunbe with 13 victories in the last 14 games, with the only defeat for Andorra. Their idea is to hover around fourth place and have a track advantage in the first playoff, but with today's hit, even fifth is threatened. The lack of attitude in many phases of the meeting has no justification. They were in that cloud to which they climbed after overwhelming the Fenerbahçe and they thought that there would be time to put the enemy in place. They despised Gipuzkoa and it is not acceptable, because this humble club lives from these disregards. Sheltered in a sheepskin, as soon as they give him a point to hold on to, he clings to it, and thus has already obtained six victories, and has gone downhill for a few moments, until the other surprise of the day was completed: Betis triumph over Andorra.
The staging was already a summary of what was to come, with the best defensive moments of the year in Nicola's troop. A 20-4, with four points from an Okouo who did what he wanted in the paint, was an impossible factor to decipher for the visitors' rear. He looked like Shaquille before the bland taronja towers. The 4-10 in losses recorded who was more involved and hungry to win. As a result of that desire, the people of Gipuzkoa dominated the rhythm and all the facets. They also had more shots: 9/16 on field shots, up from 2/8. Nobody in the visiting ranks showed a bit of pride to avoid the Basque punishment. Only some personality was offered with protests that are punished with technique and some unsportsmanlike. There was a hint of reaction, with Labeyrie putting everything he threw (51-44), but it was papier-mâché. Span had one of his best games against such a defensive strike and Hermannsonn was absolutely lost. The 76-54 marked the ceiling of difference. A walk that keeps Gipuzkoa with hopes of reaching utopia.
------------------------------------------------- ------------------------------------
Nicola encourages them to continue fighting because "this is too long"
Marcelo Nicola, encouraged his players to continue the victory against Valencia Basket in future days, maintaining the same image that his team gave this Sunday, because "this is too long."
"It is a very important victory because of how we have achieved it, concentrated and focused on our work, which is the same that we have to do every day," said the Argentine coach after the meeting, who took advantage of his appearance to publicly apologize to Jaume Ponsarnau for a game action.
"I want to apologize to him because I asked for a time-out in the last moments but it was because it escaped me," said Nicola, who was proud to be able to compete face to face with a Euroleague team like the Valencian team.
"They are very athletic but today we equaled their physical level and we were able to play with confidence both behind and in attack," congratulated an Acunsa Gipukoa Basket technician who does not attach more importance to this victory due to the entity of the rival that his team had in front of. .
"I value the victory as if we had achieved it against Real Madrid or Real Betis. It is a triumph that has to serve as a lesson to know what we have to do and put everything on the Gran Canaria court in the next game," he emphasized Nicola.
For his part, Montenegrin forward Dino Radoncic showed his joy more palpably than Nicola. He said in the Illunbe press room that the victory is of "great merit" and that it came because "we believed at all times that it was possible and we showed that we were not dead until all this is over."Ponsarnau assumes "all responsibility" for the defeat
Jaume Ponsarnau, had no problem admitting his "total responsibility" in the defeat against bottom row player Acunsa Gipuzkoa Basket, because he believes that he did not prepare his players for this match after winning on Friday at Fenerbhaçe.
"Gipuzkoa has done very well and I was responsible for the defeat because it was a mental problem and I did not prepare my team well," said in the press room after the meeting a former coach of the San Sebastian team who did not put any but to the harsh defeat.
"They have had a very good defensive rhythm and when you do things well at the back you can do them well in attack. They also had the necessary inspiration and found Okouo very well at the beginning," summarized a disappointed Ponsarnau.
The Catalan coach defended his less common players, who were the ones who had more minutes in this game, and discharged them of responsibility, reiterating on several occasions that it was his and that what happened "has nothing to do with the game we play on Friday in Euroleague ".
Ponsarnau acknowledged "problems with plan A" that brought San Sebastián and later also admitted that his team "had a hard time adapting because the rival was already very confident." He believes that things could have been somewhat different if they had entered "some plays that did not come out, while they found success in theirs, some with additional shots" and considered key "the lack of intensity in the first quarter", in which the locals They marked a distance that became insurmountable at the end of 40 minutes.

Photos from as.com