Giedraitis and Polonara allow Baskonia to continue dreaming
The defeats of Zenit and Real Madrid bring Baskonia closer to the quarter-finals, but they need to keep winning. Giedraitis (25) and Polonara (22 + 11), the best.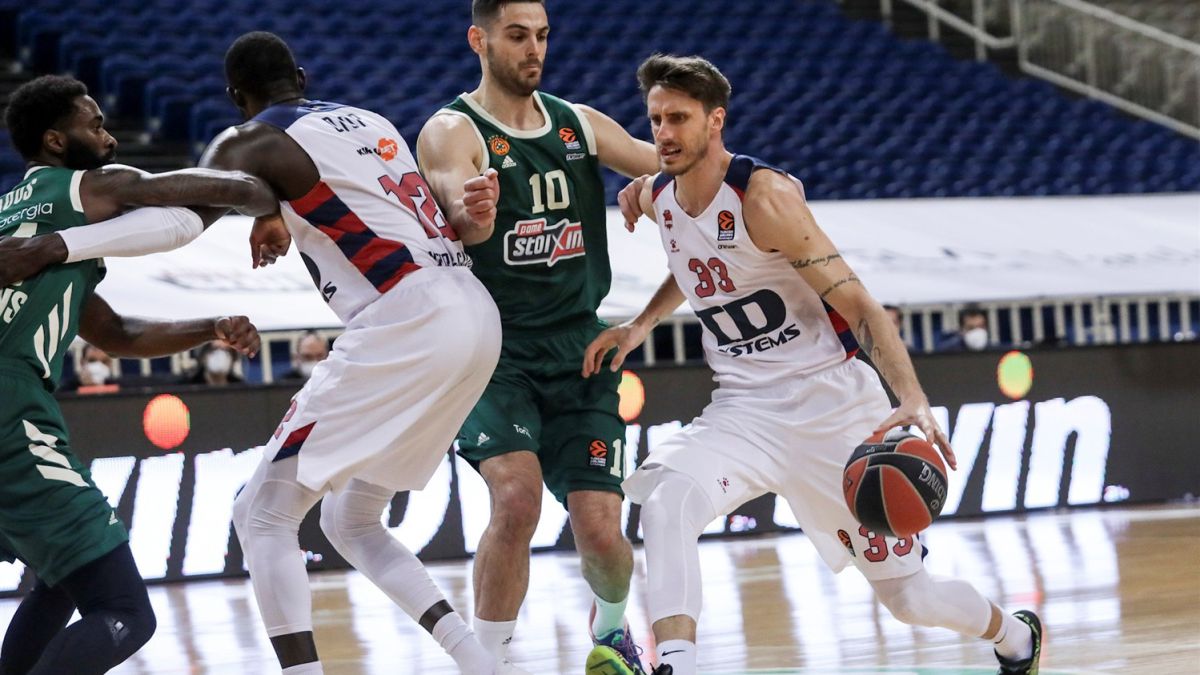 That Greek basketball has dropped in carats is demonstrated by the fact that, for the first time in history, no Hellenic team is going to be in the quarterfinals of the Euroleague. The Panathinaikos, without options, received a TD Systems Baskonia that was risking its chances of qualifying for the Top-8. With Kattash on the bench, there remained the uncertainty of the team's performance of the shamrock. The Vitorianos arrived in good tone, with eight victories in the last nine games, although they came from losing badly in the league with Herbalife Gran Canaria by 78-99.
Ivanovic surprised by putting Diop in the starting five but the Athenians have enough height in any bet on the court. Panathinaikos started better with a physically imposing Hezonja. Two consecutive triples by Sant-Roos and Mitoglou opened a bit of a gap (6-2). By minute 5, Ivanovic was already playing without born centers. He took Diop out of the game and put Alec Peters on the court. Between Polonara (3/3 in triples) and Peters himself (2/2 from that distance) they got a good final set and went to the interroom 21-25. A 2 + 1 from Henry also helped.
The Basques started better in the second installment (23-30), largely because they did not miss the triples and Panathinaikos made ridiculous losses. But Mitoglou had 14 points in 15 minutes. An unsportsmanlike attack on this player and a technique on Kattash allowed 27-37 in minute 15. Baskonia promised them very happy but the Athenians made a good set and went 41-44. At the break of the game, Ivanovic's men already knew the defeats of Zenit and Real Madrid, so a victory in Athens put them in Top-8 positions to depend on themselves in the last two days against EFES in Vitoria and with the Valencia in the Fountain of San Luis. 41-49 at halftime.
With that logical impulse of optimism, TD Systems took the initiative after returning from the locker room (43-58, min. 24) with an excellent Polonara that had 5/5 in triples in the 25. He failed the sixth and the dream of emulate the Lithuanian Stombergas who came to sign, in this same scenario, a 9/9 in triples with the Baskonista elastic. Sant-Roos threatened with 6 consecutive points but, a new technique to those of the clover and a good end of the quarter, almost definitively condemned the Athenians. In the box, Diamantidis and Alvertis recalled better times for the Helena franchise. The third period ended with a reassuring 59-72. Ivanovic's men had to lose the last period by a difference of 14.
And that did not happen because, in the first 4 minutes of the final delivery, they were already winning 63-83. By then, they were 14/19 on 3-pointers. At that moment it was seen who was playing something and who was thinking of going to dinner. The night was round for a Baskonia that not only got the victory against the greens but also got into the playoff positions. The maximum was +21 with 66-87 in minute 35. The big stars of the night were the Italian Polonara and the Lithuanian Giedraitis. Also Dragic in scoring and Henry in assists. And, of course, a huge Ivanovic who knew how to manage the approach and the rotations wonderfully. Victory and seventh place in the table although Zenit has a game pending to play, precisely against the Athenians in Russia.

Photos from as.com