Fuenlabrada suffers and takes a breath towards salvation
Comeback of the Madrid team that fixed a bad game and allows them to put two games away with Gipuzkoa.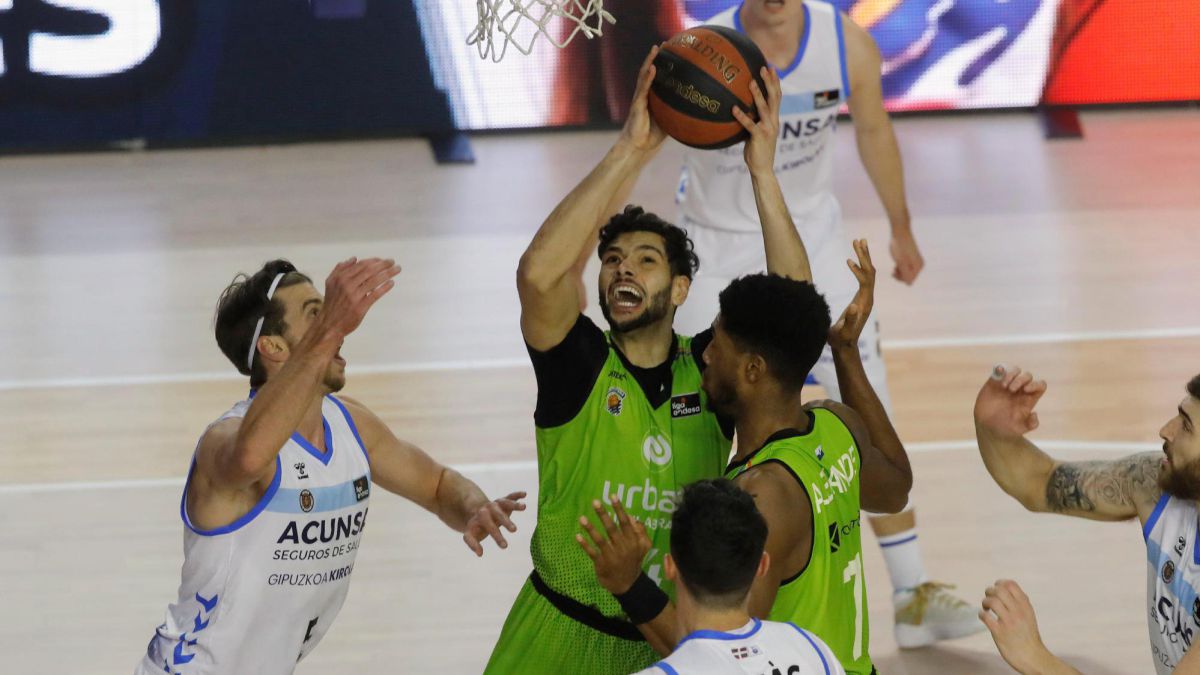 In a suffered comeback, Urbas Fuenlabrada defeated Acunsa Gipuzkoa Basket (78-74) and takes a breath towards salvation by beating a direct rival, who leaves two victories and with the particular difference in their favor, despite having gone in tow most of the meeting. The final reaction of Urbas, led by the Congolese Christian Eyenga (11 points and 10 rebounds) and the Nigerian Obi Emegano (13 points), who made the final basket, saved the game of a team weighed down by their bad choices in attack and mistakes in free throws (18 of 29) and triples (4 of 19, 21%), which was sustained by the rebounds of Canadian Kyle Alexander (10 sacks and 12 points) and the 'double-double' of Brazilian Leo Meindl (13 points and 12 rebounds). Quite the opposite for a Gipuzkoa that, despite playing a good game and almost always carrying the weight of the match, led by Pere Tomás (12 points) and with key contributions from the Swede William Magarity (13 and 6 rebounds), takes his second consecutive defeat after the Cup after Bilbao, which put an end to their previous good streak, when they beat Tenerife, Joventut and Estudiantes.
The two teams knew what was at stake tonight at the Fernando Martín. The good initial defense from Fuenlabrada (8-4, min. 3) was lost in two poorly chosen attacks that allowed Gipuzkoa to equalize the match. The locals overcame their jam and escaped again (18-13, min. 7), but the GBC re-engaged with penetration by Lucas Faggiano and a triple by Magarity, who with free throws put the GBC ahead at the end of the first quarter ( 19-20). Marcelo Nicola's team continued the streak, tightened the defense until the Madrid attack was undone and despite not taking advantage of its multiple offensive rebounds, it settled in an interesting income of eight points, which were twelve with two good actions under the ring of Viny Okouo after the local time-out (25-37, min. 17). The reaction of 'Fuenla' came from the triple: Obi Emegano and Marc García, twice, shortened the road (34-39), and a final 5-2 partial reduced the GBC advantage to four at halftime (39-43).
After passing through the changing rooms, Pere Tomás, Faggiano and Dino Radoncic tried to put the GBC back into orbit based on triples (4 hits out of 8 in the third quarter), but Fuenlabrada began to go out quickly in transition with Melo Trimble, that tied the game 55-55 (min. 26). With everything in their favor, the locals got mired again in attack, and Johnny Dee took advantage of that to chain two transitions to close the third with GBC up (59-61). Fuenlabrada had no time to lose, and Javier Juárez chose to keep Trimble as a guard, but he still did not flow in attack, and the GBC added with Dee's points. The tension was felt in the multiple missed free throws: the stakes were high. A Trimble steal for Eyenga's mate and a few free throws by the Congolese after an unsportsmanlike Mike Carlson put the locals ahead 1:54 from the end (74-70). The 'Fuenla' added, but Magarity kept his team at two points. With 76-74 and 7.2 seconds on the electronic, the ball was local and Obi Emegano hit the decisive basket that gave the victory to Fuenlabrada (78-74), vital on the tortuous path to salvation.

Photos from as.com