From a movie: a former Barça player who was believed dead reappears 40 years later
Charles Thomas, who played for Barça in the 70s, disappeared in the 80s and everyone believed him dead. 40 years later, he has been heard from again.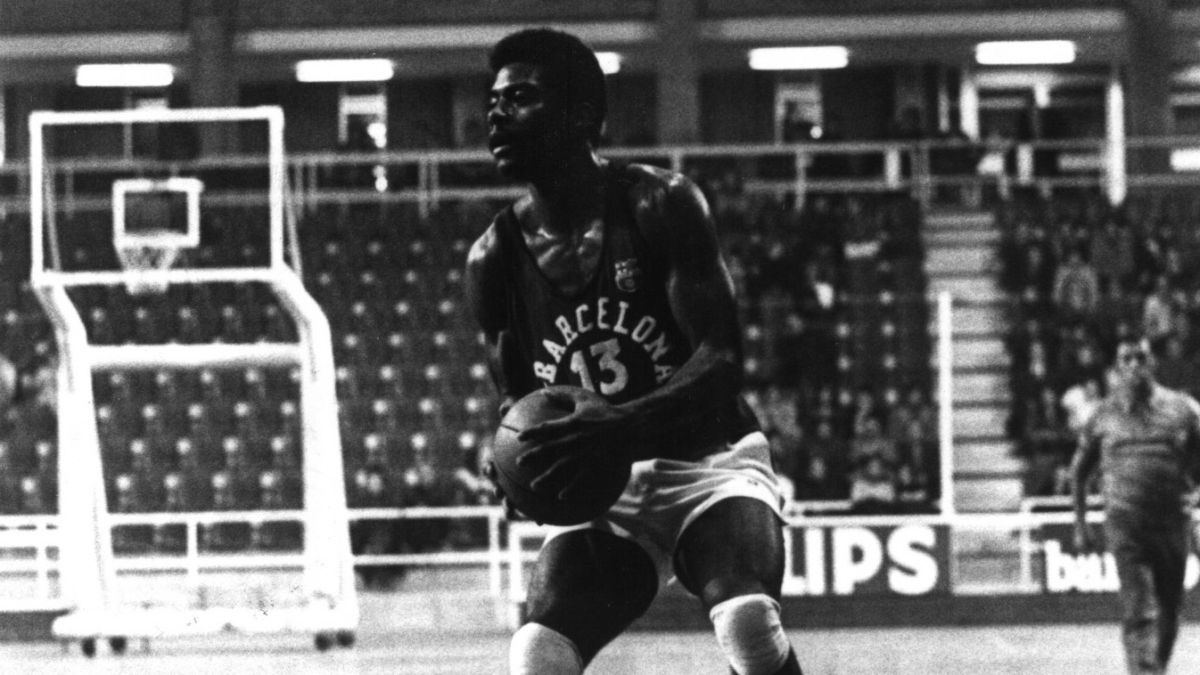 Surreal. It is the only word to describe what has happened to Charles Thomas, a former Barça player who has appeared after 40 years missing. As the Catalan journalist Marc Mundet has told in RAC 1, relatively recently, the former player made his appearance. Thomas was a 2.01-meter center who landed in Spain in 1968, after failing to win a professional contract in the United States, something very typical. Badalona was his first team, where he immediately stood out for his fantastic physical qualities. It was said of him that he was capable of taking a 1,000 pesetas note from the top of a board. In fact, he is considered the first great matador in the history of Spanish basketball, paving the way for other compatriots of his who would come later, such as Essie Hollis and David Russell.
His debut in the ACB, called the First Division at that time, was unbeatable. He was the top scorer in the competition in his first two seasons, in years when Clyfford Luyk, Emiliano and Alfonso Martínez set the pace. He surpassed the 25-point-per-game barrier, moved in the low post and did everything but shoot three in a time when the shot of three did not exist. It had a power never seen in Spain and immediately aroused the interest of a Barça that at the beginning of the 70 aspired to take a great leap forward.
Thomas was a teammate of a generation led by the historical Norman Carmichael, Aíto García Reneses and Manolo Flores. All of them, led by Xabier Anuaria, set up a team that laid the seed for later exploiting the golden generation of the 80s with Epi, Solozábal and Chicho Sibilio. But Thomas never found his place at Barça, and what was supposed to be a climb to success turned into a descent into hell.
Disappearance ... and reappearance
With the season halfway through, and with a dragged divorce, he returned to the United States to begin a period without direction that, according to rumors, takes him through Mexico and New York in a life marked by excesses with the drugs. In fact, the latest news about him for sure comes from a former San José, Ken Brady, in the early 1980s. Brady meets him by chance at the Mexico City airport, where he sees a very emaciated Thomas. in frank decline. This news fuels the legend that Thomas died in obscure circumstances in the early 1980s. Some said that in a shooting between gangs in New York, others stabbed in a drug trafficking case, an overdose ... nobody really knows. But the family has no news of Charles either, and rumors of a never-clarified ending are accepted.
Everything changed 15 days ago. One of his former teammates at the Palau Blaugrana, Norman Carmichael, was driving on Texas roads with his son when he received a call from a woman. "It's Charles Thomas wants to talk to you," Carmichael explains to RAC1. "I find it a joke in bad taste, because Charles has been dead for many years," he replied. But the woman insisted and the next words were already from Charles: "Hey, Norman, are you here?" "I was speechless the moment I saw his face on the video call," he says. Carmichael was aware of Thomas's troubled life and his first thought was that "it was a scam of his friends." "Talking about it gradually, it seemed to me that he knew too much for being an imposter," explains Carmichael. It was 45 years since the last time I had seen the gaunt and aged face from a life of excess that appeared on the screen had nothing to do with that of a young athlete with whom I had shared a dressing room.
Charles Thomas is now 75 years old and has lived in a nursing home in Amarillo (Texas) for four years. His two sons are aware of their father's reappearance and have already contacted. One of them, Carlos Thomas, was only seven years old when they told him that his father had died, and he has grown up all his life with this idea. They know that he is in very poor health and that he is in a wheelchair. A story that looks like a movie.
Photos from as.com