Eternal Popovich: he who kills the Spurs, the Spurs dies
After missing the playoffs for the first time in 23 years, the Spurs era is not over. Discreet template, a brutal DeRozan ... and the magic of Popovich.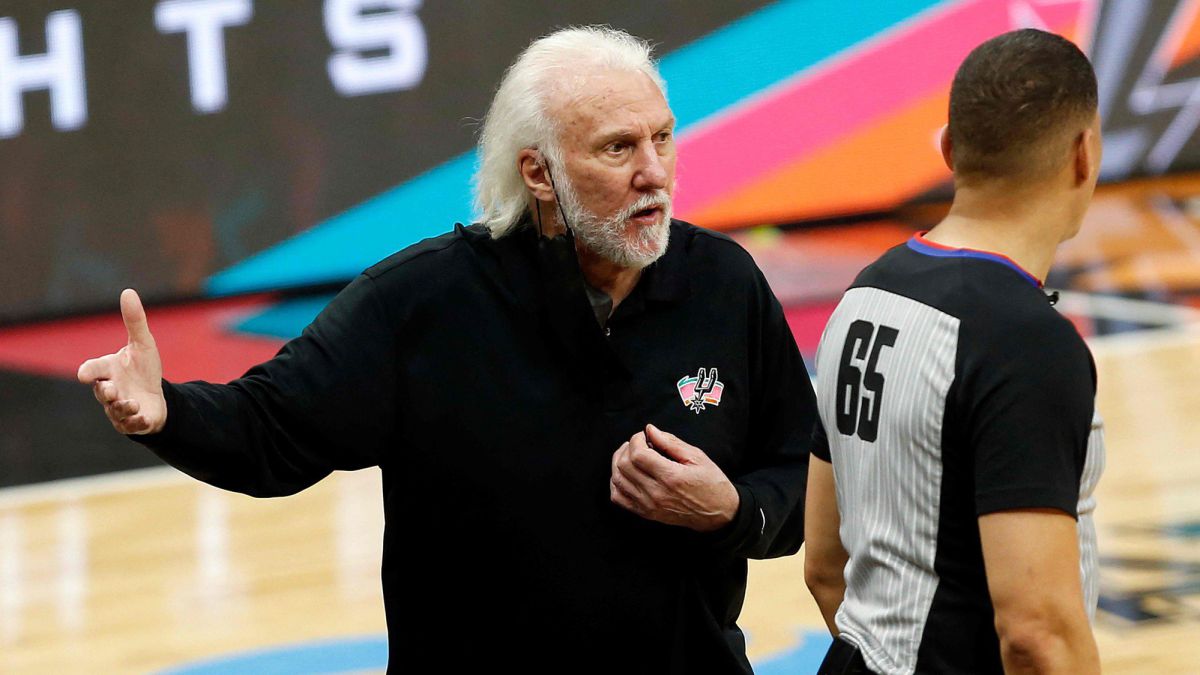 Another year, here are the Spurs. They impose themselves on all kinds of logic, on the expectations generated, on theoretically superior rivals and on the belief that they are finished to accommodate themselves in some playoff positions that neither they nor anyone else have insured, but that they defend with more ease than their opponents . Nobody knows how they did it, what magic they have inside to have a record of 18-13, 58.1% of victories well above the 32-39 with which they finished last year, shortened, and at the rate of 48 and the 47 victories that the team achieved after its last competitive year, as a true contender, with West finals and a Kawhi injury that marked the beginning of the end. They will not reach those balances because the season has only 72 games, and it is also difficult to think, even now, that they are going to get into the playoffs ... but there they are, in sixth place in an extremely competitive conference they have dominated for two decades. , in which they have survived a couple of more years and where, finally, they perished last year, with a ticket to a bubble in which they failed to reach the play-in, the first negative record after 22 seasons and the first year without a phase final after the same.
After this, it seemed that there was going to be a transition in San Antonio, that city that has seen how, since the retirement of Michael Jordan, it has been the only great dynasty, in total coexistence with the Lakers, who have won six rings since then by five of the Texans. Reconstruction was necessary and Gregg Popovich gave no clues about an eternally postponed and undated withdrawal. It has been speculated that it will be after the 2021 Olympic Games, which he will direct, but he renewed in 2019 for three seasons and has not given clues. From the entity they have already ensured that he will continue "until he wants" and although Tim Duncan threatened to be his successor when this happens (which, we insist, nobody knows the date), it seems that Becky Hammond continues to oppose to be the first woman to I served as the first head coach in NBA history. And, amid Popovich's well-known liberalism, with the fight against racism and anti-Trump comments always on his lips, it wouldn't be too daring to assume that he gets it at the Spurs. He would not, by the way, be the first assistant to the veteran coach who ends up directing a team, as is well known: Mike Budenholzer, Mike Brown ... that, not counting Ettore Messina, who did it before and after in Europe, or a Steve Kerr who won two rings as a player with Pop and more than a decade later was the maker of one of the greatest dynasties in history, the Warriors.
The Texas franchise adds victories without much fanfare, beats the rivals it has to win, leaves matches when certain logic is imposed and is almost always competitive. It is the ninth team that scores the fewest points per game and the tenth with the worst percentage in field goals, but it manages to minimize errors to the maximum and establish itself in playoff positions: they rebound well (ninth in that section), they have a collaborative game (they occupy the 13th in assists), and they try many field goals (seconds) to be able to adapt to a League in which many points are scored. Of course, although they ended up giving in to the launch of three in the middle of the triple era, they shoot more than anyone of two and only shoot 30.5 triples per game, the fifth entity that least tries, something that is intrinsically related to the idea that it has Popovich of basketball ("I have hated triples for 20 years," the coach said in 2019). And they are, watch out for this, the team that loses the fewest balls per game (11). That is to say, safe game, few mistakes and a lot of work in the control of the ball despite constantly sharing it, but in an accurate way, without showing off the paraphernalia of other franchises and without coping, of course, the highlights of which it lives so much. the NBA, in a particular show business that has always been denied by a discreet entity and that has always remained in its particular bubble.A squad with present, past and future
If we look at the Spurs, player by player, we could consider that they are, in terms of raw talent, below many others in the West. They are worse, a priori, than Utah, the two teams from Los Angeles or Suns, who are ahead of them in the West. But they also lose in the comparison with the Blazers, Kings, Denver or Warriors, their latest victim. Nor can they be said to be on a level with other laggards, such as Pelicans or Grizzlies. Even the Rockets, without Harden or Westbrook (or D'Antoni, Morey ...), seem better simply with someone like John Wall at the helm, a man of a quality infinitely superior to that of any of the players in San Antonio. Of course, player by player. If we look, we see several basketball players who are said too little but who know how to do a lot, who have plenty of Popovich brand foundations and who learn to compete in a certain way under his tutelage. It only remains to be seen if far from Texas they will continue to compete in the same way: it is a common denominator that Pop brings out the best of many promising young people who end up being diluted elsewhere, as was the case of a Gary Neal (among others) who had brilliant moments in the Spurs, but did not finish exploding when he left the team, back in 2013.
The current Spurs squad is far from the age it had in its day, when Tony Parker, Manu Ginobili and Pau Gasol coincided in the squad. Also when Tim Duncan was there. They have an average age of 26.6 years, the same as the Suns, ranking 14th in the league in this section. And yet, they still have an important core of players with a lot of talent and weight in the locker room who are over thirty. DeMar DeRozan is 31 years old, Patty Mills 32, Rudy Gay 34 and LaMarcus Aldrige, 35. DeRozan is, in particular, the leader of the team: a player reviled after his time at the Raptors, where he was All Star, is in the best ( and more complete) version of his sports career, with 20 points, almost 5 rebounds and 7.3 assists on average. He has only scored 16 3-pointers all season, shoots with almost 48% in shots from the field, acts as a point guard when he pleases and, again Popovich scores, minimizes errors: in 33.8 minutes (the lowest mark since his rookie year ), he is very effective, exceeds 89% in free throws (his best percentage ever) and only misses 1.6 balls, the smallest figure since his debut season.The rest, contributes what they can: Aldrige has missed games and is greatly affected by age, but continues at 13.7 points per duel, Gay has established himself as one of the bench leaders and is at 11.2 points and 5, 2 rebounds and Mills, that Australian talent, has not jumped any starting night either, but he averages 13.3 points with 40.7% in triples. These three men exercise leadership and are the voice of a locker room full of young people with a promising future. At the helm, Dejounte Murray, the starting point guard, Popovich's umpteenth personal discovery (he was chosen 29th in the first round of the 2016 draft), who is curdling the season of his life: 15.8 points, 7, 1 rebounds and 5.3 assists with 1.6 steals, a gradual improvement in triple which still has a lot of progression (he is at 33%, but that is 37% from last year but doubling his attempts) and an all-rounder who is also a defensive expert.
The squad has more things, including eight players over 10 points. Keldon Johnson (14.3 + 6.8) looks to the future, Lonnie Walker (11.3) accompanies him, people like Jakob Poeltl or Devin Vassell (only 20 years old) are trying to make a hole in a rotation in which they already they actively participate and others like Trey Lyles have their moments of glory. And the best thing is, that all those mentioned, including Murray, are in an age range that goes from 20 to 25 years old, good news for a future with wickers and a new project that Popovich, with 72 years of age last January, it is beginning but it is difficult that, due to age, it culminates. The only one who is out of range is Derrick White (who is 26), a promise who has only been able to play 8 games due to injuries and who scored 25 points in the last game he played, against the Hornets, on 14 May. February. If he returns healthy, it will be a blessing for the dynamics of the team, sometimes in need of offensive solutions beyond what DeRozan or Popovich's board can create.
One way or another, it only remains to know how far the Spurs will go this season. They are three victories behind the fourth-placed team, the Lakers, but 1.5 games away from being left out of the playoffs or simply competing for the play-in, expanded this year to four teams and not two, as in the experiment of the bubble. Of course, they are putting land in between with the Pelicans (to five games), or the Kings (to six) who have fallen prisoners of the irregularity and do not have the mattress that the Texans got at the beginning of the season with their good work . The margin is small, but the All Star break (to which DeRozan will not go to the annoyance of many fans) will be good for the team to take a break and face the final stretch of the regular phase of the course. And speaking of the All Star, San Antonio is five wins above 50% with no contestants in the All-Star Game. And there are five teams below that percentage that have at least one participant in the break. Little more to add. Well yes: that the Spurs are already here. Or, maybe, just maybe, the reality is different. That are never gone.
Photos from as.com