Pedrosa gave the eighth goal assist of the season from a side, while Óscar Gil starred in the controversial action. A key position in attack.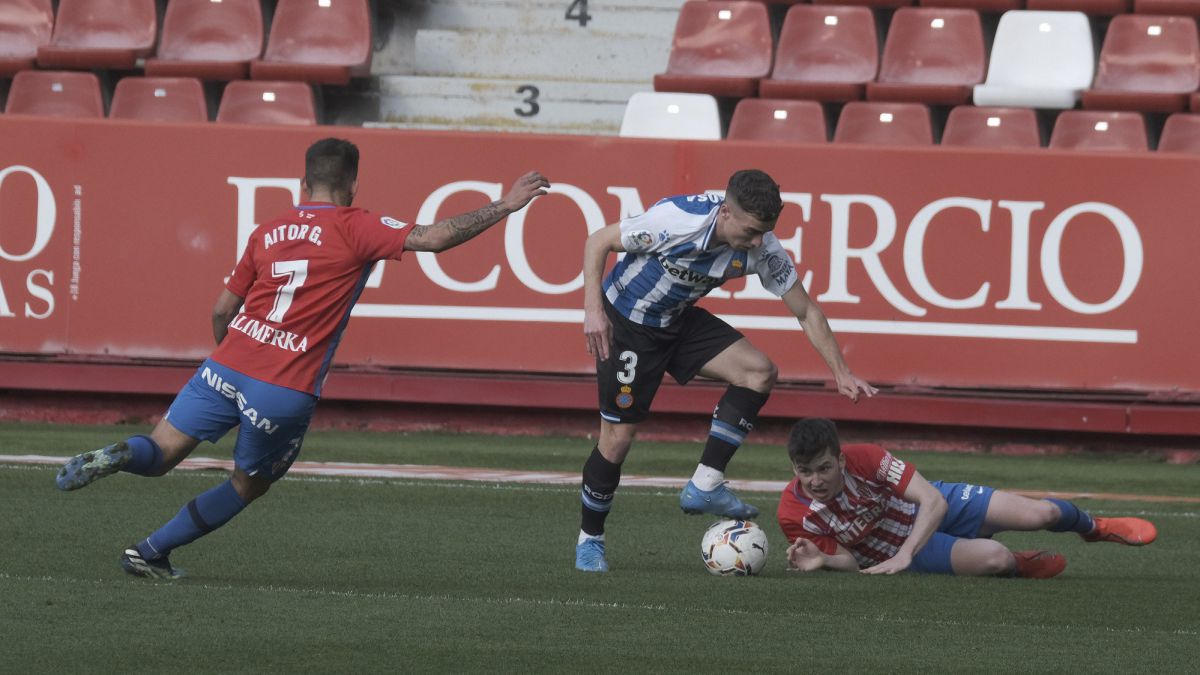 At this point in the season, Espanyol is transparent, it's what you see, with no time for grandiose rudder changes or sudden metamorphoses. In its skeleton, the wings have an indispensable role. It was demonstrated in El Molinón-Quini, once again, as the sides starred in the best actions of the match, proof of their importance in Vicente Moreno's system from the start, either with Dídac Vilà or Miguel Llambrich or now with Adrià Pedrosa and Oscar Gil.
The left-back, taking advantage of his speed, delved into the right side of the rojiblanca defense and his pass was the prelude to Adrián Embarba's goal. It is the eighth assist of the season for the full-backs. Pedrosa is the leader, with three; followed with two by Gil and Dídac, while Miguelón contributed one precisely on the first day of the championship against Albacete (3-0). 21% of the team's goals were born from his boots.
The role of the full-backs in Gijón did not stop there. His internships on the sides were a constant. In attack, Gil appeared in the photograph of the controversial play, a possible penalty (clearly in the appreciation of the television images) that was not reviewed by the VAR or at least it was not considered to alert the referee. Without protests the play, the Alicante continued the game with his insistence and even finished off a rebound to the crossbar.
333 333 Of the 33 interventions in Pedrosa's game, 20 of them took place in the opposite field, while Gil even had more incidence in the attack. The player signed this summer participated in 36 actions, with 25 in rival field and up to five centers. His projection also causes defensive imbalances when Espanyol loses the ball. In fact, the 1-1 play comes after a loss of the ball by Keidi Bare in the right zone, by Gil, who was already incorporated into the attack; and Pedrosa does not stop an action that ended in 2-1, correctly canceled by VAR.
This decision by Moreno responds to the idea of giving freedom to the wingers, players who can act as finishers, as happened in the 0-1 in Gijón. Embarba was released from his position and was able to step onto the area to look for Pedrosa's pass. Javi Puado also has that freedom to make diagonals and look for spaces inside. Against Oviedo, the Valencian coach will repeat the same formula, although this time without Pedrosa, who saw the fifth yellow.

Photos from as.com