Espanyol and the Rorschach test
He returned to play –and highlight– Melendo, to score Embarba, to control the ball by the team and to video-referee Varón Aceitón. The history of parakeets, in 90 '.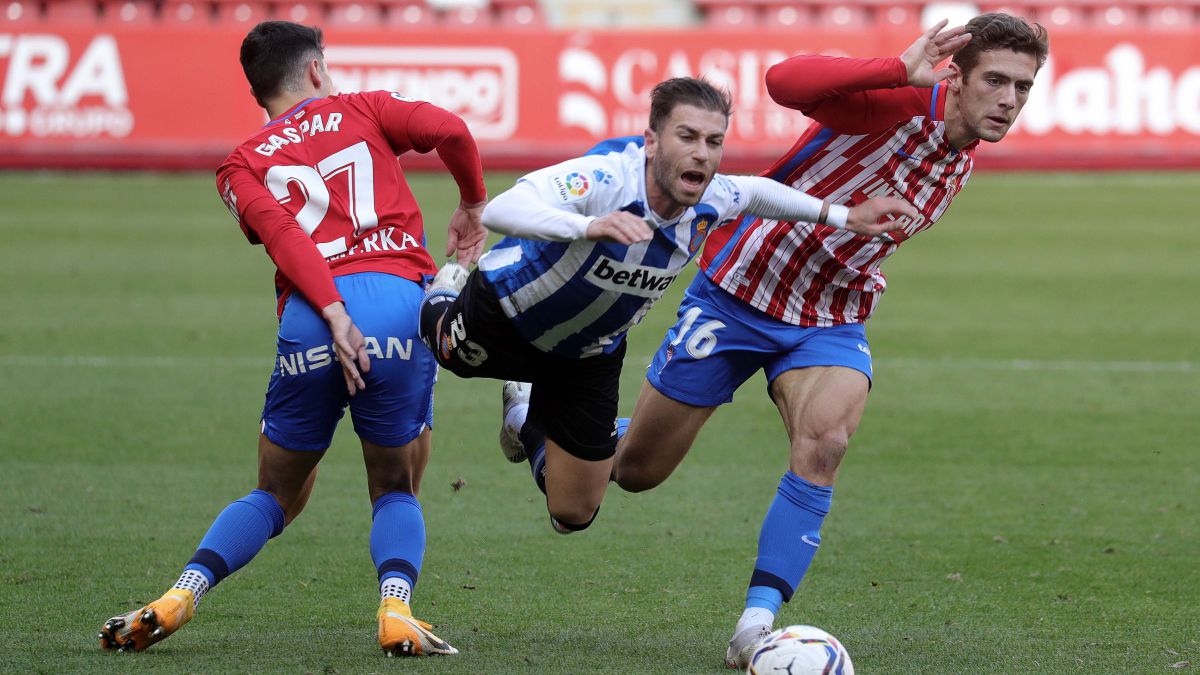 Claims. In times of pandemic, unrest, tumultuous, two footballers took just 12 minutes to raise protest flags. Those that cost Espanyol to advance on the scoreboard. With a great pass from Óscar Melendo, who had not been a starter since January 3 for practically two months, and with a goal from Adrián Embarba, who had not scored since November 7. A pity for them that it was ephemeral and Sporting de David Gallego immediately equaled the contest, who with the point –and judging, above all, by his euphoric reaction in the draw– also wanted to vindicate itself.
Old customs. Because Uros Djurdjevic appeared and it took only one run, a feint and a dry kick to establish the 1-1. To get away from his particular fight for the 'top scorer' with Raúl de Tomás the day the striker was absent. Merit of the Serbian but demerit of Keidi Bare, who loses the ball in his own field, of David López, who closes badly, and to a lesser extent of Diego López, who we will never know if he could do something else. A goal that evokes the old Espanyol, who thus received dozens of goals last year in the First Division, and which is nothing if not the new one as far as the front has a striker that is of the highest level.
Aceitón and the other football. During the week, the appointment to the VOR room of Santiago Varón Aceitón, who was ultimately responsible for a controversial expulsion of Lluís López from Las Palmas and Majorcan, had caused considerable controversy. Even Vicente Moreno, subtly, had indicated in the preview that he expected professionalism from him because he knew him from his three years on the island. Well, it took half an hour to give wings to the ill-wishers, ignoring a probable penalty from Gaspar Campos for stomping on Oscar Gil. Arguably, yes, but it was not even reviewed by the VAR. And he played along. Nor did the Espanyol players eat the referee, practicing that other football that often achieves its goal. In the case of VAR and that mischief, as Serrat sang, are those little things ...
Debutante Dimata. And if up to now we had not written about Nany Landry Dimata, despite the fact that by now they will know very well that he was chosen to replace the injured De Tomás, it will be for something. For a testimonial paper. It is not that a 'nine' reference is required to be omnipresent in all facets of the game - neither does RdT -, but it is that the Belgian walked very far from being that providential striker who rescued the three points against Mallorca. He connected a shot, gave three good passes in the center of the field and little else. By the way, perhaps the day that suited them the best, neither did Espanyol stubbornly like other days in sending lateral centers that Dimata could have taken advantage of.
Pigeons in the area. Vicente Moreno intervened when there was still half an hour left, admitting Wu Lei after three days disappeared –to the delight of Chinese fans–, but above all without Keidi Bare and placing Fran Mérida next to Sergi Darder. Bet on the players to seek for a few minutes a victory that he stroked despite the marksmanship of Javi Puado and Nico Melamed, because of Diego Mariño's expertise against Adrián Embarba, Óscar Gil's stick ... The classic 'taquigol' of Espanyol seen over and over a thousand times this season in similar contexts, this time without De Tomás and without bearing fruit. And, meanwhile, in an isolated counterattack by Djurdjevic, some pigeons were seen prowling through Diego López's area, a reflection of what that section was being that preceded a few last minutes of a real truce.
A point like the Rorschach test. And, precisely like pigeons that fly away with their olive twig in their beaks, perhaps Sporting and Espanyol signed peace with a point with as many interpretations as there are thousands of temperaments among the Espanyol fans. Like the Rorschach test, those sheets that show ink stains with fuzzy figures that evaluate the personality of the patient, there will be those who consider it a good point, those who feel their reasonable doubts and who want to burn it all, with the leader at five points and the third, to one. But almost everyone will agree that this tie will be valued positively in the event of a victory next Friday against Oviedo. It is an evaluation so unanimous that it will even be shared by Sporting.
Photos from as.com