El Granca subscribes to the epic in Eurocup
A great second half against the Mornar Bar allows him to reach the last day alive. Slaugther and Beirán, decisive once more.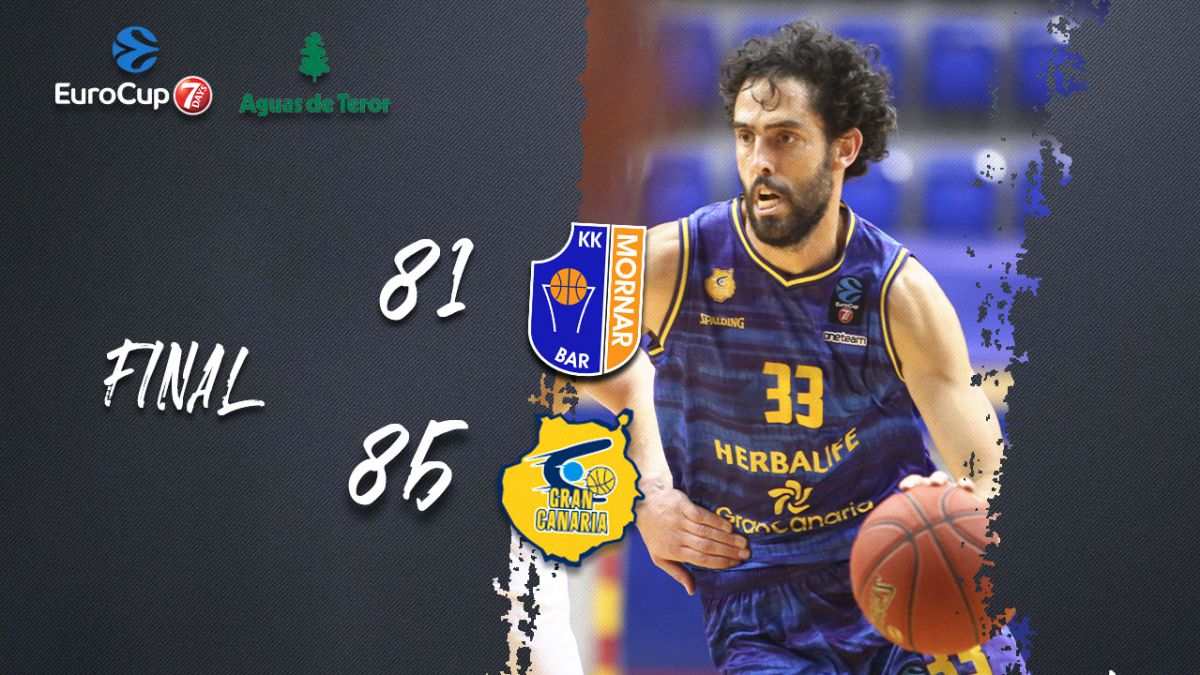 Nor that I had an excessive taste for being on the edge of the abyss, Herbalife Gran Canaria seems to be subscribing to the epic in Europe. After losing the first three games of this second European phase, he was already able to beat Morabanc Andorra's average and this afternoon he did the same during his visit to Mornar Bar.
When everything seemed lost, Porfirio Fisac's team, so much discussed this season, resurfaced with more life than ever. He started Granca playing jerks, and that he managed to overcome Needham's two initial triples to get 11-12 after five points from a successful Kilpatrick.
Soon an anesthetized Herbalife melted away, as if unaware that all or nothing awaited him. Dimsa put some sanity in the island team with a triple for 21-17, but immediately afterwards Jeremic took a 3 + 1 from Fabio Santana to again distance Mornar Bar with a dangerous 25-17, a distance that stretched to 27-18 at the end of the first quarter after a shot by Hamilton. As if he were going to redeem himself, Santana started the second set by plugging in from 6.75, although it was answered immediately afterwards, from the same distance, by Gordic. El Mornar bar scored too easy for the interests of Gran Canaria, which barely stayed in the game, 35-27, thanks to four consecutive points from Slaughter.
Jeremic hit another triple to shoot his team, 42-29, and Herbalife seemed to have done a lot coming at halftime losing 'only' of ten: 48-38.
Captured the Fisac team that, only by raising its level of defensive aggressiveness, could oppose a victory that, if achieved, would keep it alive until the last throes of this European phase. Despite Lukovic's fierceness, between Dimsa and Costello they poured gasoline on the fire of the insular hope with a 56-51 that heralded battle, as if it were a new match.
The Lithuanian escort followed suit, and two triples, one his and one from an Imperial Slaughter, put Granca ahead: 58-60. Another game was definitely starting.
With nothing to lose and the chance to regain a life that seemed impossible just ten minutes away. A separate case is that of Javi Beirán, as decisive as the most, the most powerful of all despite the cross that Fisac put a few months ago. Thus, with seven points in a row, he put the victory on a silver platter for his team: 69-76 and just five minutes ahead.
In the madness of the last minutes, Herbalife Gran Canaria knew how to better tighten the nerves. That, and what to count on Beirán and Slaughther. With both at full capacity everything is possible. Until, for the island team, arrive alive to the last match against Unics Kazan.
Photos from as.com