Doncic (38 + 9 + 9) is very alone against Lillard and McCollum
The Mavs lose a good chance in a bad last quarter and are already far in the classification to the Blazers. Lillard's scare and McCollum's great game.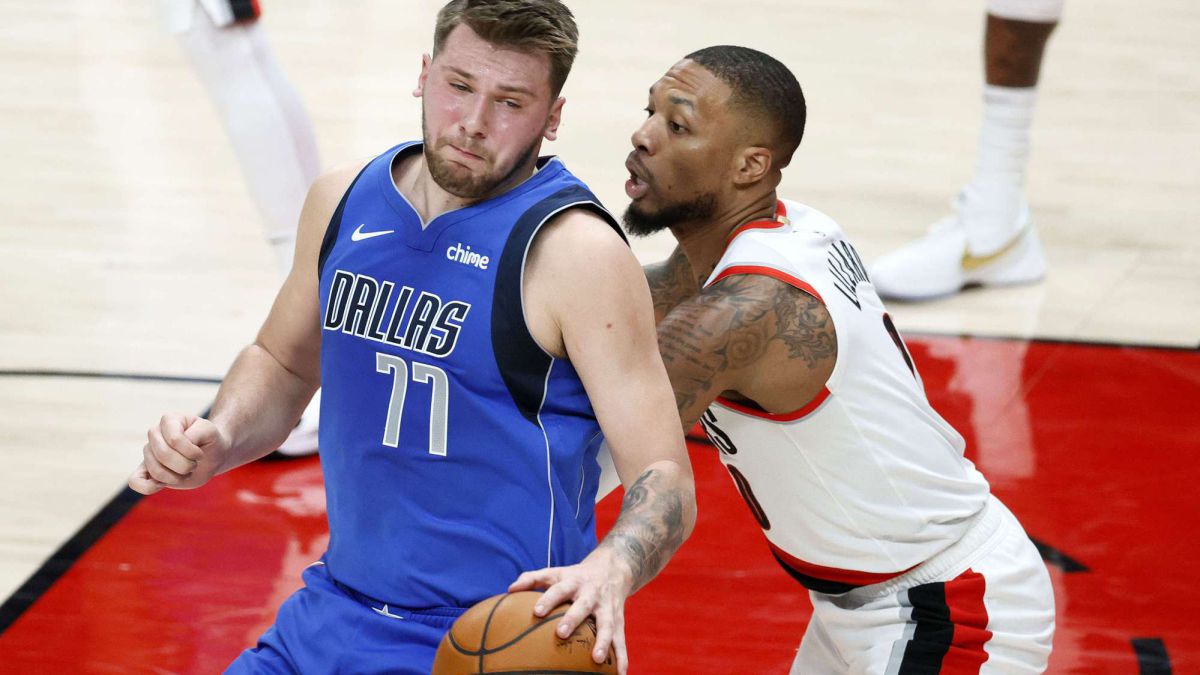 The Damian Lillard-Luka Doncic duels have their curiosity. Or rather simply his high interest: the presence of two players capable of doing incredible things, face to face. In the last All Star, Doncic took the starting position from Lillard, something that neither has greater importance nor to which neither of them gave it. In fact, Doncic did, in fact, admit that the one with the Blazers was deserving of that distinction ahead of him. The case, beyond that, is that in addition Blazers and Mavericks move in those swampy waters of the West from which some will come out glued to the favorites (Lakers, Clippers, for now Jazz ...) and another will be condemned to play in. In that practical, and important matter, the Blazers have been more than the Mavericks so far (2-0 in addition in direct duels), and this 125-119 leaves them at 25-16 by 21-19 of the Texans. Some sixths glued to the Nuggets, the other eighths, with the ninth in the neck, two games from the seventh and three and a half now from that sixth position which is juicy because it is the last one that avoids the (probably tricky) play in that they will play seventh, eighth, ninth and tenth.
Damian Lillard had 31 points and 6 assists. A great game ... but almost a discreet one for his inordinate standard. Luka Doncic finished 38 + 9 + 9, with 4/13 on 3s and 4 losses. Many lights, as almost always, some shadow and an end to the game that could be improved. Their duel was not resolved with an epic exchange between the two but in a more mundane way: due to the superiority in the rebound of the Blazers, a common drag for the Mavs (Porzingis did not catch a single one in his last twelve minutes of action) and because after a 16/31 in triples during three quarters, Carlisle's men stayed at 2/10 in a fourth quarter in which they only scored 21 points (32-21) and in which the Blazers put more defensive solidity than fires artificial in attack. Weird thing. And in which CJ McCollum, in his best game after his injury, had more weight in the moment of truth than Lillard and Doncic.
The shooting guard finished with 32 points and 4 assists, crucial against some Mavs who were in attack: 19-6 in the last six minutes, which was reached with a promising (for their interests) 106-110. From there, Doncic scored 4 points but had more misses than hits (between misses and losses), his teammates missed important open shots, Porzingis faded on a very dark night for him and the Blazers tied a 9-0 with 5 points from Lillard (115-110) who left the track clear for a local triumph sealed, finally, by an attack rebound and a triple by Robert Covington already in the last minute. Before, at 115-112, Doncic and Kleber had failed from the line of three.
The most transcendent moment, however, the one that made the entire NBA hold its breath, came in the third quarter, when a clash between two rivals touched Lillard's knee, who first made obvious gestures of pain on the ground and then he stayed on track, but limping. Fortunately, in the last quarter he already seemed fully recovered. And his Blazers were better when they needed to be, as they are doing on many nights of an overall excellent season when you look at their bad luck with injuries. One in which they are ahead, again with a certain margin, of some Mavericks that surely were left with a sense of lost opportunity.
Photos from as.com