Diego Martínez: "There is only Mold, Mold, Mold and enjoy this moment"
Diego Martínez sent a message to Granada fans "to put the horizontal red and white in front of the television." Maximum respect for the mold. "It will be difficult".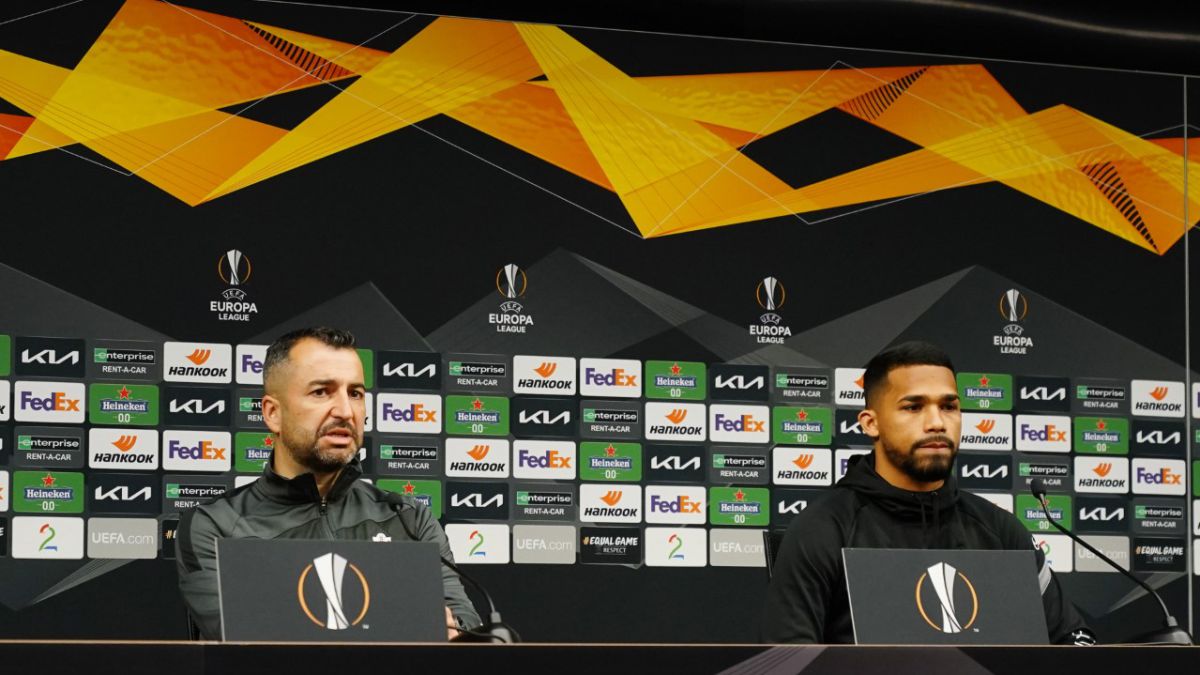 Again a problem due to casualties. "I think the blessed problem is to solve Sudoku with 36 points and the beautiful season we are experiencing. It is true that the difficulty is there and that we will try to find solutions that give the team to continue maintaining its identity, although knowing that the nuances of the type of player that enters vary a bit. But as a coach, when you have the opportunity to lead this extraordinary group of players, I believe that the values, the commitment, the mentality in all kinds of circumstances, in any situation, regardless of whether it is favorable or unfavorable I believe that in itself it makes one feel happy, confident, enjoying the moment, knowing that it is going to be very difficult and that many times the solutions may or may not be given as one wants. But one is very proud of this team and with confidence to be able to face a historic appointment, and there are already a few ".
Play in Budapest. "Being here in Budapest is a tremendous pride for everyone. More at the level of competition in which we are. We were very excited to Albania (against Teuta) in that first qualifying match. Imagine how we are today. We have earned it, the team has earned it with a lot of effort, with very good work done not only in the games, but throughout the season and therefore, any condition does not matter. 24 hours that they played a game we don't care exactly the same. What we want is to enjoy this moment and compete at our best level. "
Physical state of some players. "There is a training session missing, but Vallejo, Eteki, Machís and Kenedy are optimistic with them, within the time when they are, obviously, those who have been the longest will be there and in Darwin's case, I hope he can help us in a few minutes."
What are you afraid of from the Mold? Where can the difficulty lie? "This is the round of 16 of the Europa League. It will be very difficult, since it is very open. We know that we will have to do a lot of things well during the game to win it. And that is our goal, to get through the tie. All our focus has to be on winning this game. They are a very fast, very dynamic and physical team. Really, we, who had analyzed it, were not surprised by what we saw in Los Cármenes. Yes, it is true that once That you have faced them, you are more aware, because you have faced them, we saw from the Molde what we expected. Maximum confidence and maximum respect. And, above all, understand that in these you would eliminate there are moments for both teams. Hopefully Let's take advantage of our moments, as we did in the first leg, because we are going to need it. The tie is very open and everything is yet to be decided. "
About Yangel (asked about his future). "Today is not a day for the future but for the Europa League. I remember an image against Getafe that they hit him on the head and he wanted to go in half dizzy, he wanted to deceive the doctor ... It was the first post-lockdown game. His example of commitment is total, brutal. If we are here, to a large extent, it is thanks to its great performance. There is only Mold, Mold, Mold and enjoy this moment together. "
Possibility of quarterfinals. "The tie is open. I have a lot of experience in the sense that in my career I have experienced many double or single playoffs. The key is to make the most of your moments and not make mistakes. Everything can happen in a match. We have to continue doing well what we have been doing well for a long time. The one who has to get excited and bristle is the fan. He does have to wear the horizontal red-and-white shirt in front of the television. You don't have to pinch yourself because who you are going to see is your team. These players will represent them with the same values and, above all, with the same identity that has made them feel proud during this time. That is the most important thing and we will try to resemble our best version, which is the most difficult ".
Montoro, Yangel and Gonalons, 'the three tenors' (that's how our companions from Ideal have baptized them. "There really are six tenors. There is Milla, Eteki, Quina… and Fede Vico. There are already seven… It is normal that there are 40 alignments. I've been doing 'zillions' of alignments for 50 days, if there is this word. Vallejo is an option that we handle (on the right-hand side). We handle the change of the system ... alternative solutions because we don't know how long these solutions can hold us in the field. the adversities and circumstances that we have had to face in recent matches. What I am clear about is that we are prepared for all types of matches. And the players have the commitment and generosity to know what they must adapt to whatever we need " .
Call where everyone has gone except Foulquier, Luis Suárez and where the youth squad Aranda is not. "We have chosen the 19 players who best compensated for the call. Those who have not been able to travel the Foulquier type, Luis Suárez and Pepe Sánchez, due to injury. Non-registered players have come ... I was laughing because Puertas has been telling me all week that Yangel played for Huesca as a winger ... I let him go there ".
Photos from as.com