Clemente: "I hope my first goal is against Tenerife"
The Tenerife footballer affirms that the team does not think beyond the match against Girona, although he would be delighted to be able to celebrate a goal at Heliodoro.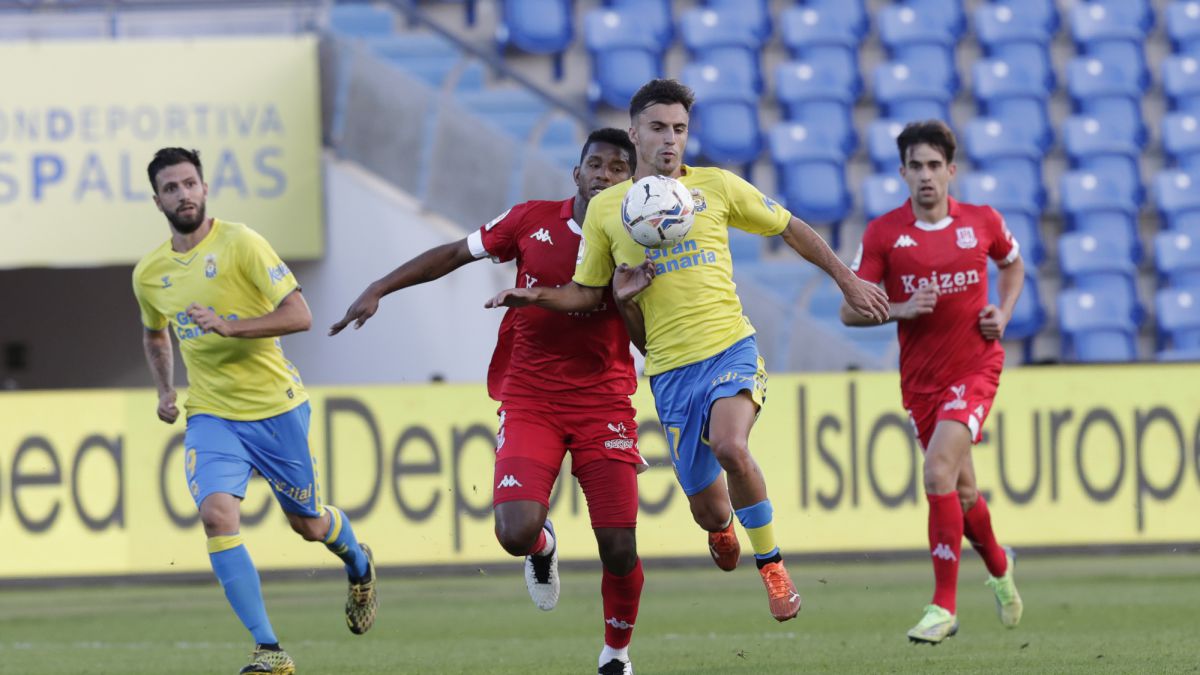 There is still a day in between, against Girona next Friday, but we already know how the world of football works and even more so when one of the protagonists who sit under the heat of a microphone is a footballer from the land. Óscar Clemente, like Kirian and Maikel Mesa, is one of those UD players who these days attracts the spotlight for the added morbidity that he wears the yellow elastic being from Tenerife, less than two weeks before the Canarian derby, so the He could not miss a question and the Adeje midfielder did not shy away from the answer stating "I hope my first goal is against Tenerife, I would be delighted to celebrate it", in case of scoring the eternal rival of Las Palmas. Openly.
The Adeje midfielder, who trained in the lower categories of Atlético Chenet and at the age of a cadet joined the Atlético de Madrid subsidiary, was also questioned about this strange circumstance that seems to occur on the neighboring island in terms of the flight of talents and to Pedri's recent call with Spain, to which he replied that "you never know if a player is going to succeed or not. In this case he has already done a very good level. Surely in Tenerife they will be screwed by it. there are many players. You never know who is going to take the plunge. You can see it, but hey, there are people like me who make the leap to the Peninsula to try new things. Well, it's difficult. "On the other hand, on a personal level, he treated the headache that COVID-19 has brought him throughout the month of February, after being infected on that trip back from Mallorca that also affected Rober and Jonathan Silva. On this, he commented that "I hope to recover my form soon. Before I was very well, but because of Covid-19 and the injury I had, it has cost me more. I hope to be 100% soon." And it is that, when the footballer seemed to enter fully into Mel's plans, the virus made him miss four games, except for five testimonial minutes in Miranda de Ebro, and, as he himself has said, "it has sequels, a strange cough that you don't usually have, etc. Until you experience it, you don't know what it is. If you have symptoms, it's very screwed up because you have a lot of pain and strange sensations ".Now, with his return, in which he has been able to play against Rayo Vallecano and Fuenlabrada, he considers that the UD attack front is very complete, since "we have very good players in all lines. He will do very well, that's why the coach will have it easy ", in addition to the availability of all" is good, obviously, not only because of the performance in the games, but because we are all interacting "."We do not know if we can fight for the playoffs"
"We, now, are in a situation in which it seems that we are going up or down. We are playing the games and, still, we do not know if we can fight for the playoffs. that we want, obviously, but first we have to save ourselves. We have 10 or 12 points left and, from there, we will see if it gives us to fight for the promotion, "he analyzed what the dressing room thinks about the objectives of the season in these For a moment and denies that the derby is already being talked about in the dressing room, stating that "we are only pending on Girona. For now, no one, all week, has talked about the derby. When the week arrives we will be eager to play, but our goal is win against Girona ".
To finish, the man from Tenerife said that "I know I have it, the coaching staff talks to me a lot during the week and I am very calm. I know that they trust me a lot and I also know that I can give more. Mel knows how to lead the team well and we It gives everyone confidence. I hope he will be here for many years. " And he feels that at the club "since they called me I was super happy. They have trusted me a lot. It is true that I have played little due to adverse circumstances, but I hope to be here a long time. I am very happy to be in the Sports Union. Now alone I want to pick up the rhythm of matches and regain my best level ".
Photos from as.com