Campazzo promotes a miracle
Key steal from the point guard, whose energy was decisive in an incredible reaction from the Nuggets who led, of course, Jokic and Murray. The Bulls had it done.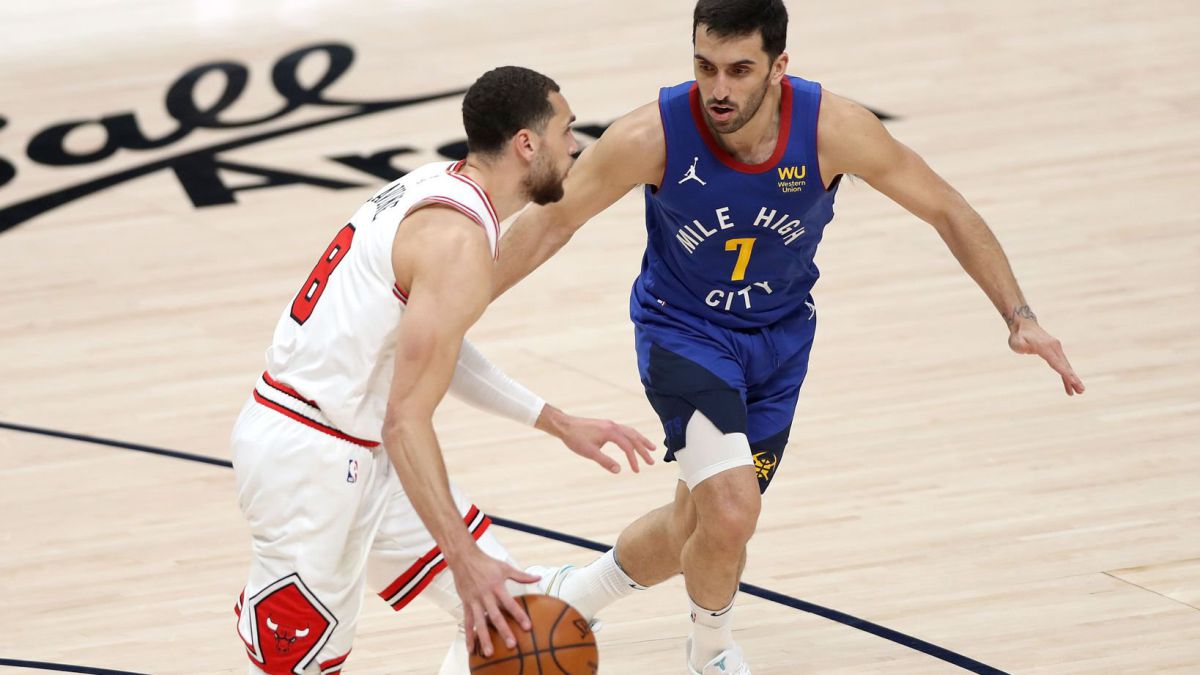 It is not that the Nuggets rallied by 14 points in eight minutes, which is not something especially miraculous in the NBA, at least in this offensive furor. It is that they won later, when they had lost again: from that 89-103, very dangerous but with enough time ahead, they went to a 108-107 three minutes from the end that should have come to nothing because the Bulls stuck their heads out with a triple by Otto Porter, a fine frontal shot by Zach LaVine and a seemingly decisive basket by Coby White: 108-114 with 48 seconds left.
There came the true miracle, the impossible triumph. After that 0-7 that seemed to throw the frenzied reaction of the Nuggets, who had played a terrible first half, to the ground, led to extra time in a way that the Bulls must still be questioning. First Jokic scored a triple (111-114) and there, with half a minute to play and the ball in LaVine's hands, Facu Campazzo appeared, who squeezed the new Bulls all-star, put his hand where he could and forced a loss (finally due to a foul in the attempt to avoid disaster) that returned the ball to the Nuggets, suddenly in Jamal Murray territory: the Canadian point guard, a killer who always appears at times like this, scored among the traffic in the area ( 113-114) and, after two free throws by LaVine (113-116), he sent the game into extra time with a triple from the right side, almost from the corner and after feinting at Thad Young ... who has had better defensive moments.
There the Bulls already had the face of losers, and in overtime they did not change it. The Nuggets scored the first nine points (125-116) and had the game won when their rival wanted to realize what was happening, in shock after throwing a definitive a priori advantage. For the Bulls, who add thirteen seasons without winning in Denver, it is an 18-22 with mixed feelings, of the good performance of LaVine (32 points) and a block that is tougher with Satoransky, Young and Porter (22 points), to the little stability of Wendell Carter Jr and a Lauri Markkanen that could change of scene in the next days, before the market close on Thursday. Carter and Markkanen should be an important part of the Bulls' future, but perhaps soon we are saying they should have been. We'll see.
The Nuggets continue to climb, behind and the worst of the season for them: 25-16, in the middle of the game for the Clippers, which is the fourth in the West. And with eight victories in nine games in which they have the best net rating in the NBA and in which Nikola Jokic has averaged 27.4 points, 12.2 rebounds and 9.2 assists. This time the Serbian finished in 34 + 15 + 9 and Jamal Murray in 34 + 5 + 4. A couple with a wonderful chemistry, like few in the current NBA, and who is a white shark as soon as the hot minutes of the games arrive. Michael Porter Jr (19 + 6) is fitting better and better in a rotation in which the three, a feint of big three, closed with Will Barton and a Facundo Campazzo who was in the important minutes (he played 34 in total) and had a key role in the win even though he only made 2 free throws. But his tenacity, his energy, his intelligence and his aggressiveness, his absolute lack of fear of whoever is in front of him, were a key value for his team, a catalyst in the final reaction based on intelligent assists (8 in total) and plays defenses (ask LaVine) that don't appear on the stat sheet but also decide games. His coach, Michael Malone, is clear: "He's one of those guys… he gets under your skin, you always have him there, on top of you. That's why everyone in our team loves him so much, because they don't have to play against him. "
Photos from as.com