Boris Tisma: "I try to copy the movements of Toni Kukoc"
The Madrid youth squad, now on loan to Betis, recognizes that the former Bulls is his idol and dreams of being able to be in the Olympic Games.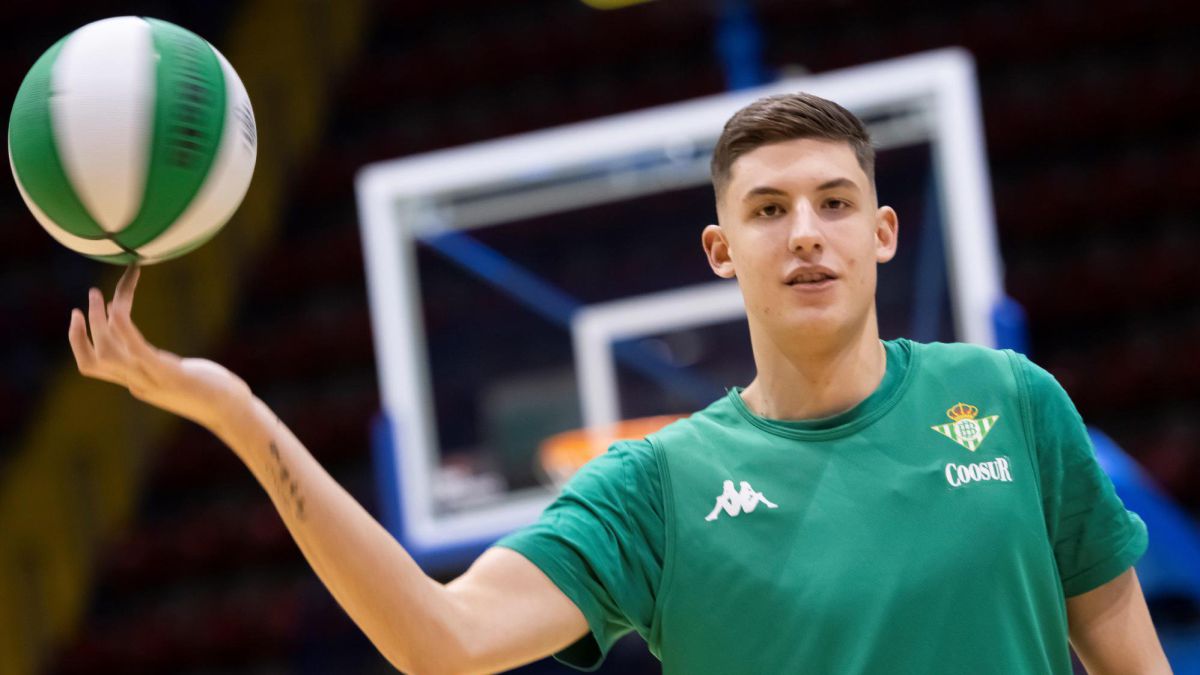 "Toni Kukoc is my idol and I try to copy his movements," Boris Tisma, the new signing of Coosur Betis, has assured EFE on loan from Real Madrid. For this young nineteen-year-old Croatian forward, being compared to one of the greatest basketball legends in his country is something that "thrills" him, although he is aware of the magnitude of the task of catching up with the historic Chicago Bulls player. .
Arrived at the Madrid quarry at the age of thirteen from his native Zagreb, this Balkan of 2.06 meters defines himself as "a player who can play in various positions: two, three or four", in addition to being able to read "good the game and the movements of the companions" and to count on "a good outside shot". Tisma affirms that what made him decide for Coosur Betis was to be able to stay in the ACB, "one of the best leagues in Europe" for him, as well as because Betis is "a great club" .
Consider that another incentive to come to Seville was to be able to train with the Catalan Joan Plaza, of whom Sergio Llull and Felipe Reyes gave him "very good feelings" as a coach. The Croatian remarks that "as a young player that he is", Plaza "demands a lot from him in defense". "Above all, he asks me to avoid being hit by easy baskets and to help with the rebound. And in attack, to use my outside shot and read the game well," he completes.Asked about the feeling of going from a team that competes for all titles, like Real Madrid, to one that struggles to avoid relegation, Tisma is clear: "Whether in the best team in Europe or in the worst, I always fight each game as if it were a final ". The young forward shows a special joy when he talks about his old home: "I can only thank Real Madrid for having welcomed me as a small child. They educated me both personally and professionally." In the same way, he emphasizes that the Madrid coach himself, Pablo Laso, was "happy" with how his progress was going, while stressing that the Vitorian coach himself "also saw an opportunity" to sign for Betis in order to "have minutes to keep improving and growing for the future. "
One of the best moments that Tisma has experienced in his so far short career was the gold obtained with the Croatian cadet team in the 2018 European Championship, in which he defeated his friend's Spain Usman Garuba in the final. In that game, it was remembered how the chess set comforted the Spaniard, who was crying over the defeat: "It made me very sad to see him being screwed. I get along very well with him. I said a few words of support". Of that tournament, two players drew attention in the Balkan team: Boris Tisma himself and the center of the Cibona de Zagreb Roko Prkacin, author of the victory basket. "He is very good. He is going to have a great career. I hope that soon the two of us will be together in the national team to return Croatia to where it was before and win medals," says the Betis forward.
Y is that if something is "clear" Tisma is, despite some temptation he may have had, that he will play for the national team of the country where he was born: "I don't see myself with another team." The young player hopes to be on the national team in this summer's Olympic Qualifiers, qualifying for the Tokyo Games, although he knows that it may still be "a little early" .
Looking ahead, Tisma doesn't set goals. "The same my level can arrive for the NBA, that for the Euroleague that for the ACB, everything depends on me," he emphasizes, while declaring that "for now", he only wants to "focus on Betis" .
Photos from as.com