"At Barça, there may be elections again in six months"
The candidate who accepted with more values not to pass the signature cut by making them available to the club analyzes in As the elections this Sunday at Barça.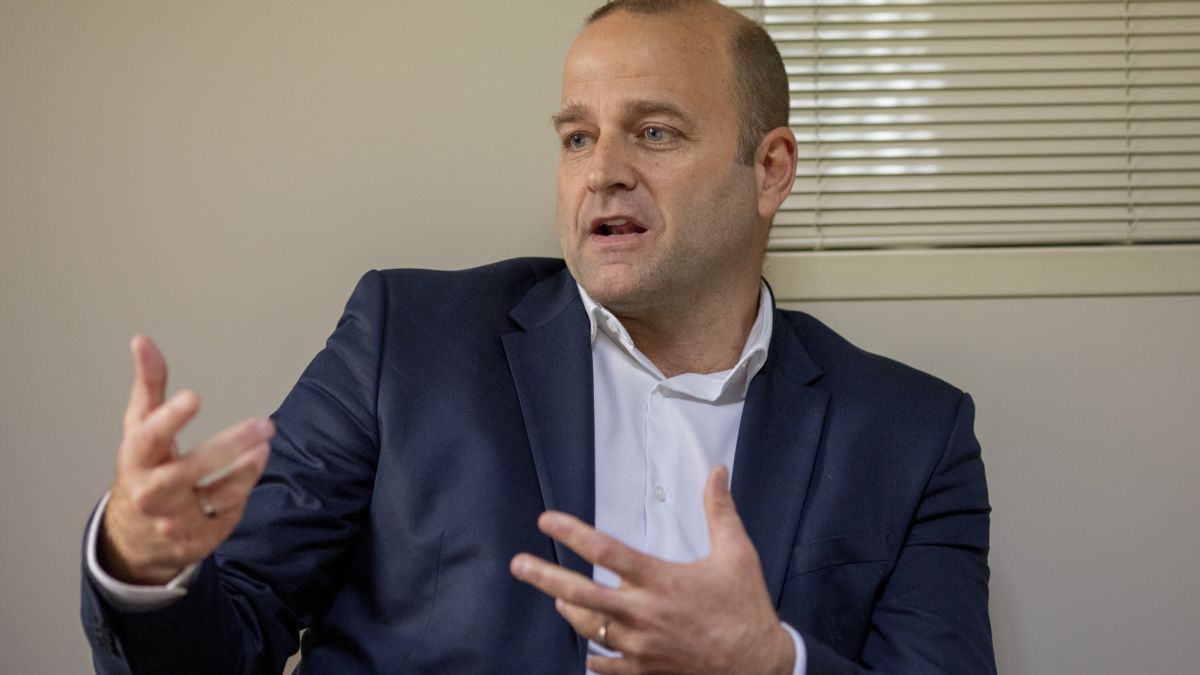 Of those who did not pass the cut, Xavier Vilajoana (1973, Barça partner 35,916), was the candidate who showed the most values in the electoral pre-campaign. He submitted his nearly 2,000 signatures and made them available to the club. Now, watch Barçagate and the electoral race from a distance.
-Has the Barçagate staging impacted you?
-After the months that have passed and as everything has been, it is still surprising. I am not a lawyer, but to gather information I do not know if it is necessary to arrest someone, especially when you have been in the case for eight or nine months, almost a year. The truth that, honestly, escapes me.
-Could it be that Barça did not give all the necessary information? Did you read the entire audit?
-I did not read the complete audit, I have the conclusions. Let's see, what is true, as in life, is that if someone has done something wrong, then they must assume their responsibilities. But that must first pass through a trial.
-Emili Rousaud said a few days ago that behind this communication policy was the Popular Party. Do you see it like this?
-I do not know. It is true that there was a monitoring issue and promoting the Barça brand. But from there ... 444 444
-And they told you that there were journalists who were not related to the directive who had to be monitored?
-In my presence, never.
-The report reflects that 192,000 euros were sneaked into La Masia. Did you get that information? Because you were the manager responsible for that area.
-No, we didn't get that low. I have to say that La Masia made follow-up reports on the brands. Some reports were made. But from here to thinking that this was linked to something else ... But you don't know if those reports are worth 15, 10 or 5 million. They were reports that were worth 16,500 euros. You can't go into that because there is a four million budget in La Masia. In the end, the accounting notes are from the club.
-We have gone from a club that has gone from the sports crisis to the economic crisis and from there to the moral ruin of Barçagate. Do you see it like this?
-Even when we lose 2-8, I like to take life with philosophy in the sense that we all love Barça. This hurts and tastes bad at the image level. But in the end we are talking about a football club in which you have to do things well. But I am pragmatic. For me, Barça is everything, not just part of it. It's the club of my life.
-For you, if you had passed the signature cut, this would have been a fatal blow ... Because you were on the Board with Bartomeu ...
-An issue like this does not benefit anyone, any candidate. For me, making assumptions makes no sense.
-But will it affect the vote of the people?
-I think not. If the partner is limited to listening to the projects that are put on the table, he should not.
-Have you decided who you will vote for?
-Yes.
Can you tell?
-No. I have practically decided.
-Will you vote by enthusiasm or by dismissal?
-I vote; there are three options ..., and another. There are four options. What I am is consistent with myself. When I presented myself, I said that I was not convinced by the candidates and, although debates are lacking, I am still not convinced.
-Let's go to the beginning of the campaign. You were the only one who, despite not making it to court, did present your signatures to make them available to the club. And so it dignified the process. What happened that day of delivery of signatures?
-Do you know what happens? That it is very sad that people have to be grateful for their honesty. Because if something has characterized me, it is being honest. And there is nothing better than sleeping with a clear conscience. It is a demonstration of respect for the members. I did not ask anyone for the vote, I was only trying to convince the members based on some arguments. It is disrespectful not to submit signatures. And if you have nothing to hide, you should not be afraid.
-Did you see the signature destruction process?
-I entered after Jordi Farré. When I went in, he went out. They explained to me the show that had been put on. A liar is caught sooner than a lame person.
-How does the pre-electoral process have to be changed?
-The formula of the signatures, the electoral campaign, cannot be so archaic. And it is not a technological matter. It is the process itself. The pre-campaign cannot last four months and the campaign, ten days. It cannot be that a pre-campaign in which nothing a priori is requested lasts so long and the campaign so little.
-Some of the campaign proposals are similar to yours. Among others, Espai Barça.
-It seems that everyone has realized that the matter of Espai Barça is urgent. And that the way to do it more quickly is to do the works at once. You can only do that if you are going to play outside. When someone proposes something, I like it to be done because it has been studied in depth. And I did. He knew how long it would take and what we would save. I don't like phrases without content. They must be explained.
-And there is more?
-Yes. The other day I was listening to a candidate: "I would like to play with eleven La Masia players in the Barça first team." The difference is that I know why I say it, because I know eleven or thirteen players can arrive. And it is not clear to me that whoever said it knows what eleven or thirteen players they are. You have to have knowledge of the facts to speak; not saying what people want to hear.
-Any more?
-Yes. The women's sections. I'm funny about the women's sections. Where will they put them? We had a plan to expand the Ciutat Esportiva with two more pavilions that can be done without much expense. What you cannot do is say that you are going to do four women's sections and send them to Sant Just or Sant Feliú. If you want to have sections, they must play in our facilities. And right now there are no facilities or schedules available. Announcing empty phrases of content is easy.
-Xavi's name has taken on more and more strength. Is your figure so capital so that it weighs so much? What do you think that Xavi did not speak?
- (laughs). From my point of view, nobody is capital or more important than the club. Nobody is more important than Barça or is above him. This has been the case in its 120-year history. From there, whoever is surprised that a club asset like Xavi, former player and idol for many, does not get wet or does not commit, is that he does not know the world of football and Barça in particular. With many of those names that have been coming out, I had had conversations. And he had even agreed with them. And it did not occur to me to say that they gave me support because they are professionals of this. What is the point of being tied to one president or another? It is the clubs who hire the professionals, not the candidates.
-Does this coincide with Laporta, who has called Font naive?
-It is that there is a lot of ignorance of how football works, really. In the world of football, and more so in Barça, which is a sports club, the most important assets are the athletes. And the athlete's mentality is one, but the heart of the business is the sport. And it is important to know what athletes think. And for me that is key. You have to know which institution you are going to digest. And I'm afraid it is unusual to see such things.
-Have you been surprised by any proposal, such as the 250 million from Barça Corporate?
-The 250 million Barça Corporate were already advanced, that comes from behind.
-And would you use them for Haaland or Mbappé?
-I always say it. The players of the first level have to serve to complement what comes from the quarry. Because that's something else. very recently, the quarry seemed worthless. Now it seems that Araújo is essential; Mingueza, whom nobody knew, does it well. Ilaix, Riqui ... In the end we have to return to that policy. People of the house who understand the game and complete with high-level players.
-It was not a campaign of names ...
-Yes. With a difference. And it is that I speak of La Masia by conviction, not by those who do it because there is no money to sign. With the bag of money full at Barça, a few names would have come out. And for me that is sad, at least from my conviction, because that denotes that you do not know the people who upload.
-Do you think there has been marketing with characters from La Masia such as Benaiges?
-Any marketing before entering a site is disrespectful. It would not occur to me to enter a club with a list of 40 people without first analyzing who can fit in among those there. It is a lack of respect for the people there; and an animated one at the management level. That is, you don't know anything. Because, in five years, I have not seen any of the three candidates at the Estadi Johan Cruyff to see a game of the subsidiary, or the subsidiary in the Ciutat Esportiva. If you are looking for a record of entries in the Ciutat Esportiva in the last seven years, I am convinced that the names of none of the three candidates would not be found in the record. They may say they see it on TV, but I can't believe it. And it's hard to believe when you see the horrible ridicule they make when it comes to women's football. I may not know me rugby players, hoquei. Surely, they would catch me. But what I cannot as a candidate is to do exclusive events for Barça women. How can I enhance something that I do not know? They show that they do not know him. And speaking from ignorance seems very sad to me and a lack of respect for the players. And how it trivializes them.
-Have you been happy with your participation in the campaign?
-Yes, because things have come out that prove me right. I was the first to say that on January 24 you couldn't vote. And it has been fulfilled. Now they say that, if you are lucky, the Mossos may stop you and you will not be able to vote ... But it is very strong. It has been possible to vote in an election four days ago, and not now. That is to say, when Barça is interested it is a private entity ..., but when it is of interest it seems to be in the public interest. And that surprises me.
-Did you flip with something in the campaign?
-Man. We sent a volunteer to Camprodon to collect two ballots. That is very hard. It is a tough process. And, in addition, it is difficult to reach the partner. Because, at the media level, if twenty are presented and you want to give space to all ... The whole process is complex. We must put on the table the change in the system of the electoral process. It doesn't make sense, whether you have passed the signatures or not. I hope the next president will put it on the table from the start.
-And will you join the party again?
-I have not decided. I will closely follow the club because it has been my unpaid occupation for 17 years. Now it is too early to think about that. But if I showed up, it's because I felt very qualified and I still feel qualified to be president of Barça.
-Do you think there may be elections in two years as the statutes indicate if the financial years are closed in the red?
-In this club there may be elections in six months again. If there are elections before the term ends, I hope it will be for, let's say, natural causes. That is, it is normal to choose a president for a certain time. Because when you vote, you vote every so often. And in this life, when you make decisions, you have to assume the ones you make, even if it is in the form of a vote. It gives me the feeling that there are many people who wait for the failure, the stumble or the tip of the one who sends to provoke. We Catalans are a bit Cainite in that sense.
-Do you think there are moving months at the beginning of the new presidency?
-I think some candidate will make more moves than another. There are candidates who said that they had prepared the project more than others, or that it seemed that they had prepared it more than others ... We will see if they move if they do not reach the presidency. Anyway. I think the economic situation will mark a lot. I'm not talking about that of Barça, I'm talking about the global economic situation worldwide. LaLiga clubs lose 2,000 million euros, this is not a Barça thing.
-What sports forecast does the team make?
-This is a team in which the regeneration has been late but it will grow. It has potential and a lot of future. And that does not mean three years without winning titles. I think that managing the first team is not easy because there is still an imbalance between the oldest and the youngest and managing that is not easy. There are parties that are the bomb and golds that are the opposite. But I trust the team.
-Are you respecting the candidates for Koeman? No one has said flatly that they are going to continue and have swallowed a brown.
-Koeman, of course, has to finish the season and, today, Koeman has to continue and finish his contract in 2022. He has very important strengths. Your rings will not fall off if you have to put on the youngsters and you are doing the age imbalance management well.
-What does your nose tell you about Messi, continue?
-Look. Honestly, I think that Messi should not be clear about it. It will depend on the proposal that may come to you if you have it from outside, that you will have it; and what comes from within. Then he will put it on a scale and decide. I think his vision has improved compared to what he could think at the beginning of the season, I am convinced. You have to know what offers you have from outside and what can motivate you. But he would be very calm in every way, because Barça will continue to compete and fight in competitions, with or without Messi.
Photos from as.com