Atletico triumph of faith and suffering
Atlético had a bad time in the last minutes against Villarreal. But the leader did not fit in and knew how to take advantage of his moments. João Félix was decisive this time.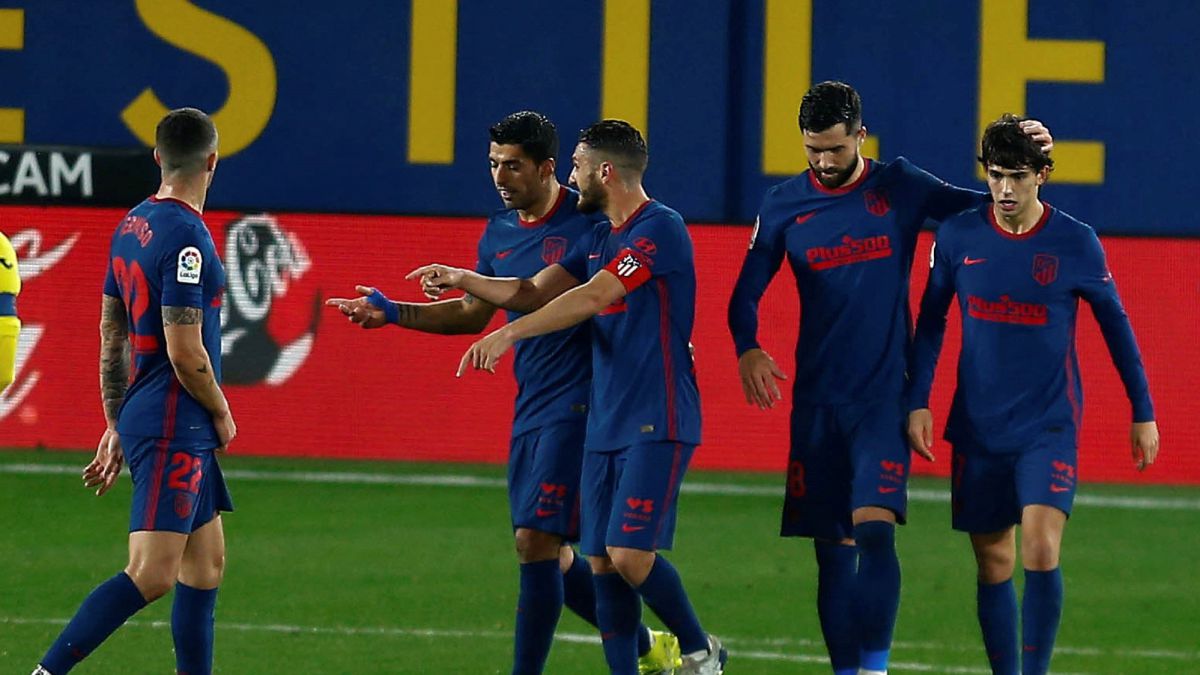 Atletico recovered the path of triumphs. He did it against Vilarreal in a game where the leader had to work hard, grit his teeth and suffer in the last ten minutes where the local team had him on the ropes. But those of Cholo did not fit in (despite Villarreal shooting 19 times on goal) and they took three very important points in the fight for the title. The set pieces gave Atlético joy with the first goal and João Félix, who came out after the break, scored the second goal. After a very bad month of February, the rojiblancos breathe and arrive at the derby rearmed.
Simeone was especially active in Friday's training session on set pieces. More than three-quarters of an hour dedicated the Argentine coach to rehearse lateral and frontal fouls, corner kicks ... again and again. And correcting each hit of his footballers. The Madrid team has had problems with the goal in recent games and strategy can solve these deficiencies at certain times. Against Levante, in the double league clash, Atlético bombarded the rival goal and scored a goal. Against Villarreal, in the first half, he had two arrivals and scored a goal: a shot by Saúl and Savic's shot, with Pedraza's own goal, the goal that made it 0-1. Lemar, who has a glove on his leg, put it on Savic to overtake Atlético. Two arrivals and one goal. Soccer stuff.
Villarreal dominated the first half, with Chukwueze creating many problems behind the rojiblanca. Atlético started with a defense of five, but after twenty minutes it changed and Saúl went to the center of the field to help Koke. Emery's team played the ball very well, spoiled it and got it well played despite the pressure of Simeone's men, who did not hesitate to push their rival up as they could. But behind the Madrid team offered few cracks, with Lemar helping on the left and Correa on the right. Everyone tried to close ranks when Chukwueze had the ball and started his overflows. An Atlético that has conceded a goal in its last eight games defended itself seriously, well positioned, very well positioned. Atlético did not come out much to attack and it always did for Marcos Llorente's band, who continues to be a headache for his rivals. Luis Suárez had a testimonial presence, as he barely received balls.
Nor could Gerard participate much, well controlled by the rojiblancos defenders. He was able to tie in a set piece, but between Oblak and the visiting defense they took the ball out when it was already slipping.
In the second half Simeone removed Lemar, with yellow and with discomfort, and João Félix jumped to the field, so the Madrid team returned to defense of five, with Saúl stuck on the left. The rojiblanco had a bad time, since Chukwueze continued to be very active, beating the leaders' defenders by speed. A headache. But he was almost alone against an Atleti especially concentrated behind. Simeone's team knows that if it recovers its defensive level, it will win many games. Atlético had some good minutes, with a great chance from Luis Suárez, thanks to the pressure from Correa, and a stoppage from Asenjo. Villarreal locked up his rival in his area, but it did not really disturb him. His best attempts were from set pieces, on shots from the corner. But Savic, Felipe and Hermoso did not give Gerard a choice. When Atlético was having the worst time, it was 0-2, a good goal from João Félix, to whom Pau Torres gave a gift. And the Portuguese did not waste it. His shot sticking to the post put the finishing touch on a match in which Atlético brought out his breed, his personality.
João Félix made a gesture after his goal as if wanting to claim something. After the 0-2, Villarreal had no choice but to go higher, with Bacca and Gerard attentive to Chukwueze's dropouts. Villarreal's last attempt was made by Baena, whose shot skimmed the post. And then Oblak pulled out a miraculous hand when the ball slipped. Atlético had to suffer and suffer in a few minutes that were very long for the Madrid team. But they celebrated in a big way a triumph that is morally very important.
Photos from as.com