Asensio misses another train
With Vinicius, Rodrygo recovered and Hazard ready, his title in the derby is in question. You have missed a great opportunity.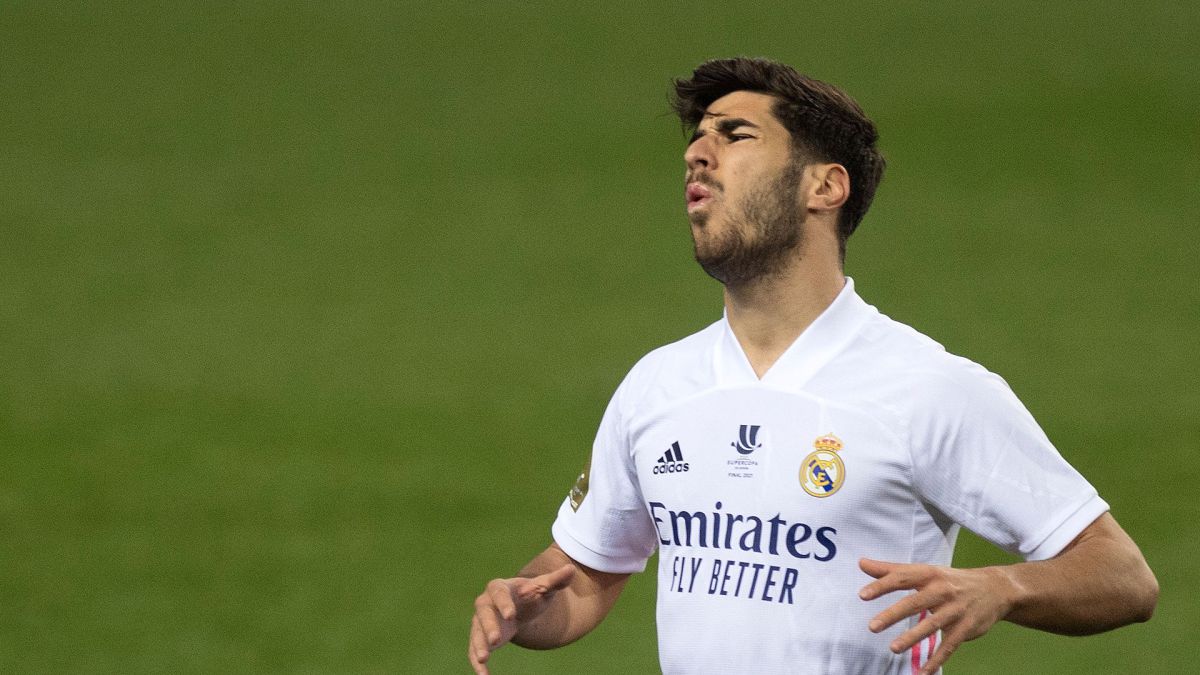 It was the perfect opportunity to consolidate in the eleven of Real Madrid. Any competition, fundamentally that of Rodrygo and Hazard, eliminated due to injuries. But Asensio (25 years old), has missed another train, and there are already a few since he is a full part of the white squad (2016-17). The Spaniard is in his fifth season and, for now, it does not seem that he is going to be that differential player that was expected of him when, even in 2018, there were those who saw him as future for the Ballon d'Or. "He will end up winning it," said Di Francesco, the Roma manager. Now that question seems like a mirage.
Madrid has placed all its trust in the international striker to the point that an eleven type was devised in which he formed a trident together with Hazard and Benzema. That should have been the new post-Christian Madrid, but neither the Belgian nor Asensio himself have made the cut. If last season a hard knee injury left Asensio out of any equation (he went blank all season), this season he has enjoyed many opportunities. In recent times, he has even started 11 of Madrid's last 12 games, with the only parenthesis being the Cup match against Alcoyano. But it has not shone.
"We are in March and Asensio has not cut off an ear yet," Alfredo Relaño summed up these days, with a bullfighting simile, the situation of the Balearic Islands. And it is true. He has only scored two goals all season, against Celta and Levante, having participated in 30 of Madrid's 33 games this season, 20 of them as a starter. Two goals in 1,774 minutes… 444 444
It seems clear with these figures that Asensio has missed another train in Madrid, because for the derby the return of Hazard is already expected and that of Rodrygo is already a reality since the last match against Real in which, in addition, Vinicius saved the furniture with a goal in 89 '. The competition is back, therefore, for the Mallorcan attacker, who is now fighting for the position with the two Brazilians (Vinicius and Rodrygo), Hazard and Lucas Vázquez (with the latter, when Carvajal returns and leaves the side).The world of football is no stranger to the situation of Asensio, whom the club signed in 2014 for 3.5 million euros. An ideal market move, since the Mallorcan came to have a value of 70 million euros, according to the specialized website Transfermarkt, at the time of its greatest apogee, December 2018. Then, the footballer himself had to talk about the possibility that out of the Ballon d'Or in the short term. "I don't think about that, I'm young and I'm going step by step," he said about it at the press conference on the renewal of his contract, which expires in 2023. Madrid included a termination clause of 700 million. Star treatment. Today, its market value has fallen to 35 million…
Photos from as.com