Ariza, the most transferred in history, now to Miami Heat
The forward was separated from the Thunder after going through four teams in six days before the start of the season. The Heat repeat what they did with Iguodala.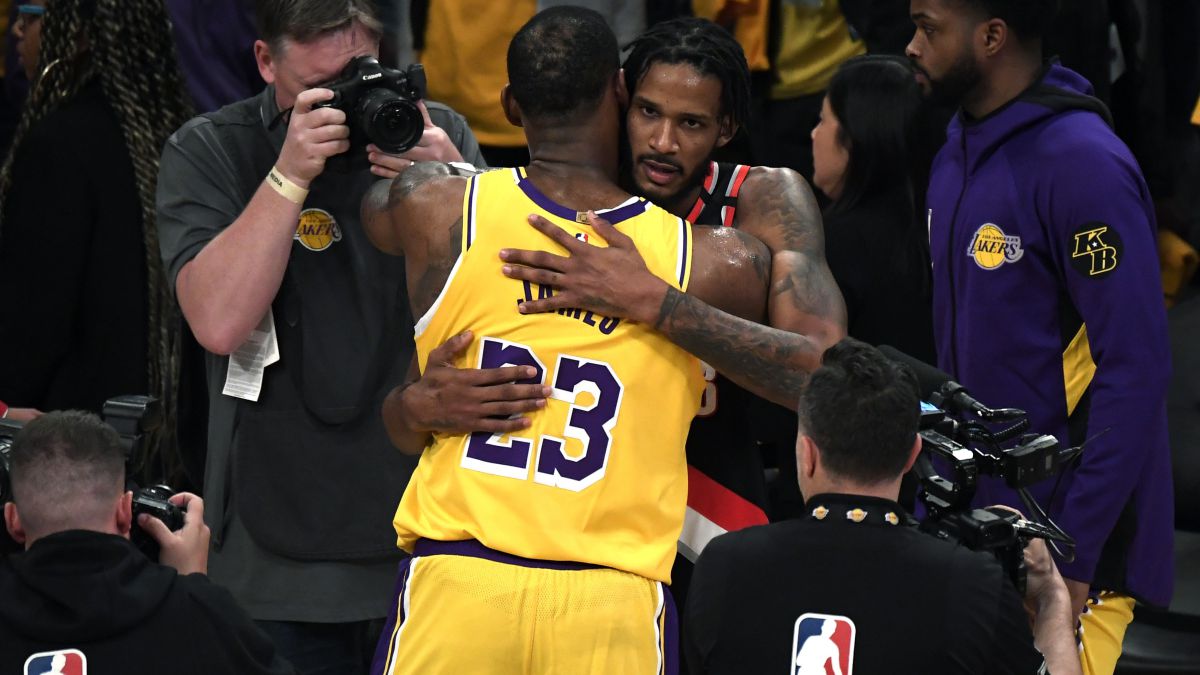 One of the situations that most clearly had to take a new course before the market close on March 25 has been resolved: Trevor Ariza, who has been away (officially, for personal reasons) from the Oklahoma City Thunder discipline all season, has been traded to the Miami Heat in exchange for Meyers Leonard and a second round of 2027.
Ariza was looking for a way out and a chance to compete in a contender for the ring. He is 35 years old and has not played for more than a year: his last game was on March 10, 2020 and he scored 22 points against the Suns with the Blazers, with whom he started 21 times (11 points, 4.8 rebounds) before of giving up playing in the Florida bubble for family reasons. With a final year of contract for 12.8 million, Lakers and Nets expected that the 25 would pass without a deal and be cut by the Thunder to sign him after that buyout. The Heat have gone ahead like they did last season with Andre Iguodala. And they add another veteran with experience (champion with the Lakers in 2009) and who can still give some good minutes as a defending forward with good wrist.The Thunder receive a Meyers Leonard who has lifted his anti-transfer clause as a gesture of goodwill with the Heat, who no longer had him and where he played since 2019 after arriving from the Blazers. He is injured (shoulder) for the entire season and embroiled in controversy (and sanctioned) for his anti-Semitic comments while streaming playing a video game. The Thunder do not count on Leonard, a diminished interior with many injury problems, but they add another second round. In the next seven drafts they have, attention, 19 direct or right-of-trade first rounds and 16 second rounds.
The most traded player in history
This is, therefore, another transfer for Trevor Ariza. The forward already had some very busy days before the start of the season. He was a Portland Trail Blazers player on the morning of November 22. He had arrived in Oregon on January 21 and had only played 21 games with Lillard, McCollum and company because, after the pandemic hiatus, he gave up being with the team in the Florida bubble. That November 22, he was transferred to the Houston Rockets (where he had already been in two stages) in the operation that took Robert Covington to Portland. The Blazers sent him, Isaiah Stewart and a 2021 first round with lottery protection (can't be from Houston if he's between picks 1 and 14). Ariza couldn't even get comfortable, again in Houston. On the 24th he was sent to the Detroit Pistons, again with Isaiah Stewart and this time a second round of 2017 and a cheap amount. It was the sign and trade for Christian Wood, the emerging power forward who left the Pistons and went to the Rockets, who received Wood, the first round of the Pistons of 2021 (very protected) and the second round of the Lakers in 2021.
Ariza only spent three days in Detroit: on the 27th he went to Oklahoma City Thunder in a three-way operation. The Mavericks sent Delon Wright to the Pistons and Justin Jackson and two second rounds to the Thunder. And the Thunder sent James Johnson to the Mavs.
In six days, Trevor Ariza had traveled from Portland to Oklahoma City via Houston and Detroit. Four teams and three transfers in less than a week. Record? His career total is. With these last four operations if we add the last one that takes him to Miami, Ariza has been trapped eleven times, more than any other player in NBA history. Florida will be the 10th team I play for. A third of those who make up the NBA: so far New York Knicks (2004-2006), Orlando Magic (2006-07), Los Angeles Lakers (2007-09), Houston Rockets (2009-10 and 2014-18), New Orleans Hornets (2010-12), Washington Wizards (2012-14 and 2018-19), Phoenix Suns (2018), Sacramento Kings (2019-20) and Portland Trail Blazers (2020) .
In addition to those eleven transfers, he has chosen a free agent destination three times: Houston Rockets in 2009, Phoenix Suns in 2019 and Sacramento Kings in 2019. At 35 years old and therefore already in the final stretch of his career, he is a great example of what the NBA is for the good and the bad: he has won more than 103 million dollars in franchise contracts but has lived with his suitcases almost permanently prepared. A very intense forward in defense and with a good hand, he was champion in 2009 with the Lakers of Kobe Bryant and Pau Gasol. His profile (10.5 measurement points with 35% in triples in his career) makes him a very interesting role player for a team with aspirations like the Miami Heat, the reigning champion of the East. It's just a matter of seeing how much gas you have left.
Photos from as.com