Aranburu, optimistic: "I hope to teach what I am capable of"
The Astana rider will debut in major races such as Strade Bianche, Amstel Gold Race and the Tour de France. The season started at a good level.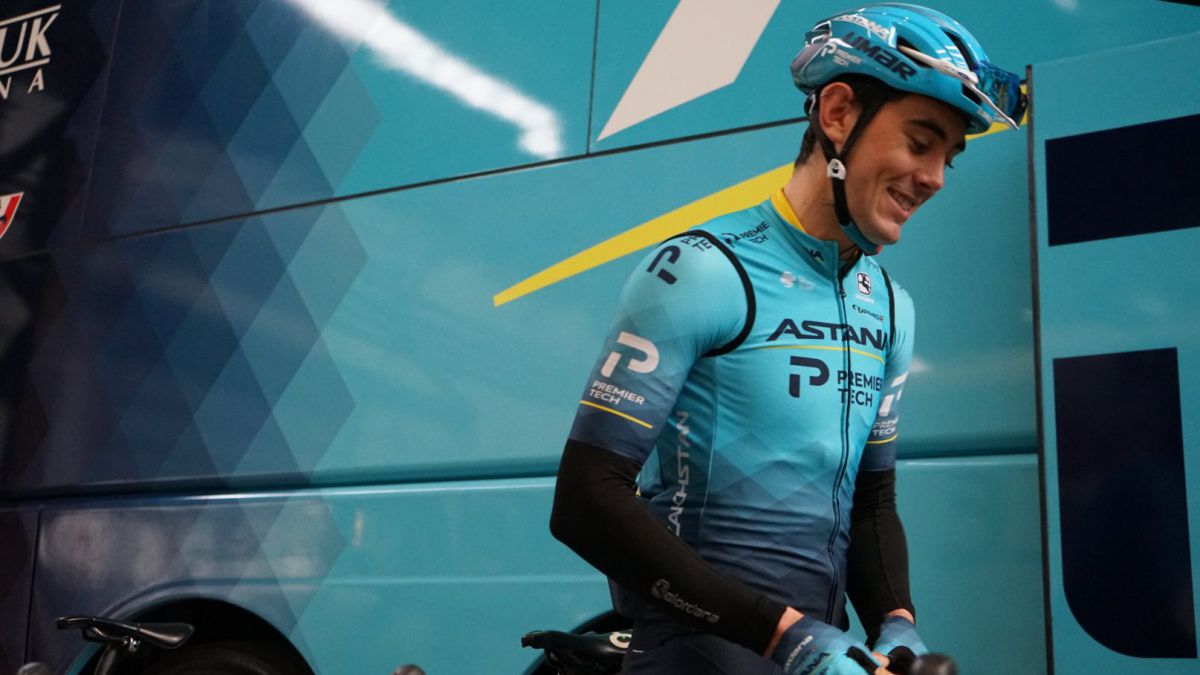 Alex Aranburu (1995, Astana-Premier Tech) faces an exciting 2021, with a calendar of the highest level as he will debut in major races such as Strade Bianche, Amstel Gold Race and the Tour de France. So far, he has started with note, bordering on victory in his debut at the Tour de la Provence and with the best in the Omloop Het Nieuwsblad, sixth. He spoke in the media of the Kazakh team (Acquadro Comunicazione) .
What a calendar ahead of you.
Can't complain. They have thought about what races can be good for me, that I may have a chance, and I know that in others I will have to help. It is appreciated that they think of me. Last year, it was a strange year, although in the races that I played I was competitive. In many I was in the fight. If we continue in that line, sooner or later the victories will come. WorldTour races give you other legs, another rhythm, and that shows a lot. For example, Provence this year was not WorldTour but it was; the level was very high, and in other races in France I think the same will happen. They are not ... but they are.
In his first races he has contested victory
. I had doubts because we finished late with the Vuelta and we started a little later. I knew it was good, although you don't know in the race how you are going to find yourself, and how the rivals are going to be. Last year, I had a really bad time at the Omloop, cold, rainy ... And this year I hoped at least not to suffer so much. I did not leave anything. It is to be happy, especially considering that they are the first races of the year.
Y now, Strade, Tirreno and San Remo in Italy, and Itzulia.
I am looking forward to making my debut at the Strade and in San Remo I want to be there, after finishing seventh last year. It is a complicated race. Last year was the first time, I was going without pressure, to learn, and in the end I felt good. After 300 kilometers sprinting with people like Sagan ... We'll see this year. We will go with more confidence, to try to improve at least. Then there is the Itzulia, the home race, and I want to be in shape, and then a week later I have the Amstel in which I will also debut. And in theory, I would finish the first part before resting, doing altitude, racing Switzerland and the Tour de France, two other races in which I will debut. I hope to take advantage of this calendar and show what I am capable of to show my appreciation to the team.
Having the Izagirre brothers so close has to be an advantage.
With the Izagirre I train almost every day at home. They are an important support. You stay with the details and you learn in each workout. And in the race we have another environment, in the trips, they are like friends, and everything is easier and more bearable. Also in the race, when they ask you for something, you do it at ease, and vice versa. It is a very positive point.
Are you hoping to win this 2021 and make a podium in a classic?
The goal is always to win, even if it is difficult. I think we are doing things well and we have started on the right foot. And if we follow this line, victories will come, I don't know if this year or next ... although we will try to make it this year. The classics that I run have a lot of names, we all like them. They are special, they have a lot of weight, and it would be very nice to get a podium. It is difficult to be successful in this type of race and there are people who have a lot of experience. You do not have to go with fear, but be brave and try to fight.
Do you consider yourself a classic handicap?
I do not know if classic hand because I am not a big cyclist with weight. Normally, I pass the ports of no more than 15-20 minutes and I am fast in groups of 20-30, I have options. That's why the classics are good for me. We will see over the years.
Photos from as.com