Another Boston Celtics disaster
After losing to the Cavs, Stevens' men play a terrible game and remain at 96 points against the Kings. They are in negative, eighths of the East.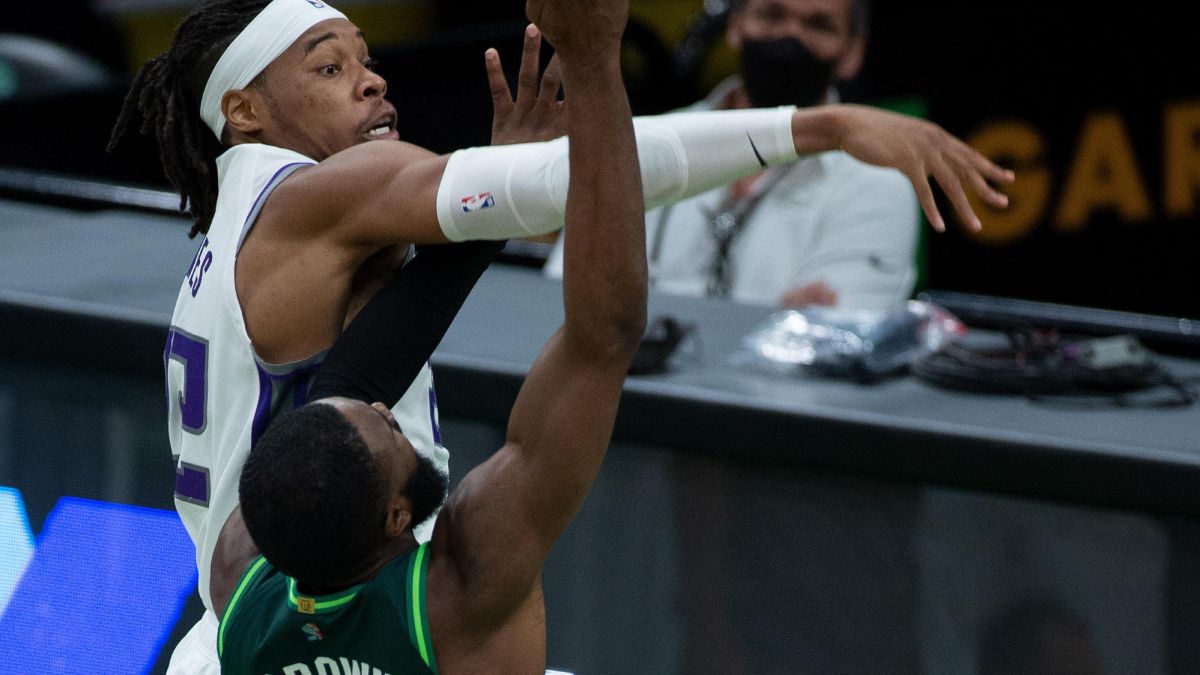 With better and worse moments, some good streak and some bad ones, it seems clear that what has happened in 41 games is already sufficiently defining. It is not a volume of matches that leaves room for circumstantial, chance. If after 41 games you have lost more than you have won, it is because things are not going well, you are definitely not a great team. It remains to be seen if you are a simply good one, which you do not seem if you lose four games of five and two in a row against two rivals like the Cleveland Cavaliers and Sacramento Kings (96-107 at the Garden) .
The Kings, as best they can (17-24), hold on to a still manageable distance (two and a half games) from the tenth place that gives a ticket to the new play in. They hadn't won two games in a row since the first week of February, and they hadn't left a rival below 100 points for 25 games… and it's only the second time they've done it this season.
Against one of the worst defenses in the NBA (this season and previous ones) the Celtics stayed at 96 points and 15 in a dismal last quarter (15-25) closed with winning actions behind Richaun Holmes (who also added 25 points and 11 rebounds) against some embolized rivals, who only played in a stretch of the third quarter and still came ahead in the last twelve minutes. In the first half they were down 15, in the last quarter they seemed to forget to play basketball. And so the days go by, and the games; with Brad Stevens more questioned than ever and having to talk about the interest that comes from the College level for him, and the disorganized, often disinterested team: broken. On Thursday, by the way, the market closes and the Celtics, stuck in a thousand rumors, are seeing that it may be a good time to pull some important trigger. They have less and less to lose because the season is slipping out of their hands, anchored in an incomprehensible (a priori) eighth place in the East. They are, it should be remembered, a current Conference finalist. Although it may not seem like it right now: "There is no energy, you can see it from the stands, from the television ...", says Jaylen Brown. And Stevens agrees with him: "To win in the NBA you need 17 players to be fully involved, and right now we are not. It's about dying to win, the fun comes after that ..."
That something is happening seems obvious, and of course it would be convenient to review the internal connections, between the coach and the players and between the squad itself, with gaps in their preparation (internal game, second unit ...) but less than the sum of its parts right now and in any case. Some common signs of identity with Stevens, especially in terms of toughness and desire, are simply not there. The execution… neither. Jayson Tatum (15 points, 16 shots), Jaylen Brown (19, 20) and Kemba Walker (16, 18) added the three more shots than points, the first two (6 and 8 between the two) also accumulated more losses than assists against an opponent who is not exactly the embodiment of the 2004 Pistons on defense. And that he saw a free pass and accelerated: with Holmes, with Fox (29 points, 5 assists), with Hield (22 points, 6 triples) and with that Harrison Barnes (15 points, 13 rebounds) whom he has been associated with for weeks. the Celtics. It doesn't seem like the solution to all your ills, but you have to start somewhere, right?
Photos from as.com